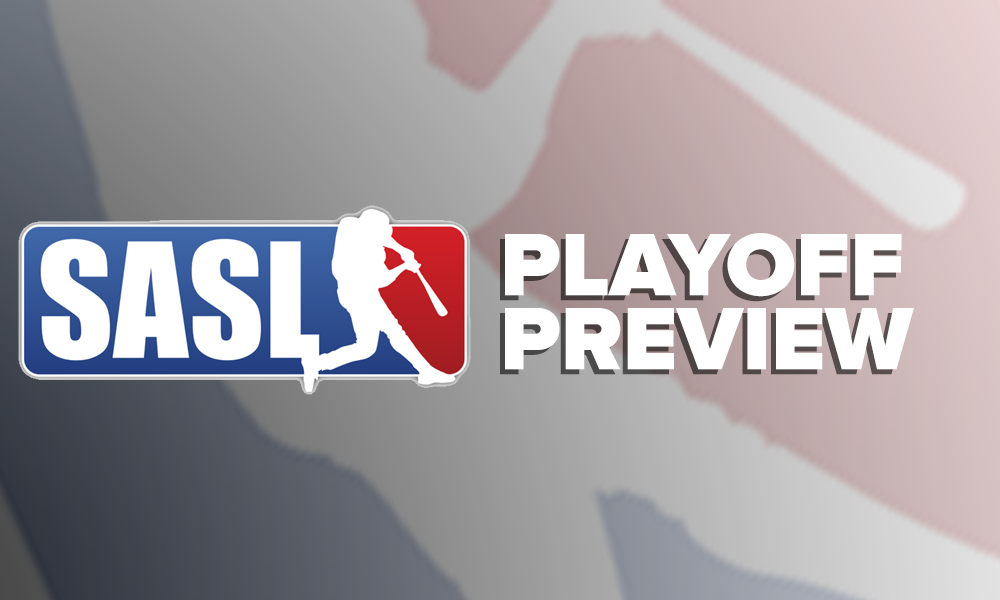 Finals Preview – (1) Scoobies Force (26-2) vs. (3) Hit Squad (20-8)
HOW HIT SQUAD GOT HERE
With the return of the NL in 2018 (previously the Champions division), can we really be shocked they're here?  They won the last title before the leagues merged, and they won once again last year when the leagues separated. The veteran knowledge on this team is un-paralleled in the league. They have some of the longest tenured players in league history with Solyman, Ammad, Hakim, Ali and Wahid. When they won the title last year, they had the MVP in Frank, and ROY candidate in Obaid. After losing both players, the team retooled with more veterans. Ankit, Binu, Wahid H, and Ramin fit the Hit Squad mold perfectly. They brought back Khaled for even more depth. They did add Ahmad Halimi; he might look like a strange fit on paper, but he has played in the league for many years, and has always done better around veteran support. This team knows exactly what it is, and kept that mindset going into the season. Their veteran play during the season would get them a playoff spot, and then they would use their experience come playoff time. 
They had a solid regular season, going 16-6 and finishing 3rd overall. They had a +93 run differential, good for 4th in the division, while being 3rd in runs scored and runs allowed. They had huge victories over the Bengals and the Ones. They handled business against the teams fighting just to get in the playoffs. However, they seemed to struggle against the elite of the NL. Splitting with Dynasty and Bats, getting swept by Scoobies Force, Shooter McGavins, and Dynasty in a later matchup. This all raised questions for them entering the playoffs. 
Hit Squad faced the Bats in round 1. After the Bats won game 1, Hit Squad was able to rally in game 2 and win in a comeback fashion. Having the momentum, they did not mess around in game 3 and trounced the Bats. Round 2 was a similar story; facing a Shooter McGavin's team that beat them twice in the regular season, they once again lost game 1, before finding a way to win game 2. In game 3, they were able to get Shooters off their game, rattle them, and win the series as underdogs.  Clearly elimination games are there style and they feel no pressure in do-or-die games.
HOW SCOOBIES FORCE GOT HERE
In the first run of the NL (pre 2017), the Scooby Scorers and Force were two of the premier teams in the division. They also had a great rivalry that saw them face off in 2014 and 2015. Force prevailed in both series, before moving up to the Legends division (now the AL). The Scoobies were favored to win the 2016 without Force in their way, but lost to (you guessed it) Hit Squad. Both teams ended up in the AL in 2018; Force merged with Empire, and the Scoobies coming back after picking up Dan. Both teams missed the playoffs, and decided to come back to their roots in the NL and merge for the 2019 season. A lot of big names and familiar faces were on the roster with the likes of Prince, Mike, Burhan, Harvey, Scooby, Kevin and Shaz. Then they were able to add the division's biggest name in Frank, coming off an MVP and 2 finals victories with Hit Squad. A lot of talent on the team brought up questions of how it would translate on the field. Chemistry issues were put aside quickly as they were clearly a complete product on both sides of the field.
Scoobies Force got to work quickly; after a split with Dynasty, they swept everyone else in the league, winning 13 straight (most of them convincingly), before facing Dynasty again. They once again split with Dynasty, before taking out their frustrations on the rest of the league, even beating the then ranked #1 Shooters team, to take the mantle as the clear #1 team in the division. They finished 22-2 overall, with the best run differential in the league (by almost 90 runs not counting forfeits) and the best defense in the league (by almost 60 runs) – clear staples of the Force teams of the past. The team also finished as the best offense in the league, scoring nearly 300 runs – a staple of the Scoobies teams of the past. The merger had created the best of both worlds. This team was deep, had great attendance, and got the job done from the get go.
Scoobies Force's playoff run has been the most dominant in the division. They took advantage of a short-handed Strike Force team in a battle of Scoobies Force, mercying them in both games. In the semifinals, they faced a Bengals team that took out Dynasty in an exciting 3 game series. Scoobies Force was able to sweep the Bengals out of the playoffs with their usual formula of defense and timely hitting, and punching their ticket back to the finals. Despite facing better hitting, Scoobies Force's defense has been peaking at the right time, not allowing double digit runs in any playoff game this season. 
X-Factors
The first x-factor is the tone of this series. The aforementioned styles of play are very different. Can Scoobies Force handle a full Hit Squad Team?  Will their bats hit Wahid again? Can Hit Squad handle a high scoring series? Can they overcome their bats going cold in the finals?
Which leads to the biggest x-factor, pitching. If either pitcher gets wild or locates in the strike zone poorly, it will be a long series for their teams. Therefore, how Scooby and Wahid pitch will really make the difference.  Both teams have shown they will take walks, and both teams will hit mistakes. Hit Squad can slap their way to a lot of runs, while Scoobies Force can make the outfield run all over the place.
The last x-factor will focus on a group. Scoobies Force has the advantage on defense at every outfield position. Can Hit Squad close that gap for one day?  While both teams are sure handed, Scoobies Force has significant more range, and better arms. A fenced field helps some, but if balls are not cut off in the gap, that will spell trouble. 
The Matchup
These two teams faced either other June 10th. Neither team was at full strength, with Hit Squad missing more starters. Scoobies Force mercied them in game 1, and had a lead in game 2, but Hit Squad came storming back. Scoobies Force took the punch from Hit Squad, and then responded by having a walk-off.  Scoobies Force swept 12-0 then 14-13. The 13 runs given up by Scoobies Force were a season high. As for Hit Squad, this was the only time they scored as many as 13 runs in a game and lost. It showed that Scoobies Force was for real, while Hit Squad would continue to fight, regardless of how the game was going. 
Clearly, Hit Squad wants to keep the game low scoring. However, Scoobies Force can play this series as low scoring, and has the clear advantage if the game turs into a slugfest. Let's look at the matchups position by position:
Position Breakdown: 
Pos
Scoobies Force
Hit Squad
Advantage
OFF
DEF
P

Scooby had a solid season at the plate; hitting .544 with 29 RBI. He was even better on the mound, with 42 K's and an ERA under 6. May not have 158725 pitches like Wahid, but mixes it up and consistently throws strikes. He'll have to be on point as Hit Squad will look to walk throughout the series.

Wahid mixes it up better than anyone and gives his defense every chance to win by forcing pop-ups and weak hacks. His bat is solid as well, but he will be measured by how much he can keep the Scoobies Force lineup at bat. If he's off, Hit Squad is in trouble.

SF

EVEN

C

Burhan was the NL first team catcher with good reason. In a loaded lineup, he finished third in average, and second in slugging. Half his hits were for extra bases. Also, he is the best defensive catcher in the league by far. Not the typical catcher who's just there to have a 10

th

guy. Big season and big time playoff player.

Putting Wahid behind the plate makes this a rare situation where both catchers truly very good players. Wahid is a veteran hitter who can hit to all fields. He may not be Burhan behind the dish, but is competent and will keep the ball in front of him. 

EVEN

SF

1B

SF could go with Prince (likely) or Mike. Prince brings leadership and intangibles to the table. Excellent defense at 1B, he will save throwing errors keep the defense ready for every hitter. Average bat looking to hit singles to all fields. Mike would bring the offense. Big time lefty bat. Had ups and downs this year, but one of best overall hitters on the team. Immobile at 1B, can only make the routine plays. 

Despite some injury, Tim has had a solid season, playing all over for HS. At 1B, will give the team a solid bat with some pop. Showed plate discipline this year, and drove in 27 runs. His experience at 1B is unknown, but mitigated by the turf.

HS

SF

2B

Gotham had another solid year; hitting nearly .540 with 20 RBI. Nothing flashy at 2B, makes the routine plays. Was a linchpin in the Force days, and not afraid of the big moment.

Hakim slid over from SS, and could really play anywhere on the field. Solid glove and bat. Has many big hits and playoff moments. Had a down season, but is always a threat to cause damage.

HS

HS

3B

SF could go with Akil or Kevin here. Both are similar players; good at the hot corner with plus range for 3B, and solid arms. Both have been inconsistent with the bat with neither player hitting above .500  

Binu ended up joining another finals team.  Solid addition stabilizing 3B while putting in 28 RBI and an OPS near 1.5. Binu is always reliable and consistent on both sides of the ball.

HS

SF

SS

As usual, Frank hit well this season, but had a down year by his standards. He was one of the league's top sluggers, but his average was down this year. More important, his defense at SS was shaky.  Needs to be clean on defense to ensure he gets his 3

rd

title.

Ankit got no fanfare when he signed with Hit Squad, but his season spoke volumes. Led the team in slugging and OPS. Can hit anywhere in the lineup. Big time hitter, and solid defender at SS. Will make all the routine plays. 

SF

HS
Pos
Scoobies Force
Hit Squad
Advantage
OFF
DEF
LF

Harvey switched from LCF to LF and did so flawlessly. Top level speed, will save runs with his glove. Bat is inconsistent, but will create chaos on the basepaths when he gets on. Expect him to causes mistakes by the HS defense.

Yaqub might be young, but he can already play with the vets. Solid LF, and had a .600 average this season. Has flashed signs of a bigtime player in the future. How will be handle the pressure of a finals?

HS

SF

LCF

Saiful is regarded as one of the best defensive outfielders in the league. Speed, range, arm, reads, everything. With Harvey, Travis, and Kunal, they create a no fly zone. On offense, potential is there but is very inconsistent. If his bat catches up to his glove; threat to be MVP.  

Ahmad was an MVP candidate this season, and for good reason. 30 RBI, an OPS near 1.7, and 18 XBH. His combination of speed and power makes him a threat every time at the plate. On defense, has great range and a great arm. A top LF, can handle LCF with ease.

HS

SF

RCF

Travis rebounded from a nightmare season to become SF's leadoff hitter. Has speed and is not scared to take the extra base. He is a sparkplug for the SF offense, leading the team in runs and hits. On defense, he has a plus arm and plus range. Will be able to keep the slap hitters at bay.

Solyman will have a master plan to shift on every SF hitter and force them to do something they're not comfortable doing. Can still read the ball well, though his range is not what once was, and his arm is not strong. Pesky slap hitter on offense who will force the pitcher to work

SF

SF

RF

Kunal has the tools to be a star, but has not put it altogether just yet. 5 tool player, but has slumped at times. Has also shown flashes. Will he be able to handle Wahid's pitching?  A plus in RF, has a very strong arm with good speed and good range. Will get tested big time. If he has a big series, SF is in great shape.

Ramin is a veteran who has done it all. He's won an MVP, and was once the premier left handed hitter in the league. He is still a threat to hit a bomb every at bat. Defensively, has an average arm and average range. Will play smart. Could slide to RCF or 1B if needed

HS

SF

DH

The combination Shaz and Mike is a lethal one two punch. Shaz can still hit liners, as evidenced by his .590 average and 24 RBI. At their best, both players are unshiftable, which will leave Solyman with no plan to stop them.

Hit Squad has Drawin and Khaled. Khaled had another solid season, with a 1.4 OPS and 8 XBH in limited time. He can also step into the outfield and give Hit Squad another option. Drawin showed some promise as a rookie, driving in 14 runs.

SF

HS

B

SF could have Prince, Akil, Kevin, Mike, or Shaz on the bench depending on who starts. This team is legit 13 deep and has the versatility to move a lot of pieces around. Will be interesting to see how they use the players that do not start during the series.

Ali is a veteran who can fill in anywhere on the infield. He will likely start somewhere in this series, and play a big role. Known for clutch hits. Hit Squad also has Ammad for key spots and has more playoff games under his belt than most. HS could also have Darwin and/or Khaled on the bench.

SF

SF
| | | | |
| --- | --- | --- | --- |
| Capt | Scooby/Prince have had a great first season working together. Scooby brings the fire on the field and Prince is behind the scenes making sure every player is prepared. With the most experience out of everyone on the field, Prince  knows what it takes to win. | Ali has just as much experience as Prince, and he has the one advantage of playing with the core group of Hit Squad longer. Solyman will be the captain on the field, shifting every batter. Ammad will be vocal from the catcher spot or from the bench. | |
The Prediction
This matchup is much more interesting than it looks on paper. Hit Squad has always found a way to scratch out victories. They've done it enough to be the two-time defending champions. You are still the champion until someone takes it from you. Scoobies Force has a huge chip of it shoulders for a few reasons. From the start of the season, they were constantly told this experiment would never work. Despite being the #1 seed, they are still not getting the respect of the SASL community as the favorites to win. 
HitSquad in 3.
Most of the league thinks Scoobies Force can't win this series against the experience and pedigree of Hit Squad. Hit Squad has a chance of becoming a top 2 franchise of all time and will not squander this opportunity away. Scoobies Force will be another feel good story that won a lot of games in the regular season, but couldn't win the big one in game 3 of this series. Hit Squad will finish their storybook season by being one of the only teams in league history to win 3 different game 3's in one season. Solymon and Co. will be raising the trophy once again, and there's nothing Scoobies Force can do to stop it.