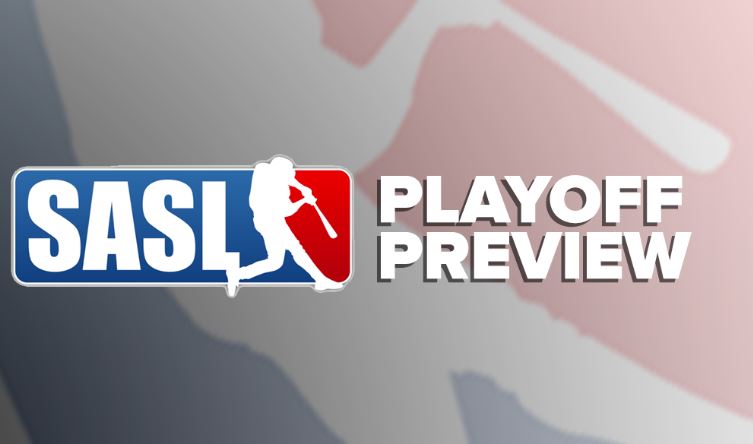 Resurrection vs Bats
With the second season of the SASL Division 3 finals coming to fruition this weekend we see two unlikely teams in the finals. 
Resurrection took care of business against the big boppers of the Rough Riders even though RR had a 50 run differential compared to Resurrection. 
The Bats a family team that has persevered season after season find themselves in the finals after decisively taking apart the #1 High Roller team even though the Bats have a -72 run differential. IF, there was ever a Cinderella story in the SASL this is it.  
These two teams find themselves in the finals in which both teams come in as the fan favorites. 
Resurrection is a collection of older veterans such as Shafi Hashemi, Naveed Ahmed, Ali Najimi, Haseeb Ahmed, Raheel Nadim and Syed Ahmed and the Bats have Haque's, Hasan's, and Imam's mostly on the team.  The Bats only have 2 people who hit over .600 this season (Nabeel, and Sajeel).  Somewhere, Shumail is in tears as the one season that he takse a break from the team they are in the finals. 
Let's break down these teams.  
Pitching
Sharif Khan vs Salman Quader/Shafi Hashemi – Salman is the veteran who is consistently going to throw you strikes.  Sharif is the man child who makes for an imposing figure on the mound and fields his position well. After what Sharif did to silence the bats of High Rollers this writer gives the advantage to the Bats. 
Advantage Bats
First Base 
This position is a battle between the veteran Raheel Nadim who is probably having his best season in SASL history versus Azfar Imam.  This is a distinct advantage to Resurrection as they have a veteran who can field the position well and make the plays.  Azfar has that lefty swing but defensively it seems like an adventure on every single throw to first base.  
Advantage Resurrection 
Second Base – Zimmad vs Usman Ghumman
Usman brings his veteran leadership to this team and flashbacks of his days when hew was a short stop.  Zimmad brings his short shots to second base where he has been making a lot more plays than people would give him credit for.  Defensively, Usman is better there is no doubt about it. Offensively, it is pretty close but Zimmad has a lot more pop for Resurrection. 
Advantage – Even
Third base – Ali Najimi vs Bilal
The ageless wonder Ali Najimi is playing in his umpteenth finals and will bring a lot of experience, a sure glove and a knack for coming up with the bit hits. But, father time is undefeated and the speed isn't there and at this stage in his career he is going more station to station and producing singles.  Bilal on the other hand has been a steady bat and a source of really solid defense for the Bats. 
Advantage – Bats
Short Stop – Imran Khan vs Syed Haque 
Former teammates who have turned into foes – Syed has had a solid year and has really played well in D3 but the veteran experience of Imran at shortstop is going to be too much for the Bats  to overcome. 
Catcher – Sajeel vs Nazmul
Nazmul is a solid hitter who plays well at catcher but he is no match for Sajeel. The real question is will Sajeel who arguably is the best outfielder on both teams really be playing catcher? Last week the Bats employed Sajeel at catcher and they were able to sweep the #1 seed High Rollers with ease.  If the Bats find themselves trailing don't be surprised if you see Sajeel back in the outfield. 
Advantage Bats
Left Field – Atif Khan vs Fazeel Haque 
Atif Khan has long been overlooked but he is a former batting champion and someone who has a lot of veteran experience. He still possesses good enough speed to go first to third.  Fazeel Haque isn't as solid of a bat but has a bit more speed than Atif. In the field though, there is no comparison as Atif is the superior defensive player.  
Advantage Resurrection 
Left center Field – Usman Sheikh vs Haris – if you look at the season that Usman Sheikh has had in D3, you would be hard pressed to have The Bats to even pitch to him. He has been an absolute beast offensively and he is part of the Resurrection out field that will give The Bats fits. 
Advantage Resurrection
Right Center Field Naveed Ahmed vs Nabeel Haque
Naveed Ahmed had an MVP caliber season with eye popping stats.  His hard hitting power to the right side of the out field will give the Bats fits.  Nabeel Haque slices his hits to all sides of the field and is in the middle of all of the big rallies for the Bats.  But, the speed that Nabeel once had isn't there yet and Naveed is the better player this year
Advantage Resurrection
Right Field – Waqas vs Gino 
Gino brings his speed and energy to the team as well as his occasional power to the left side but Waqas brings his veteran leadership. It's a testament to the Resurrection team that they have Waqas playing right field. He should be able to make more plays than Gino in rf and that could be the difference in this match up 
Advantage of Resurrection 
6 advantages to 4 the Resurrection team is equipped to sweep this series. The Bats have just 2 players who even hit .600 this year.  They will really need to work hard ot generate enough runs to take out the Resurrection this year. 
Look for Resurrection with a glose game 1 and a blow out in game 2 to win the championship!