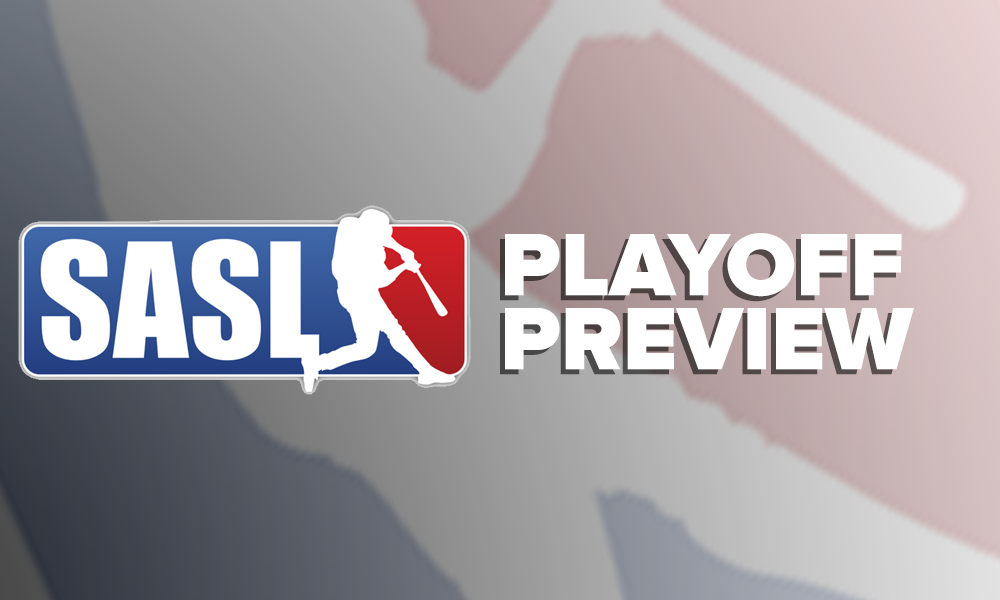 The first round of the 2021 SASL Playoffs features arguably the most one-sided matchup: Young Guns (2) vs Hit Squad (7). The last time these teams faced off against each other, the results were not pretty. The Young Guns dominated Hit Squad in both games, mercying in both games, scoring a total of 40 runs and only allowing 7 in the series. However, it is noted that attendance with Hit Squad's top players have been shaky all year; this issue was present vs Young Guns. If these players will show up for the playoffs, it should be a closer matchup.

Team Overviews:

Young Guns (2):

Young Guns have had a dominant season overall. They came in 2nd place in the regular season, have one of the best, if not best, defenses in the league, and are currently on a hot streak. They are coming off of huge sweeps against Scorers and Heavy Hittaz to secure their spot as the #2 seed. Although they are the 2nd place seed, they have had some ups and downs during the season. Getting Swept by the Ducks, losing to both teams who are now in SNL… not a good sign for the Young Guns. However, that is all in the past. If we're going off of recency bias, this team should have an easy time getting through the first round of the playoffs. Consistency by key players such as Anthony, Kyle, and Chris Stefl have gotten them to 2nd place. Late addition of Amby definitely changed for the better. Majority of this Young Guns team was a part of the current last place Troopers, so it's safe to say they're in a much better place now.

Hit Squad (7):

You might as well call Hit Squad the king of splits, as that's what they did for most of the season, aside from the top two teams. For their current roster, they are where they were expected to be (7th), if not a little higher. This team would debatably have more success with higher attendance from players such as Ronmel, Shafi, Ishaq, and Yaqub. Unfortunately, Ronmel and Shafi didn't even qualify for playoffs. Hit Squad has been able to pull off wins against some top teams such as Tigers, Scorers, Heavy Hittaz, and even last year's finalists, Dothrakis. If Hit Squad's top players in Ishaq, Vivek, Yaqub, and Hakim show up and give their best this Sunday, they will be able to put up a fight against the Young Guns. It would be one of the biggest upsets if Hit Squad is able to take even one game off of the Young Guns.

On-Field Matchups:

Infield:

P:

Young Guns have been rotating between Saiful and Wahid all year long. This duo has been doing well, based on their place in the standings. However, walks are killer. They have to maintain their accuracy to make sure the game doesn't fall out of control.

Hit Squad are likely going with a rotation of Usman and Ali. Both are solid pitchers, nothing crazy, just straight up pitches. They will have to do the same as Wahid and Saiful – make sure not to walk many guys. These pitchers are heavily reliant on their defense.

C:

Young Guns are going with Amby as their catcher. The addition of Amby to this roster has helped Young Guns get crucial wins in the late season and he will definitely be a big factor in the playoffs.

Hit Squad will go with either Syed or Ammad as their catcher. Both players are decent, but not performing as well as Amby. Young Guns clearly have the better catcher here.

1B:

Young Guns will definitely go with Anthony at 1B. Anthony has been raking all year long. He would have been in the MVP race if his stats were a little bit better than what it is now. He has been a solid defender at 1B for a few years and there is no question he has the edge in this matchup.

Hit Squad is going with Hakim at 1B. Hakim is a veteran player in this league and has experience playing multiple positions. His versatility shows how good of a ballplayer he is. However, he won't match up well with Anthony this year. Hakim is doing well offensively, but not nearly as well as Anthony.

2B:

Young Guns will likely have Kyle at 2B. Kyle has played 3B, SS, and 2B, and even the outfield this year. Some may think after so many years at SS, why change? Kyle at 2B is a risky move because Joshua has been a bit shaky this year. Kyle's defense and offense has been how it has been for years – excellent.

Hit Squad will likely go with Ishaq at 2B. Ishaq is very underrated on offense and defense. Despite his great stats this year, he will have to overperform to match up with Kyle at 2B.

3B:

Young Guns will most likely have Maury at 3B for the playoffs, as Tyler Bhurasingh did not end up qualifying for playoffs. Maury is originally an outfielder, but this year he has played a lot of infield and he is above average for someone off-role. His bat has been slightly better offensively this year than last, so we expect him to hold it down on defense and offense.

Hit Squad are most likely going with Vivek at 3B. Vivek is an all-around good player. He isn't perfect, but he definitely gets the job done. His offensive stats match up well with Maury's and his defense may be a little better, due to experience. Overall, this matchup is the closest out of infield positions. Vivek slightly ahead on defense, Maury slightly ahead on offense.

SS:

Young Guns are going with Joshua Abbensetts at SS. Joshua is a great SS because of his experience as a ballplayer, like most guys on the Young Guns. The only downside of having Josh at SS is that he makes the outstanding plays, but sometimes misses out on the easy ones. His offensive performance has been on-par to what we expected from him.

Hit Squad will go with Ankit at SS. Ankit has a ton of range in the infield and if he locks it down on defense, the Young Guns will have a hard time getting infield hits with their speed. Offensively, Ankit has had an average year, around the same numbers as he has had for numerous years.

Infield Advantage:

Advantage in the infield goes to Young Guns. Hit Squad's infield has been doing good all year round, but Young Guns have some of the best infielders in the league, along with one of the best pitchers — Wahid. This team will hold Hit Squad to a low amount of runs, like they did last time, if they minimize the errors and walks.

Outfield:

Young Guns definitely have the fastest outfield in the league. They are an outfield of fresh legs and will not have a problem tracking down balls in the outfield, as this hasn't been an issue all season long. Their outfield will consist of: Chris Stefl, Majid, Justus, Saif, Dylan, Chris B, and Alan. Starting players will most likely be Chris Stefl, Majid, Justus, and Saif, given he isn't pitching. Chris Stefl is an absolute beast in the outfield. He will likely be named Rookie of the Year and has been hitting bombs all season long. Justus is one of the fastest players in the league and has had great numbers this year. Majid has held it down defensively, but unfortunately has had struggles offensively. The same goes with Saif. Alan has been hitting quite well, but we expect him, Dylan, and Chris B to be backups.

Hit Squad have a respectable outfield; a group of veterans. They will have to play solid in the outfield to hold the fast runners on Young Guns to singles and doubles. Their outfield will consist of: Dheeraj, Alex, Yaqub, Obaid, and Tim. Offensively, this outfield has been decent. Everyone in the outfield is hitting above .500, so if they keep it up and shut down Chris Stefl and Justus's offense, they may as well be the better outfield, but that's very unlikely. Dheeraj will have to cover a lot of ground in the outfield to hold it down, or else the Young Guns will take over easily.

Outfield Advantage:

Outfield Advantage goes to Young Guns. They are overall much faster and will cover more ground than Hit Squad. If Chris Stefl wasn't a factor, the outfield would be perfectly matched.

Predictions:

Young Guns will defeat Hit Squad in 3 games. Young Guns have had issues with early morning games and they definitely don't play their best at 8 AM. The veterans of Hit Squad will take advantage of that, but won't be able to close out the series as the players of Young Guns will wake up and get back on their level.