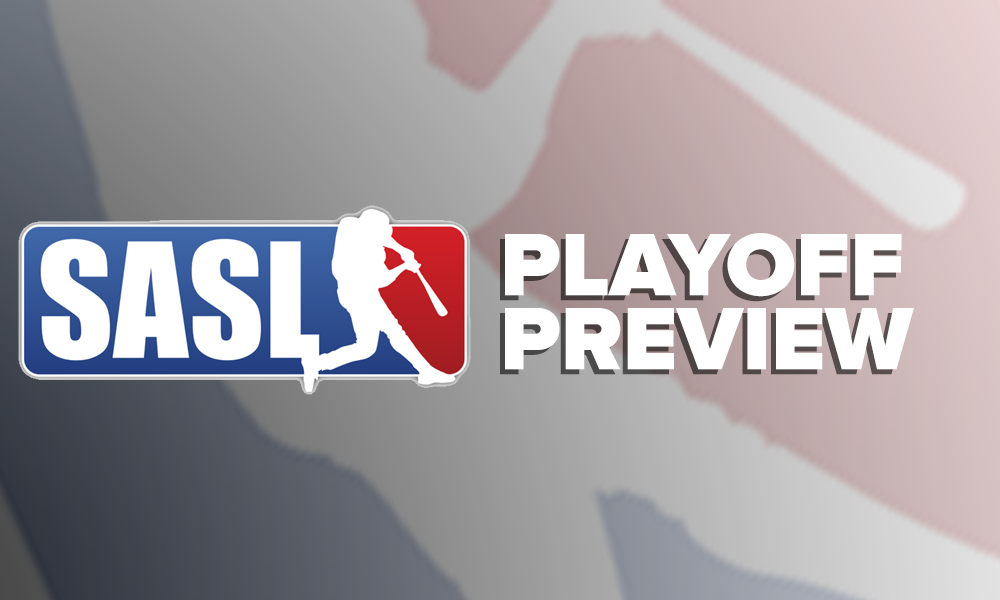 Ducks(4) vs Heavy Hittaz (5)
The 2021 season featured its first ever 4 way tie.  After much deliberation, the boys in the SASL lab concluded that the Ducks were 4th, and the Heavy Hittaz were 5th.  They had the same record in the regular season, and they split 4 matchups when the two teams played against each other.  As down the middle as you can get.  Lucky for us, someone must win this series.  Will it be the Heavy Hittaz top heavy, power lineup; or will it be the Ducks depth and all around play?  The contrast in styles may not matter at all, as they are playing on the little league field where anyone can hit it over the fence.  
Let's look at the matchups
Left Field- Saad Yousuf vs. Ramy Abdelhamid
It remains to be same if Saad Yousuf will be able to play following his concussion last week after a ball hit his head in the outfield. If healthy he is a great pull hitter who will put pressure on the left side of the HH defense. Ramy has missed the past couple of weeks so it remains to be seen whether he will be rusty but the perennial MVP candidate will need to bring his A game this week.
Edge- Ramy
Left Center Field- Vinny vs. Shane Melia
Defensively this matchup is even as both players are fast and explosive with great arms. Offensively the edge has to go to Vinny who has pledged a vow of sobriety Saturday night in order to do what he does best, which is hit bombs on Sunday. The only limiting factor is Cantiague D and whether he knows how to hit singles. His MVP numbers almost do nothing here.  Shane is a solid hitter but does not have the power Vinny does. That might be advantageous on Sunday in the little league field of Cantiague D.
Edge- Vinny
Right Center field – Sajeel vs Kunal
Kunal is coming off a career low 2 home runs this year but should be able to sneak some hits past second base. Given his 25 years of experience playing softball he will know every shift to play on every hitter.  Sajeel has the speed to cover a regular sized outfield.  Cantiague D will be a cakewalk by comparison.  Sajeel knows how to use the whole field and will hit hard liners.  Not usually a HR threat, but everyone is on this field, so he might flex more power than the great Sra even.
Advantage – Even
Right Field – Harp vs Moiz
Ducks got options here, but Moiz will likely get the nod.  When he's not taking professional level pictures with his camera, he's mashing the ball to LF.  Tough for him that he's against Harp, who does the softball hitting better than Moiz.  Harp will be tested in RF as he doesn't have Moiz's legs.
Advantage – Harp until HH runs out of HR
Pitcher- Ali Ghumman vs. Nabeel Haque
In a battle of past their prime softballers, Ali is without a doubt a top 2 pitcher in SASL history. He is batting a career low .290 with far more at bats than plate appearances somehow, but whether he did that intentionally to tank his rating remains to be seen. Nabeel is crushing the ball and is pitching great as he hardly walks anyone. Nabeel is the better hitter but Ali has the experience and savvy at pitcher to drive batters crazy.
Edge- Ali 
Catcher- Faizan vs. Ali Ahmedy
Faizan. Ali has improved a lot but Faizan is a far superior hitter.  He can control his swing once the home runs are used. They both can throw the ball back to the pitcher relatively accurately, and can catch the ball when it's thrown to them.
 Edge- Faizan
First Base – Halimi vs Peter
Halimi was once of the league's premier left fielders, but after being putting on the Giancarlo Stanton workout regime, he can't seem to stay healthy.  First base is relatively new to him, and will be able to save bad throws remains to be seen.  Peter on the other hand has played first base forever, and his inspector gadget arms will save even the worst of throws.  Both are dead pull hitters and both will hit a bunch of dead ball outs.
Advantage – Halimi as long as he isn't too injured
Second Base- Zeeshan vs. John
Coming off a 1-9 debacle with a plethora of errors to boot in his last playoff performance in the league that shall not be named, Zeeshan is trying to atone for his past sins in this first round matchup. He is coming in 30 pounds lighter which might help his defense.  After a hiatus from the league, John Sans is back and as loud as ever.  Like Zeeshan, he transitioned from his younger days when he was a SS.  But he has been playing regularly somewhere on the field this season.  
Edge- Whoever brings ear muffs – both are loud and whoever shuts up the other guy first with their play
Shortshop – Billal vs Naeem
Billal's quest to qualify for D3 again will likely fail, as he couldn't suppress his talents enough.  Playoffs usually brings the best out of him, as shown when he single handedly crushed teams in fall ball.  Naeem was once the best up and coming shortstops until he prioritized things like a job.  He can still handle the position, but his glove or bat can't measure to the leagues Jimmy Hart.
Advantage – Billal
Third Base – Chris vs Jojo
Jojo is best known of his outfield work, so the transition to third base was a surprise.  But being a team guy, he did what was asked, and has played well.  Rumor has it he switched to third to keep an eye on his son roaming the sidelines.  Chris is one of the more respected players in the league and has usually done well in the playoffs.  Veteran teams keep confusing him with Nick Yip so they play him 400 feet deep just to be safe.
Advantage – Chris
Bench
Heavy Hittaz don't have one.  They built for this moment to only play 10 guys.  Will an injury plagued team actually need another body?   Maybe they can borrow from the Ducks.  They have a mighty bench with Faizal, Manny, Talha, Sid and Shumail.
Major advantage – Ducks
Prediction:
In the battle of team that can make the best meme, everything points to this being the matchup of the first round.  Expect it to go 3 games.  Expect the chat to blow up during and after the game with enough media to break your phone.
Series comes down to who can use their home runs smarter.  Expect Heavy Hittaz to advance in 3 high scoring, highly contested, and highly controversial games.  Get your mute button on WhatsApp ready now.