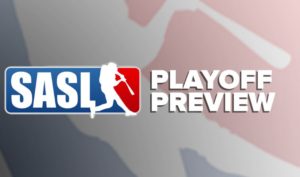 Last year's number 1 seed verse this year's number 1 seed can bring some excitement to this match up here.
As Saj and Dynasty sit at home after winning the championship last year, it's no surprise that Semi Pro, comprised of 6 (or is it 7?) former Dynasty players, is sitting at number 1. The bigger surprise here is Dothrakis' fall to the 8th seed from number 1 and having to battle it out in a wild card game into the playoffs.
But don't be too quick to call this 1 vs 8 seed match up a complete wash. Dothrakis have dealt with injuries and attendance issues. Let's take a look at the match up here:
Pitcher/Catcher:
Semi Pro: Anwar Sadat P, David Poon C vs Dothrakis: Freddy Maldonado P, Mike Wang C
Both pitchers here come with a ton of experience and have shown to be elite pitchers in the league. Yes, we know it is slow pitch softball, but we can't ignore the fact that both of these pitchers have only helped their respective teams from the mound. Freddy owns some real estate in players' minds while Anwar has improved greatly. Anwar is also coming off of losing a massive 100 pounds during the off season and along with the physical weight, the weight of carrying the league as commissioner is clear too as this man is just having fun out there now. Anwar's classic opposite side hitting puts him ahead of Freddy.
As for the catchers, Mike brings stability and morale to the team with experience. David has only been playing for one year, but last year's playoffs showed that David can really step up in tough moments. But was it beginners luck or was it the real deal? We'll have to wait and see.
Advantage: Semi Pro
First Base
Semi Pro: Ronak Jain vs Dothrakis: Pavy Badwal
We all know Pavy well and know his game. He brings experience and is one of the tougher outs in the Dothrakis line-up. He's a great situational hitter who is dangerous on all sides of the field. Ronak has been streaky this year. If he is on, we might have an interesting match up here but, matching up against a consistent Pavy, even if injured, it's hard to not tip our way to the Dothrakis on this one.
Advantage: Dothrakis
Second Base
Semi Pro: Milan Patel vs Dothrakis: Pervez Khan
Milan has had a great year and is excellent singles hitter who likes to place the ball. His strategic hitting, bringing his average at a near .700, has given some great flexibility to Semi Pro and he's made for a solid leadoff hitter. On the defensive side, Milan has shown to be a great option in the infield to minimize errors.
Pervez may match up on the defensive side here, but his bat may be the weaker end of the two. While he may be a reliable bat in the line-up, it's hard to take from Milan's aggressive bat.
Advantage: Semi Pro
Short Stop
Semi Pro: Jerry Liang vs Dothrakis: Hashim Naveed
Jerry Liang has had an MVP type of year and every team considers pitching around this guy when he's at bat (and maybe even avoiding meeting him at second base…too soon?). Defensively Jerry is a top 3 shortstop in the league right now. He brings range, an explosive arm and the guy barely talks at all and in a league all about the chatter, that says a lot.
Hash as we all know is an all time SASL great. But an injury prone Hash up against a younger Jerry?  We might have finally found a match where Hash is at a disadvantage in this one. A rarity yes, but this is a great match up to watch. It might just come down to who actually gets pitched to.
Advantage: Semi Pro
Third Base
Semi Pro: Adrian Polanco vs Dothrakis: Ahad Anwar
This match up here is pure defense verse offense. Adrian is known for his pull side power with an occasional RCF hit, but his glove should be of concern for Semi Pro. He is known to throw the ball away and not completing plays. Ahad on the other hand brings a solid bat with a good glove in the field. And while Adrian takes advantage in offense, if we think defense wins games, then this one goes to Dothrakis.
Advantage: Dothrakis
Third Base
Dothrakis: Andy Sanchez, Sunny Naveed, Jonathan Cayetano, Pablo Sanchez
Semi Pro: Irfan Musliwala, Mike Liang, Kunal Oak, Saeed Anwar
The outfield match ups are some of the most interesting match ups there are.
Andy vs Mike
Andy takes the reign offensively between these 8 players in terms of power. But Mike Liang's defensive range (you know, like when he covers half the field for Oak) and arm, it's almost an even match up there. Between an even call defensively, Mike's line drive hitting and speed and Andy's power, we might have to call that match up a toss-up.
Sunny vs Saeed
The deciding factor here will be whether Saeed can stay out of his head and stay focused. Saeed has played above his rating this year and is quietly becoming an elite threat in the outfield. He has been able to make some fantastic plays but we all know Sunny likes the limelight and will likely step up in playoffs. That said, Sunny's injuries may hold him back and gym rat Saeed is one of the more athletic players out there, so Saeed takes this one.
Jonathan vs Oak
This match up is pretty even both defensively and offensively. Jonathan has shown to be more consistent this year than last year with his bat. Oak has shown some pop this year but Jonathan has a slight edge with his OBP, so we will have to tip our hat to Jonathan.
Pablo vs Irfan
Pablo has been a solid middle of the ground hitter for Dothrakis. The elephant in the room here is Irfan. A once elite outfielder and hitter has seemed to have lost his mojo. Semi Pro seems to still believe in their man and if he can find his way out of that hole, we all know Irfan is a threat to any team. Advantage here will go to Pablo.
Advantage: Dothrakis by a slight edge
DH
Semi Pro: Omar Hernandez
Semi Pro plans to have Omar bat in the lineup as a DH and this will help their offense tremendously. An 11 man lineup can hurt teams, but if Omar and Semi Pro find a rhythm, then it's a lock. Omar looks healthy and that's always bad news for their opponents. His bat will be able to fill the gaps for Semi Pro.
Bench
Semi Pro: Morale king Manju Shanmugam gives the team some good depth who can play 2nd base or the outfield with a solid bat while Aroup Sorijum can give be a surprise fresh bat to give you a hit in situational instances. Manju brings a ton of good experience to the team as well which always helps coming off the bench.
Dotrakis: Gage Nestor brings a ton of experience to the team and will be able to help command from the bench at times. Gage is a good pick for pinch hitting situation. Jig Patel could give an inning here and there to give some defense a break if this series goes to 3 games.
Overall: This could probably become one of the more intriguing match ups, especially for a 1 v 8 match up. We wouldn't completely sleep on Dothrakis given their overall experience and we've barely seen them at full strength the whole season. Semi Pro may be surprised to see a full squad give them a real challenge which could turn into an upset. It may be hard for Dothrakis to find a rhythm against a well-oiled Semi Pro team though. Pavy, Hash and Andy will really need to bring fire to the team in order for any upset to happen. That said, it can be hard to shake Semi Pros' even keeled, level headed team led by the quiet talker Omar. We will have to give the edge ultimately to Semi Pro.