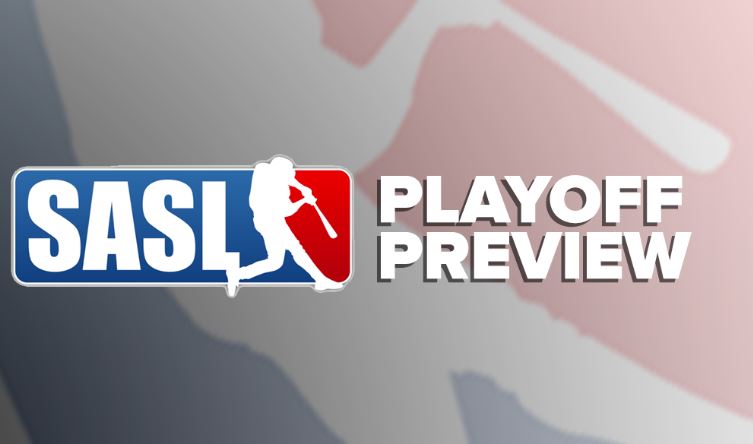 After going to three games in each series, both Semi Pro and Ducks find themselves against each other in this year's semi-finals.
The Ducks brought their A-game to Round 1. Granted there was a lot of chatter between Heavy Hittaz and Ducks for that round (which some Heavy Hittaz seem to think is continuing with their constant crying in the WhatsApp group), the question here is whether the Ducks can stay hot and contain the first place Semi Pros.
Semi-Pro wasn't given an easy match up against Dothrakis who forced them to 3 games. Their quest to the next round comes off of winning in the bottom of the 7th by scoring 4 runs with two outs. It shows their experience and resilience to come back from behind.
Something to note about Semi Pro is that they haven't seen many teams at full capacity throughout the season and Dothrakis may have exposed that last week. It also doesn't help that Semi Pro's defense was looking sloppy. Kunal Oak pulled himself out of the outfield after a few blunders while Adrian's throwing issues continued at third and the right side of the infield struggled defensively too. Can the Ducks expose these weaknesses with their best 10? We'll have to wait and see but for now, let's take a look at head to head match ups:
Pitcher/Catcher:
Semi Pro: Anwar Sadat P, Omar Hernandez C
Ducks: Nabeel Haque, Faizan Niazi C
An interesting match up here against the pitchers. Both pitchers have a lot of control and don't walk many. Anwar has struggled with his bat lately and Nabeel Haque has been a solid number 2 hitter for the Ducks.
Both Faizan and Omar bring a lot of experience. But a healthy Omar beats out power hitting Faizan in this match up. Faizan could end up being a key piece for the Ducks if they have a shot to win this series and can really elevate their middle of the line-up. That said, Faizan went 5-10 last week and the Ducks may need a little more out from him against Semi Pro.
Advantage: Semi Pro
First Base
Semi Pro: Ronak Jain vs Ducks: Peter Banta
Ronak is coming off a game tying triple in Round 1 and as we had predicted for that series, if Ronak is on, he can put a lot of pressure on a team. Ronak's glove is average at first so as long as he can hold it down, but he struggled with that last week. Peter on the hand is a better defensive first baseman and has been a lot more consistent with his bat. He's coming off of a 6-9 weekend against the Heavy Hittaz and so we will hand this match up off to Peter.
Advantage: Ducks
Second Base
Semi Pro: Milan Patel vs Ducks: Zeeshan Shaikh
We warned you about quiet Milan. He's coming off of the game winning hit in Round 1. Milan's season just seems to be getting better. After batting nearly .700 on the year, we are sure that Milan will continue to help push Semi Pro forward.
We've heard plenty, and we mean plenty, from Zeeshan in Round 1. After going talking a big game in the WhatsApp group, Zeeshan showed up against Heavy Hittaz. He's lighter on his feet after losing 20 pounds (source: WhatsApp babbling). But Milan has been too consistent to not give the advantage to Semi Pro.
Advantage: Semi Pro
Short Stop
Semi Pro: Jerry Liang vs Ducks: Naeem Bhalli
We all know Jerry's defense and bat are both elite and he is putting up some MVP numbers this year. The Ducks come in with a lot of experience and we should expect to see situational and strategic pitching to him. Naeem was a late addition to the team who brings a lot of experience to shortstop. Once an elite defender, we have seen him slow down a bit and he doesn't quite have the range he once used to. His bat has also become somewhat predictable but like any smart ballplayer, Naeem finds a way to come up big when needed. Expect to see a good fight, but Jerry has just been too dominant.
Advantage: Semi Pro
Third Base
Semi Pro: Adrian Polanco vs Ducks: Chris Mui
Adrian's bat is all about power and has been an all or nothing guy for this team. He is a strong pull hitter with some pop to right center. His glove on the other hand has been of real concern and we will see if the Ducks take advantage of that. Chris is versatile infielder who will hold it down in the hot corner.  While he doesn't have Adrian's power, his consistency and situational hitting gives the Ducks an advantage on this one.
Advantage: Ducks
Outfield:
Semi Pro: Irfan Musliwala, Mike Liang, Kunal Oak, Saeed Anwar
Ducks: Shane Melia, Saad Yusuf, Sajeel Haque, Moiz Siddiqui
Saad vs Irfan
Mirror mirror on the wall, who's the biggest Quacker of them all? Saad certainly makes all of our WhatsApp conversations interesting but can he perform well to back all that talking up? He has slowed down in the outfield but is a solid defender nonetheless. His bat has been consistent and is coming off of a great series against Heavy Hittaz.
Irfan defensively may have some more range but his bat has been struggling. Again, Semi Pro is taking a chance on Irfan and hope he can find that swag back. Until that happens, advantage goes to Ducks.
Moiz vs Saeed
Saeed is making some great strides this year and is up Most Improved Player. He has been defensively sharp and is a great middle of the lineup hitter who knows how to get the job done. Moiz's athleticism might be close to Saeed's, but his bat is not as nearly as a threat of Saeed's.
Sajeel Haque vs Kunal Oak
Oak is coming off of a tough series defensively but has shown to be a reliable and steady bat. If he can clean up his defense, it could help reserve Omar to focus just on his hitting. Sajeel seemed to struggle offensively last week after going 3-10. He's going to need to step it up in this series to really help his team.
Shane Melia vs Mike Liang
Mike is an absolute beast in the outfield with his arm and coverage. His bat has been one of the most consistent line drive hitters in the league. His speed makes a lot of teams nervous as he will sneak in an extra base every now and then. Shane is also a great outfielder with an incredibly strong arm. Shane has been a solid leadoff for the Ducks and he will really have to bring his A game to help get the team started.
Outfield Advantage: Semi Pro
Bench
Both benches are pretty deep. Semi Pro bring David Poon, Manju Shanmugam and Aroup Sorijum. All three are good options for pinch hitting situations and Manju will also help keep the pressure off of his team with his spirit lifting commentary. Ducks will have Faizal, Manny, Talha and Shumail. Faizal is a great option to come up in a situation where you may want a lefty batter, and if he gets a hold of one, it can do some damage.
Overall:
Again, don't consider this a complete wash for Semi Pro. The Ducks bring a lot of experience, even if some of it is on the bench. They will nit-pick on every situation and expect them to make some substitutions to throw things off. Semi Pro will have to clean up their act on defense in order to move to the finals. Offensively, Semi Pro will have an edge here while defensively it may be too close to call. The Ducks played their hearts out last week, but was that due to the fire that was ignited against Heavy Hittaz or are they the real deal? For now, we will have to predict Semi Pro, in 3.