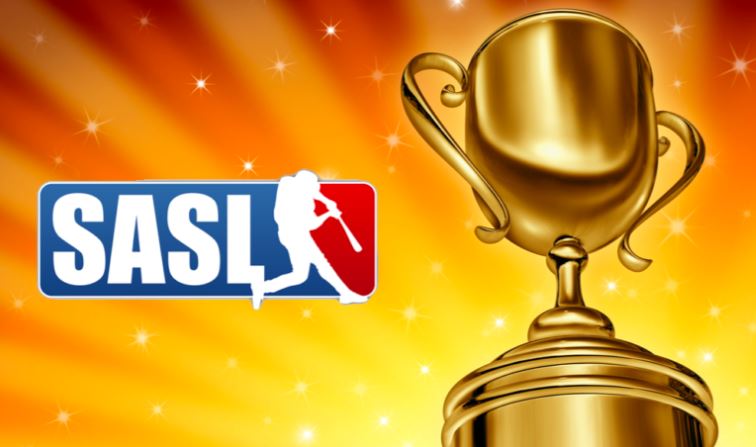 Before we talk softball, let's take a moment to recognize the situation in Afghanistan and realize how lucky we are to be arguing about shaved bats and ratings. We have an incredible community here at SASL that's been going strong for many years and we can only feel grateful. A special shout out to our Afghan brothers and sisters, especially those part of our community who are hurting. 
Well, well…let the conspiracy theories begin.
Commissioner Kim Jong Oak and his co-conspirator commissioners Adeel and Prince have made it to the finals. We're not sure what will happen first, will Saj's head explode at the thought of potentially handing over the coveted trophy to half of his ex-teammates? Will Billal's keyboard rants break WhatsApp? Or will Heavy Hitter groupie Sohel drop a line or two to rabble rouse like he always seems to? As soon as the finals matchup was determined, no time was wasted as Kevin returned early from his fishing trip to express his dismay, even though his team had the chance to knock out the Tigers in round 1 with both Yoba and Denon present. Either way, it's been quite the year for SASL. Let's a take a look at the season before we jump into this finals matchup.
With the 11th hour transition to new commissioners, a shift from eye-test based to statistical and system based ratings, several new teams forming, content disappearing, and stats looking very suspect on the website, a lot has happened. While some still argue that there wasn't parity in the league, for the first time in SASL history we had a 4 way tie between the 4-7 seeds, while the wild card seeds were pretty neck and neck with their respective records differing by 1 to 2 games at most. Granted some rainouts unfortunately affected the standings, and the consecutive weekend rainouts left makeup fields a precious commodity, but beneath it all, perhaps its an indicator that the rating system and cap system served their purpose. Even with the 1 seed leading the pack in terms of wins/losses, their postseason shakiness clearly showed teams on rather equal footing. Of course, following the conclusion of the spring season, all eyes will be on re-ratings and once complete, there's no doubt that deals will begin to be brokered left and right to make new teams for next year. But a question remains— how will stats be used to rank players when the Scorers stats make absolutely no sense, when Heavy Hittaz mysteriously lost their score book 2 weeks before the end of the season, and the website has been having problems all year so several players/teams stats remain incomplete. The commissioners have a tough task ahead, but we can count on some serious movement in many places. The Young Guns managers, also candidates for Captains/Managers of the year will be faced with a tough task following revision of Rookie of the Year candidate Chris Stefl, Most Improved Player candidate Anthony Dindiyal, and perhaps a few others. Jerry Liang will rise meteorically from the 6 that he carried this season, Saeed Anwar MIP candidate will no doubt climb the ranks. Shane Rivera will shed his South Asian discount. This is just to name a few players from the top 3 teams. Depending on the cap for next spring, there seems to be room for much turnover.
Focusing on this week's finals matchup, the road to the championship for both teams has been quite different. Semi Pro had to fend off a hungry Dothrakis in round one of the playoffs which led to them barely winning in game 3 in the last inning down by 3 and with 2 outs already booked. That poor showing for the 1 seed was followed by yet another 3 game series against the four seed Mighty Ducks and again, game 3 was only won by 1 run (thanks to some miracle errors and flight delays for the Ducks). The Tigers on the other hand had a fairly easy round 1 by sweeping the Scorers decisively and then shockingly swept the Young Guns despite taking the field without Rookie of The Year candidate Shane Rivera. You expect that kind of dominance from the 1 seed, but on the contrary it's the 3 seed Tigers that are running on all cylinders into the finals, while Semi Pro sputters towards the finish line.
Before diving into the match up here, let's give a shout out to veteran Irfan Musliwala who will likely be out due to a leg injury that knocked him out of the series vs the Mighty Ducks this weekend. Irfan has been a solid defender this year for Semi Pro and with his injury, along with Jerry's arm injury, Anwar's shoulder injury, and Mike having a setback with his hamstring, this may throw things off for Semi Pro. Even still, as Zeeshan Shaikh noted, Mike Liang went over to catcher, Jerry left from shortstop, and the defense somehow got better!? Injuries or not, this is going to be a series coming down to the wire.
This match up will be the 3rd series between these two teams this year, and it will definitely be an interesting one. The regular season advantage goes to Semi Pro beating the Tigers 3 out of their 4 games together. The first series, in which Semi Pro swept, was against a Dan-less Tigers. The Tigers have shown they can hang with Semi Pro, as they managed to pull off a split in the final regular season series. Game 1 of that match up was lost on a rare error by Dan at shortstop which cost the Tigers to lose the game. But the Tigers came back to give Semi Pro a split in game 2. With that experience, the Tigers are feeling confident despite what the previous scorecards might tell you. And they may very well have good reason when we take a look at the head-to-head breakdown. Keep in mind, with some injuries there could be changes for Semi Pro, but with this being the championship series, let's assume everyone is going to play through some pain and be available.
Pitcher/Catcher
Semi Pro: Anwar Sadat P, Omar Hernandez C vs. Tigers: Narish Ramoutar aka Sugar P, Adeel Ahmed C
Sugar has proven to be an instrumental piece to the Tigers. If there were a Cy Young award, he would likely be the front runner for it. Too bad there isn't one (thanks to the lack of stat inputs this year). But he shut down some top hitters this past weekend including rookie Chris Stefl. His bat has been on fire too. Anwar's pitching has proved at least adequate to Semi Pro's wins, but Sugar's tomahawk swing and his line-to-line threat puts him light years ahead of Anwar offensively.
Omar has always been an elite player, especially when it comes to playoff time. Although he seems to be injury prone, he somehow ends up healthy during the post-season and will put pressure on any team. Adeel comes off of a 4 RBI semi final but has had an inconsistent year and while he has shown some fire, albeit mostly in the SASL chatrooms, Omar will take this matchup, but you can't help but think about what a waste of talent he is at catcher. Between Omar's and Sugar's bats and Adeel's and Anwar's bats, this is a pretty even match up.
Advantage: Draw
First Base
Semi Pro: Ronak Jain vs Tigers: Rishi Rampal
Rishi has struggled with his hitting in terms of consistency. But when he is on, he's on. Maybe it's his backwards cap? Maybe it's due to his late partying the night before? Or is it the fact that the league has disrespected this man by implying he's overrated in the matchup previews? His transition from baseball to softball has been a rocky road but he is finding his stride in big spots.  Ronak seems to have a similar issue with his bat too in terms of consistency. But as of late, Ronak has been coming up big for Semi Pro. In Round 1 he had a huge triple in the 7th inning of game 3 and in Round 2 he showed up big, forcing a Zeeshan Shaikh error at 2B in the bottom of the 6th inning of game 3 to help his team get on top. Both players may not realize how important their performance is to support their stars, but whoever realizes that first may have the edge here. That said, Rishi has come up big for the Tigers and defensively he is a far better first baseman than Ronak who seems like a fish out of water at 1B defensively, especially as of late. So, we will give this advantage to Ri$hi Rich who keeps getting richer off of riding on the backs of his stars.
Advantage: Tigers
Second Base
Semi Pro: Milan Patel vs. Tigers: Naveed Ahmed
Milan has played above his rating this year and has been one of Semi-Pro's biggest assets. They say the first out is the most important out but when you have Milan leading off, that seems to be a tough thing to do. For the Tigers, Naveed had a rough regular season, dropping below the SASL Mendoza line of .400 average, but he has been hot this post season and has seemed to have found his stride. He is coming off of a D3 Championship, so the question is – is he thirsty for more? Or has his hunger for wins been satiated? In fact, if Naveed can continue his streak, he might be one of the smartest pickups of the offseason for the Tigers alongside Solyman after his epically failed attempt to navigate the waiver wire. Both players interestingly have similar offensive predilections and are both singles hitters mostly. Because of Milan's consistency, we'd have to lean to him on this match up.
Advantage: Semi Pro
Shortstop
Semi Pro: Jerry Liang vs. Tigers: Dan Diiorio
With both being MVP candidates, here is probably one of the most fun match ups to watch. Both are elite fielders with incredible defensive range and strong arms. Both are not big talkers and speak louder with their bats.
Jerry did get hurt this past weekend and seemed to have trouble throwing. He did have his share of flyouts to the warning track that you can't help but wonder, is it the shoulder that's costing him those last few feet? The question here is whether he will be able to recover in time or will Semi Pro have to make a switch here and put Mike Liang, Omar, or Milan at short? If Jerry can come back and play this position, it's a tough one to call. Dan is coming off an incredible but frustrating (for him) series against Young Gunz. He went yard multiple times and was intentionally walked a few times too (once even with the bases loaded). His presence alone is a huge factor that sets up the rest of the team. That said, who will get pitched to? Sugar is not one to shy away from anyone, but will Anwar and Semi Pro actually pitch to Dan? We'll have to wait and see. For now, we are calling this a draw.
Advantage: Draw
Third Base
Semi Pro: Adrian Polanco vs. Tigers: Akil Gubbi
Akil is coming off of a hot series against Young Gunz. He had a 6+ RBI series and was his classic self with his opposite field hitting. He also is a far better glove at third base than Adrian. In fact, Adrian's blunders this past weekend may be one of the bigger contributing factors to Semi Pro's game 2 loss against the Ducks. That being said, Adrian has shown some serious pop this year, and an improved approach at the plate.  In a series this tight, Akil's sure handed glove could be the difference, but Adrian's emergence as a middle of the order presence could be just as important.
Advantage: Draw
Outfield
Semi Pro: Mike Liang, Kunal Oak, Saeed Anwar, Manju Shanmugam or David Poon
Tigers: Pops Allen, Shane Rivera, Dan Basile, Solyman Najimi
Saeed vs Pops
Saeed is in the running for most improved player this year. His defense has kept hitter honest, and his bat has become a threat to all sides of the field. Pops is hot and cold. Lately though, he's been hot. He not only brings his experience but also brings comedy to the dugout keeping things light for the Tigers. The Tigers' version of Manju if you will. That sort of morale boost can go a long way. That said, Saeed's underrated year puts him on top of Pops in this match up.
Mike vs Shane
Shane was out last week partying in the D.R. but luckily the Tigers were able to cruise by without his bat in the line-up. With him back and the team coming off of a high, this rookie of the year candidate can really elevate this team at the right time. Mike is a silent killer with his bat, and you better think twice before running on him. We may see some action from Mike in the infield depending on the injuries, but we will assume that he will start in the outfield. This match has a slight edge to Mike, as he's proven to be the more consistent bat.
Oak vs Basile
Dan has been a great leadoff hitter for the Tigers. He has shown to be patient and to trust the bats behind him. He has great range in the outfield as well and reads the ball off of the bat really well. Oak has been consistent for Semi Pro with his bat in the regular season but offensively in the post season seems to be hiding in his bunker like Joe Biden. While his outfield play may not be as skilled as Dan's, he can be a solid middle of the line-up hitter. That said, Basile's consistency throughout the whole season gives him the decisive edge over Oak.
Manju / David vs Solyman
Solyman is a vet who is best known for his mental game. His non-stop chatter and his loudmouth yelling can get to any team, especially in a tight series like this. He will need to back some of that talk up to help his team though. His defense has been solid due to his expert scouting and years of experience tracking down fly balls. Even though he has a weak arm, you can always expect to see him make routine plays.
Semi Pro is left in a dilemma here with Irfan out. The reality is Irfan has struggled at the plate all season, so maybe a switch up here might be good for Semi Pro. Manju can you give you some timely hitting while David is eager to prove that he can help carry this team. David is sometimes shaky in the outfield and if Manju shows up sober, he should be able to make the routine plays out there.
Between all of three of them, offensively, we'd have to give the slightest advantage to Sol.
Outfield Advantage: Slight advantage Semi Pro
Bench
Semi Pro brings Manju Shanmugam, Aroup Sorijum and David Poon. Manju has had a tough year overall but can come in when rest is needed or for a pinch running situation. David has championship experience and was a key piece last year for Dynasty while Aroup is fairly unknown, you can't sleep on his occasional power. Tigers will have Manpreet Singh, Prince Panicker, Azhar Naqvi, Arshad Navqi and Harvey Harding coming off the bench. Manpreet is coming off of a huge weekend as a pinch hitter. The Punjabi powerhouse went 2 for 2 with 4 RBIs in key spots. Clearly, Young Gunz took the last article lightly when it came to describing Manpreet. Azhar and Arshad bring great experience and keep the team focused. Prince is the secret to the Tigers success by being the quiet captain in this all and he seems to be calling all the right shots. Let's not forget about Devin Booker's older brother and still speedy Harvey Harding that can fill in for any position in the outfield or come in to pinch run when needed. Any of the 5 are great options for situational success.
Advantage: Tigers
Overall: Will Prince finally get a ring in D2 after a dozen+ year long career? Will the defending champs, Dynasty, we mean, Semi Pro give Anwar a ring without him being a commissioner? Between the injuries for Semi Pro and the Tigers finding their footing at the perfect time, this will end up being a tight series. Expect to see many emotions and some bad jokes from Manju and Pops. Both teams have been fairly quiet in the chats, but don't let that fool you, they are both hungry to win it all. Putting a likely hobbled Semi-Pro that's shown weakness all post season against the 8 and 4 seed opponents, against a full and healthy Tiger's roster that's coming off of sweeps of the Scorers and then arguably the most talented team in the league Young Guns, we anticipate a 3 games series going to…Semi-Pro.  They've defied the odds this postseason, coming back twice down in game 3's; and pulled victory out from the jaws of defeat too many times this season to count them out now.  They will pull their final rabbit Tiger out of their hat to barely squeak by despite the injuries to win the 2021 SASL D2 championship.
Tell us if you agree with our prediction:
Who will win the 2021 D2 Spring Championship?
Semi Pro (39%, 14 Votes)
Tigers (36%, 13 Votes)
Kunal and company rigged it. They all win. (25%, 9 Votes)
Total Voters: 36

Loading ...