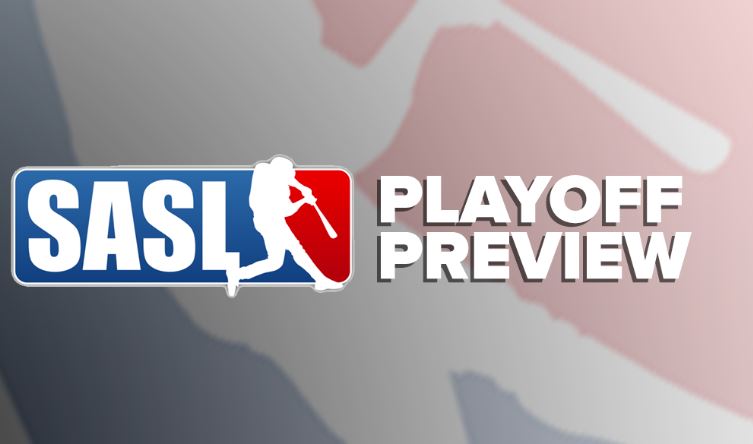 With round one of the 2021 SASL playoffs in the books, its surprising to see that in a league where the division standings showed more parity than ever before in SASL history, all of the favorites advanced. Semi Pro (1) barely squeaked by Dothrakis (8), Young Gunz (2) sent Hit Squad (7) packing, Tigers (3) sealed the annual premature playoff exit for the Scorers (6) with a resounding sweep, and the Mighty Ducks (4) made the Heavy Hittaz (5) forget how to swing a bat entirely (one handed swings from Ali G?! What was he thinking??)
The next round features two particularly exciting matchups, Semi Pro (1) vs The Mighty Ducks (4) and Young Gunz (2) vs Tigers (3). We'll dive deeper into the latter matchup.
In their first round matchups, both Young Gunz and Tigers vanquished their opponents to an early off-season with easy sweeps. Young Gunz beat Hit Squad only by 1 run in game 1 finishing it 15 to 14, but then settled down in game 2 to end Hit Squad's misery 22 to 7. The Tigers had a much easier time against the Scorers who managed a whopping 1 run in the first game, ending 13-1, and followed that performance with a 15-7 victory. Both teams come in with momentum to this second round matchup, and as far as we know the quick sweeps left no issues with injuries on the field. Both teams will be ready to go full speed. Let's turn to the head to head comparisons:
Pitcher/Catcher:
The Tigers will go with a duo of Narish Ramoutar aka Sugar and Manpreet Singh while Young Gunz typically split pitching duties between Wahid and Saiful with Amby protecting the plate.
From a pure pitching standpoint, we like Narish's command and ability to spot pitches better than we like Wahid or Saiful's. But, the pitching switch mid game can be seen as a shrewd move to throw the Tigers hitters off, having to adjust to new delivery style, different pitches, less spin from Wahid and more knuckling from Saiful.
Defensively, Narish has quicker reaction times to comeback liners than Wahid, and perhaps a bit more in line with the otherwise stellar outfielder Saiful.
Offensively, Narish puts the ball where your defenders aren't. If he sees your outfielders cheating in, he'll swing for the fences, otherwise he aims to hit the gaps. He's got a very under appreciated bat but we definitely recognize his ability to place the ball on the field. He has hit the ball with an impressive avg of .615 and has an OBP of .640. Manpreet has a relatively weaker bat than the other players in this discussion but retains some sneaky pop that can catch a cheating outfielder off guard.
We particularly admire Wahid's bat, still being able to hit the ball for power to all fields — doing at his age certainly commands additional respect. Saiful is historically known as more of a pull hitter, but nothing makes him salivate more than spotting his favorite prey and taking advantage of a weak outfielder or a big gap in right field. Amby has been riddled with injury over the past year or so, but still can get a hold of an inside pitch and send it over the right field wall with authority. He's hitting at an impressive .611 average.
While the comparison in pitching ability goes to Tigers, offensively the gap between the pop that Wahid, Saiful, and Amby provide is far greater than their opponents compared to the Tigers advantage in pitching ability. Narish can place the ball wherever he wants, but on the other end it's going to always be met with an elite defense with speedy defenders rocking flame-throwing arms.
Advantage: Young Gunz
1B:
Young Gunz go with most improved player of the year candidate Anthony Dindiyal, hitting an elite clip of .732 with strong power numbers mixed in. He goes head to head in comparison with Rishi Rampal who sports some of the best scooping abilities at 1B in the whole league. Offensively he packs a relatively underwhelming punch compared to Anthony, but is hitting close to .600 for the season. Both have the ability to send it to both sides of the field but Anthony sends it with more authority to RCF and RF than Rishi sends shots to LCF or LF.
Since both have elite arms throwing to them at 1B and theres not much concern for wild throws on either end, we think Anthony's offensive prowess is of more value than Rishi's.
Advantage: Young Gunz
2B:
Can you imagine that the fastest, if not at least one of the fastest players in the league with some of the best range and a rocket arm is not even playing SS for Young Gunz?! What does that tell you about the caliber of the Young Gunz infield? Just be afraid, be very afraid of Kyle Bacchus both on offense and defense. Hustle to 1B on every single ground ball, because Kyle is a young gun personified.
He goes head to head with veteran Naveed Ahmed. Naveed will tear apart the right side of your outfield if you let him, but we're looking at a .379 average on the year. He will make the routine plays and provides a sure handed touch at second base.
Advantage: Young Gunz
3B:
Young Gunz put Mauris Rodriguez at 3B who brings a steady glove, a strong arm that he brings over from his original outfield position, speedy wheels, and comes with a .600 avg bat.
Tigers go with avid hiker and veteran Akil Gubbi. Akil is known league wide as a solid sure handed defender that can play anywhere in the infield and also several spots in the outfield respectably. Father time and an achilles injury have taken a toll on his range and speed however, and while he can place the ball to all fields, he makes less of his hits than the speedy Mauris.
Advantage: Young Gunz
SS:
Young Guns go with Joshua Abbensetts at SS. The guy is a baseball shortstop, so he has the capacity of elite range and a strong arm but consistency is the only thing left to be slightly desired. Hes hitting a respectable .550ish and has a few homeruns on the year indicating either the occasional pop or some good speed, we assume likely both.
Tigers go with Dan Diiorio, come on guys can we finally start spelling his name right? He doesn't take kindly to anyone putting any L's on his name and accordingly, he's the Tigers best shot at saving them from two L's from Young Gunz. Do we really need to say more? He's got the most powerful bat in SASL, and has elite defensive range, accuracy, IQ, and throws flames with his arm. We'd be surprised if he doesnt clear the golf course at least once in deep left field.
Advantage: Tigers, finally.
Overall though, the infield of Young Gunz is fast, speedy, good range, good gloves, and strong arms. No one else in the league can compare.
Outfield:
When you look at the Young Gunz outfield, its more of the same. Fast, elite range, steady gloves, and strong arms. Rookie of the year candidate Chris Stefl, the all around beast Majid Raufi (seems like this year was more of a down year for him offensively, but everyone remembers what hes capable of), Justus Accosta, Dylan Hoosein, Saiful Ashraf, Alan Dubey, Chris Bacchus can all take the field out there. When your right fielder is Saiful, you know your pitcher's ERA is going to be one of the best in the league. We can safely call this outfield Area 51, the most secure no fly zone outfield in the whole league.
The Tigers bring Shane Rivera, Dan Basile, Solyman Najimi, and Adeel Ahmed, with potential backups being Harvey Harding or Pops Alam. After Shane and Dan Basile, the Tigers just cant compare to the firepower and defensive range that Young Gunz bring. Shane and Dan fit right in with good speed, good arms comparable to the Young Gunz guys, and can hold their own offensively as well, especially Shane. Solyman has excellent tracking ability on fly balls, but he's beginning to face a reverse R. Kelly: My mind's telling me yes, but my body, my body's telling me no. Don't ever discount Solyman's cognitive warfare, where he won't beat you with athleticism, he will beat you mentally and then post a great meme about you, and at your dignity's expense. Adeel Ahmed a one time MVP back when Wahid was still bottle feeding Dylan, now faces an uphill battle with regard to being able to cover the same amount of ground that he once was able to cover on defense. He's got a strong bat particularly to left field, but consistency has plagued him all year. He will likely remain grumpy and in right field looking for a reason to argue with Solyman.
Advantage: Are you beginning to notice a pattern here? Young Gunz
Can we take a second to recognize that we've got a father son duo in Wahid and Dylan Hoosein, both competing at a high level together on an extremely dangerous team? If Amby brought his father along he could have been yet another father son duo on the same team. Just amazing.
So, we're going to be at Eisenhower D at 8:30 AM this Sunday, chosen by Young Gunz who since they played there last week in round 1, they know the ins and outs of the field and the position of the sun and its effect on the outfielders through the morning, and the rough patches in the outfield, and all the other intricacies. Forget the athletic advantage that they have, they've also got the home field advantage being able to choose to bat second in games 1 and 3, and they roll deep with an entourage of fans alongside their dugout. If they keep playing the same softball that they have been all season, they're our favorites to win it all this year. That being the case, the pressure is on them to maintain the high level performance that they have brought most of the time to the field, with a couple of exceptions being a sweep by the Mighty Ducks who have a similar build to the Tigers with experienced veterans up and down the lineup. All it takes is one or two players to land in a funk and that can be quite contagious in a softball lineup.
The Tigers if they want to stand a chance, need the role players to keep the defense tight and keep the bats hot. They have the overall edge of experience and perhaps mental fortitude in this high stakes matchup, and will need to play strong fundamental softball in order to send the Young Gunz home. No drops in the outfield, no extra throws, no off-line throws. There's no fence protecting an errant throw to 1B.
It's encouraging to the Tigers that Hit Squad with less offensive and defensive prowess came within 2 runs of beating Young Gunz last week in game 1. Solyman brings over to Tigers a piece of that shrewd Hit Squad game management, morale management, and IQ, but with more offensive weapons to deploy in battle.
On the other hand, this team has also faced chemistry issues all season, with Jason Reis being on the roster and not nearly qualifying for playoffs. They turned it around just in time to climb to the 3 seed, but will adversity creep in because the Young Gunz won't take a beating lying down like the Scorers did?
It will be a fun series to watch but…
Predictions: The Young Gunz will advance to the finals with a sweep.