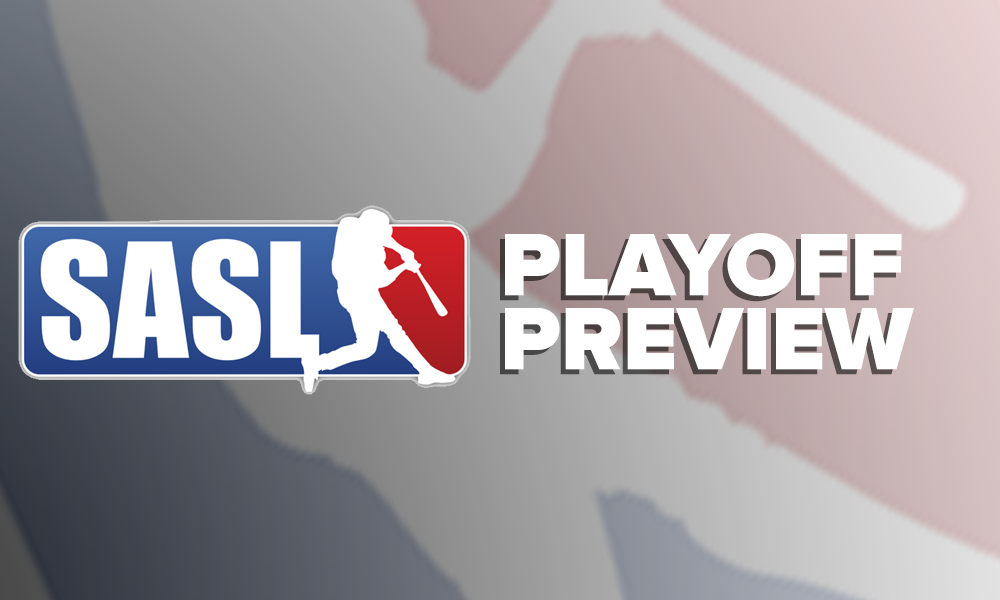 This is a matchup that features the top seeded High Rollers, that clinched the 1 seed with a blistering second half, and the up and coming Batz, who needed to sweep this past Sunday to make it into the big dance.  High Rollers feature a lot of veteran players, and most of their starters play in D2; whereas the Batz are young and hungry and get to sleep in, so fatigue could play a factor in this series.  Let's take a look at the matchups and see who has the advantages.
Left Field

Fazeel Haque vs. Pavan Bahl

Fazeel is a solid outfielder and human being but Pavan is a speedy player and drives defenses crazy with his high IQ at the plate. He just barely qualified for the playoffs, and will make a huge impact for the high rollers.

Advantage – High Rollers
 
Left Centerfield

Sajeel Haque vs. Harvey Harding Junior
 
Sajeel Haque is as clutch as they come and is one of the best outfielders in d3 competition. Harvey is also a very solid outfielder but Sajeel got a bigger and better bat.

Advantage- Batz

Right center field

Nabeel Haque vs. Kunal Oak

Nabeel Haque can do it all and play any position but looks like the team needs him in RCF. Against most matchups he has an advantage but against the beast of a human being Kunal Oak he doesn't stand a chance. Kunal has over 15 home runs and plays a very solid RCF. If not for 15 excess pounds he would be a top 3 outfielder in d3. 

Advantage- High Rollers.

Right field

Harris Imam vs. Ali Ahmedy

Ali has improved a lot with speed for days, and catches balls unconventionally but usually makes the plays. Harris is a young up and comer with a great bat and has a slight advantage in right field. Both teams will look to hit there often so it will be crucial to see who plays better defense on Sunday.

Advantage- Batz

Catcher

Gino vs. Ammad Sheikh

Gino is a solid bat but Ammad has been tearing it up this year for the most part. Ammad also has the veteran savvy and inside relationships with the umpires so the High Rollers have the advantage here.

Advantage- High Rollers

Pitcher

Omit vs. Rehan Murtaza

Omit is one of the most underrated pitchers in the league as he throws with a good arc and doesn't walk too many batters. Rehan is exactly the same. Both average hitters.  Whoever limits the walks and meatball pitches will be the victor in this head to head.

Advantage- Even.

1B

Azfar Imam vs. Prince Panicker

Azfar is deceptively fast and is a good defender but he is no match for Prince Panicker who was an early MVP candidate until he realized he was the frontrunner and started making some outs. Prince is great defensively and offensively as he can hit the ball anywhere and is a calming presence for the team.

Advantage- High Rollers.

2B

Zimmad Imam vs. Gotham Green

Gotham is slightly better defensively and Zimmad has a slightly better bat but they are both great players who can be slightly inconsistent. A lot of balls will be coming to right-field and second base.  These guys will be crucial to their team's success and we will see if they get on base and turn double plays.

Advantage- Even

SS

Syed Haque vs. Akil Gubi

Syed and Akil are both great defenders at short and are even defensively, but Akil will attack all fields and expose any weakness in the Batz defense and is a superior hitter.

Advantage- High Rollers

3B

Bilal vs. Darwin Kim

Bilal has come a long way and is a good defender with an inconsistent bat.  Darwin is a reliable defender as well. Neither are game changers.

-Advantage EVEN
 
Overall both teams are very even- will come down to a game three. High Rollers superior lineup will be the difference and will take it in three low scoring games.