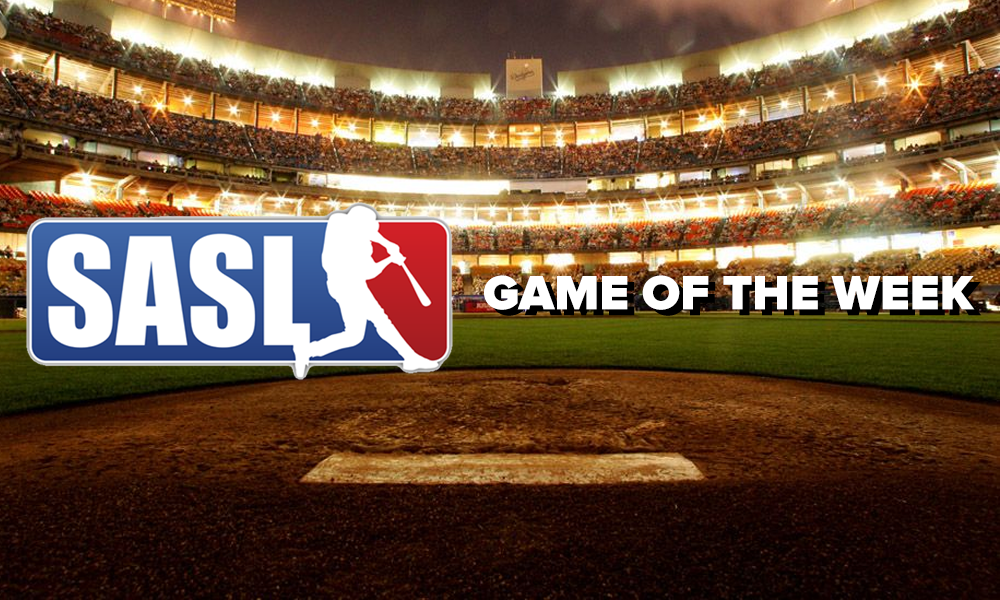 SAVAGES (6-0) vs. HEAVYHITTAZ (4-2)
Was there any doubt about this being the Game of the Week for the upper division? This marquee matchup pits the two best teams from the early going in this division. If you look at the American League stat leaders, HeavyHittaz absolutely dominate in almost every category. And, Savages are the only undefeated team with a 6-0 unblemished record.
How they got here:
Savages: Opening weekend they faced a 516 team who had their number last season. They swept 516 In two convincing wins. Week 2, we all thought the 2018 champs Ducks who went 6-1 against Savages last year, would give Savages trouble. Both games were never in doubt, as Hashim, TK, Charley and co. put the Ducks to sleep. Week 3, Empire forfeit against Savages, but we guess not many teams want to play Savages when they are this hot.
HeavyHittaz: Week 1, they were pitted against Ducks. Each team won one game apiece, but we got an early indication of how strong the offense was. Week 2, Troopers had absolutely no shot as HH blew them out of the water to move to 3-1. Last week, we saw two intense games with 516 splitting with HH and HH ended the weekend with a record of 4-2.
Keys to winning:
Savages:
–Keeping forces on the bases: HeavyHittaz will get their share of hits and will hit a few out of the park. The key will be to limit them going wild on the base paths. If Savages can keep them going from station to station, they will be fine.
–Working ahead of the hitters: Will Yasar be there in a big early season matchup? Getting ahead will be key in this matchup. Not only does it keep the defense engaged, you will get some quick innings as well. And do you really want to give out free passes with a lineup that dominates 1-10?
–Taking extra bases on Offense: Besides Craig Cymerman, HH is devoid of any good arms in the Outfield. Any chance Savages get, they should be forcing the issue. Except on Craig, who has a top 5 arm in the league.
HeavyHittaz:
–Defense, Defense, and more Defense: Everyone knows the weakness of HH. They have probably 3 defenders who are above average. The lack of range will hurt, so they need to make sure they get every sure out. Giving a 4th out will have devastating effects.
–Outhit their opponent: If the bats don't show up, HH will get mercied. They need to keep pace and dictate the game flow.
–Composure on the mound: Yes, Savages will bring it. They will score runs. Can Ali or Masoom keep composed and keep the troops under control? Last year, in the semifinals, the pitching had a lot to do with Savages winning this matchup in 2.
Matchups:
Pitcher:

Ali Ghumman

Yasar Bokhari

Edge:

HeavyHittaz. Ali is hitting close to .700 so far and Yasar has yet to debut. Expect some rust from Yasar if he is able to play this week.

Catcher:

Asad Hamdani

Dex Ortiz

Edge:

 Savages. Asad has 4 home runs in just 6 games, but Dex is the reigning Rookie of the Year and one of the premier hitters in the game.

First Base:

Masoom Siddiqui

Zulfikar Musliwala/Anwar Sadat

Edge:

HeavyHittaz. This one isn't close. Masoom is a feared hitter, and while Zulfikar started hot, he is a career .500 hitter at best. Anwar is a liability on defense but carries a ok stick.

Second Base:

John Sans

Pavy Badwal

Edge:

Savages. John used to be a great defender. Now he is slightly above average. His bat came around so far this but Pavy just came off a season where he hit almost .800.

Shortstop:

Dan DiIrio

Hashim Naveed

Edge:

Even. Two of the best players in our league (if not, the two best). This will be fun to watch with both players looking to will their team to winning this weekend.

Third Base:

Billal Lateef/Binu Nair

Charley Robinson

Edge:

Savages. Billal and Binu are solid players, but Charley is a future SASL HOF'er. Former MVP is batting above .750 so far with his usual solid defense.

Left Field:

Ramy AbdelHamid

Irfan Musliwala

Edge:

HeavyHittaz. Ramy is the reigning MVP and thru 6 games, he leads the league in RBIs. He is the heart and soul of HH. Irfan is a solid athlete, who has a potent bat if he is on.

Left Centerfield:

Craig Cymerman

Tom Kahl

Edge:

Savages. All the rumors are true. TK is a top 10 player in the league and is a 5 tool player. Craig is a nice player and one of the best defenders, but his bat has yet to catch up to his glove/arm.

Right Centerfield:

Harpreet Chadha

Jojo Rodriguez

Edge:

HeavyHittaz. Harpreet is a former league MVP. He started a bit slow so far, but there aren't many better hitters in the league. Jojo was a big under the radar addition to Savages, and he will be a big part of their season moving forward.

Right Field:

Ahmad Halimi

VJ Samaroo

Edge:

HeavyHittaz. Ahmad is an all or nothing hitter at the plate but he has improved dramatically on the field. VJ is now SASL famous after his trash talk. He has above average speed but his bat is hit or miss depending on the pitcher.  

Bench:

Usman Ghumman, Kunal Sra, Billal/Binu, Naveed Ahmed, Sikander Dhillon
Anwar/Zulf, Harris Naveed, Ronak Jain, Manju Shanmugam, Saeed Anwar
Edge:

HeavyHittaz. More versatile, more veteran presence, slightly better bat overall.
Prediction:
When you tally up the in depth analysis and breakdown of position by position, HeavyHittaz have the clear advantage. However, it is very close.
We are going to be very boring and call this a split.