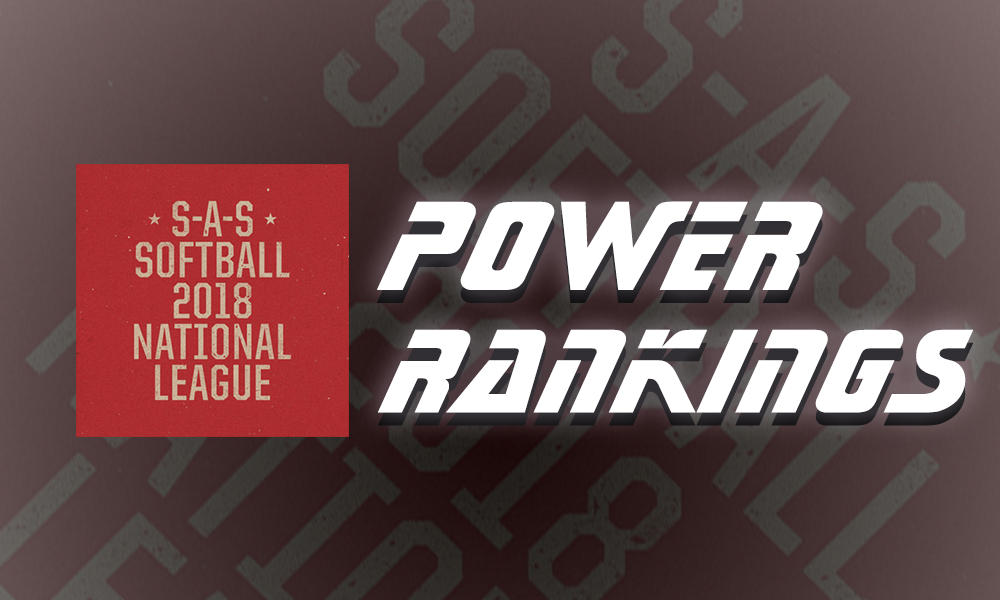 1. Hit Squad (3-1)
They picked up their first loss of the season with a split against Dynasty. We are leaving them at number 1 still as they are still the team to beat. Wahid makes the job for his defense easy and they pick up enough runs to win games.
2. Scoobies Force (3-1)
They looked mighty impressive against Bats with two mercy wins. Their lineup is so deep that Burhan had 7 RBIs in the week from the bottom of the lineup. Their defense was top notch and that was without couple of huge contributors missing.
3. Shooter McGavins (4-0)
Wow. Two hugely impressive wins against last year finalists The Ones. They are doing it with an impressive lineup that still hasn't gotten Mike Velez, Khurram and Gage going. This team is for real and will make noise all season. Some have even said they maybe an AL type team.
4. Bengals (4-0)
Last week they were second in the Power Rankings and this week they drop to 4th after a sweep of NWO? What gives?! Well, they couldn't put away a weak NWO team convincingly. They relied on NWO making mistakes rather than forcing their will onto Their opponent. Jason Gregory, Manpreet Singh and Sami Hossain are all having huge seasons for Bengals.
5. Dynasty (2-2)
We think this team will move up the standings once they start playing the bottom feeders. So far they have played the top 2 teams in the Power Rankings and split both times. Don't be fooled. This team is a power house team. If they can get Amit to come on a consistent basis, their defense improves to elite level.
6. NWO (2-2)
They could've split against Bengals this week but they let game 1 slip by with some bad offense. Shout out to Shawn Smith, returning back to SASL, and playing a surprisingly good SS this past week. Fuad is having his best season and Isiah is the real deal at the plate. They need to shore up their defense if they want to break into the top half of the league.
7. The Ones (0-4)
They lost two to Shooter McGavins. Game 2 they let slip as they had the lead going into the 7th. They are still gelling and we expect them to pickup some wins shortly as their schedule gets easier. Ray has been as advertised but they seem to have issues with Outfield defense so far in the young season. Giving up so many runs in a weekend is never good barometer.
8. Strike Force (1-3)
They picked up their first win of the season this past Sunday, but let game 2 slip even with a late 5 run lead against Dad Bods. Their offense was on fire Sunday and if they can keep that momentum up, they will pick up some wins in the upcoming weeks. Shadesh was a shrewd late pickup for the team. Their defense seems good enough for the NL but their offense is hugely streaky.
9. Dad Bods (1-3)
Congratulations to Dad Bods on their first wins of their franchise. That was awesome seeing them not give up and come back from a big deficit. This team is full of heart and while we don't expect them to move up too far in the Power Rankings this season, they have some players that can definitely play. They will keep games competitive all season.
10. Bats (0-4)
Oh boy. The vibe only got worse for Bats this past week. They got mercied twice and scored a total of 1 run in 2 games. They are playing like an expansion franchise and not a veteran team. 3 of their 4 losses have been in mercy fashion. We are not sure what is going on. Attendance has been spotty but every team has attendance issues. That's why you have 18 roster spots. They need help now and they need it fast.