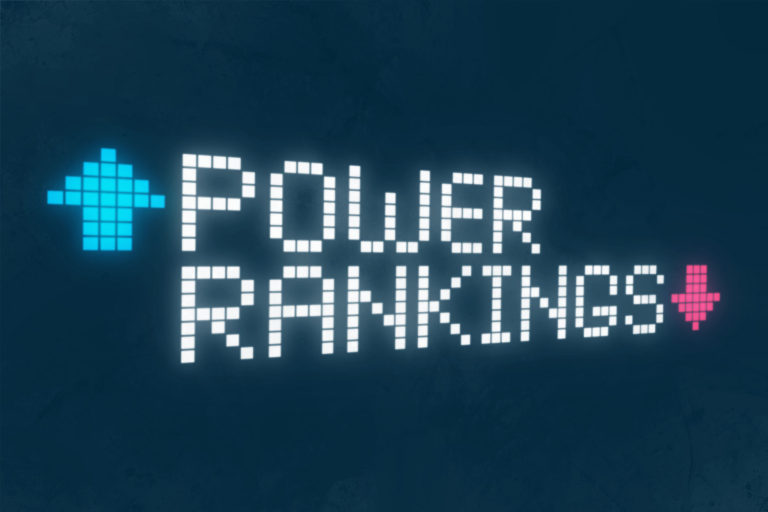 1. THE NORTH (12-2) ↔️
In their split against MonStars this past Sunday, The North looked lethargic. Maybe the regular season is boring them. They still have by far the best run differential in the league at +105 which bodes well for them in the playoffs. The Labor Day break comes in good time for them to refocus and bring that energy level back up to 100%. Over the next month, The North who already had playoff spot locked up, will look to keep their all important number one seed to dictate fields and timings in playoffs.
2. DOTHRAKIS (11-3) ⬆️ 1 SPOT
Huge wins against Dynasty this past Sunday. Over the last two weeks they are 4-0 against tough competition (Dynasty and Hit Squad). Hashim is having an MVP type season, and the 3 rookies are playing phenomenal.  They are still missing production from Pavy and getting less than expected production from Pervez. So this team still has room to grow. One thing we do know about this team is that they don't shy away from the big games. They have a tough end to the season, but they seemed locked into either the second or third seed.
3. DYNASTY (10-4)
⬇️ 

1 SPOT

Yes, they have 10 wins. But their two biggest test so far against Hit Squad and Dothrakis, they failed both. Is 2020 more of the same? Regular season wonders? They remind us of the 90's Knicks. Great teams but just not great enough. If you ask their captains, they are taking a 'just go and have fun' approach to the season, but we suspect that the string of losses to the main contenders is planting doubts slowly in the back of their minds. Who will step up and steer them to some big wins against big teams?
4. THE ONES (9-5)
⬆️

 2 SPOTS

Ok, the offense is clicking in all cylinders right now. There isn't a more deadly combo than Denen and Yoba in the heart of the lineup in any team. Naeem may have finally found his top 10 guys with Yoba in the mound. The concerns over their defense is a legit one, but they have the players to turn that around. Waqas is an elite defender who needs better attendance. This is one team that can outhit anyone. 3 of their 5 losses was to TSFE and Backdoor Sliders, so this team could have potentially been in first place if they didn't overlook those teams.
5. MONSTARS  (8-6) ↔️
MonStars shut down the elite North offense to only 4 runs in game 2 last week to get a split. Salman pitched a great game with Nabeel out. Kunal came up big in crucial spots. With the defense they have, they will give fits to any team any given week. They should get Haaris back soon and he brings another elite glove and speed to the team. They still have games left against Hit Squad, Dothrakis and The Ones, so let's see where they end up at the end of the season. A .500 record isn't out of the realm of possibility.
6. HIT SQUAD  (7-7) ⬇️ 2 SPOTS
Right in the middle of the season, they get hit with an inordinate amount of injuries. Losing Halimi to a multi-week absence is HUGE. Ankit is also banged up. They lost their last 4 games but the silver lining has been that 3 of the 4 games were close and they didn't play close to their ability. A veteran team like this can never be counted out as they are known to turn it on during playoffs. But in 2020, you don't want to go thru say Dothrakis in the first round.
7. SHOOTER MCGAVINS (6-8) ⬆️ 2 SPOTS
We knew Shooter McGavins were going to turn it around sometime but we just didn't know when. They are 6-2 in their last 8 games and they have their two main players (Mike Velez and TK) finally coming out of their slumps. SS Khurram has been wonderful with the leather and captains Z and Baba finally got the clubhouse believing that they are good enough to compete. There was a reason this team was ranked top 3 in preseason and they are making the slow, long climb up the rankings. They have an easy matchup on Sept 13th against Backdoor Sliders so they should be at .500 when we get back to play.
8. TSFE (6-8) ↔️
A split against Troopers isn't terrible, but we know TSFE expected more. When your top hitter by OPS is under 1.5, you know you lack pop. They don't have the extra base pop every other team possesses. As the season went by, we still look back at our preseason ranking of TSFE at #1 and wonder how we missed so badly. TSFE seems resigned to play in the SNL this year unless they can find a spark and put a good winning streak together.
9. TROOPERS (7-9) ⬆️ 1 SPOT
Troopers once again lost game 2 of a doubleheader after winning the first game. Against TSFE, they lost 3-1 in 11 innings. What a game! Nick Jairam has been a rock all season for them and one of the more under appreciated players in SASL. He's quietly hitting over .650 all season. One thing about Troopers is that they've never backed down from a  challenge all season. Maybe it's the young guys on the team who don't know any better. They have a relative easy schedule test of the way with Mambas and Sliders still on the schedule.
10.  BLACK MAMBAS (5-9) ⬇️ 3 SPOTS
A month ago, they were the talk of the town. Maybe they let the Dothrakis sweep get in their heads as it has been ALL downhill since then. Getting swept by DadBods and Shooter McGavins in back to back weeks is embarrassing. How will they respond? A team with a lineup featuring Dan, Narish, Pete shouldn't be with a .357 winning percentage. Captains Ayaz and Azhar needs to steer this in the right direction before it gets out of control.
11. DADBODS (2-12) ↔️
They didn't play last week due to a postponement. They seemed to have enjoyed the week off in the golf course.
12. BACKDOOR SLIDERS (1-11) ↔️
They also missed the week due to a postponement. Good news: all their players seem healthy!