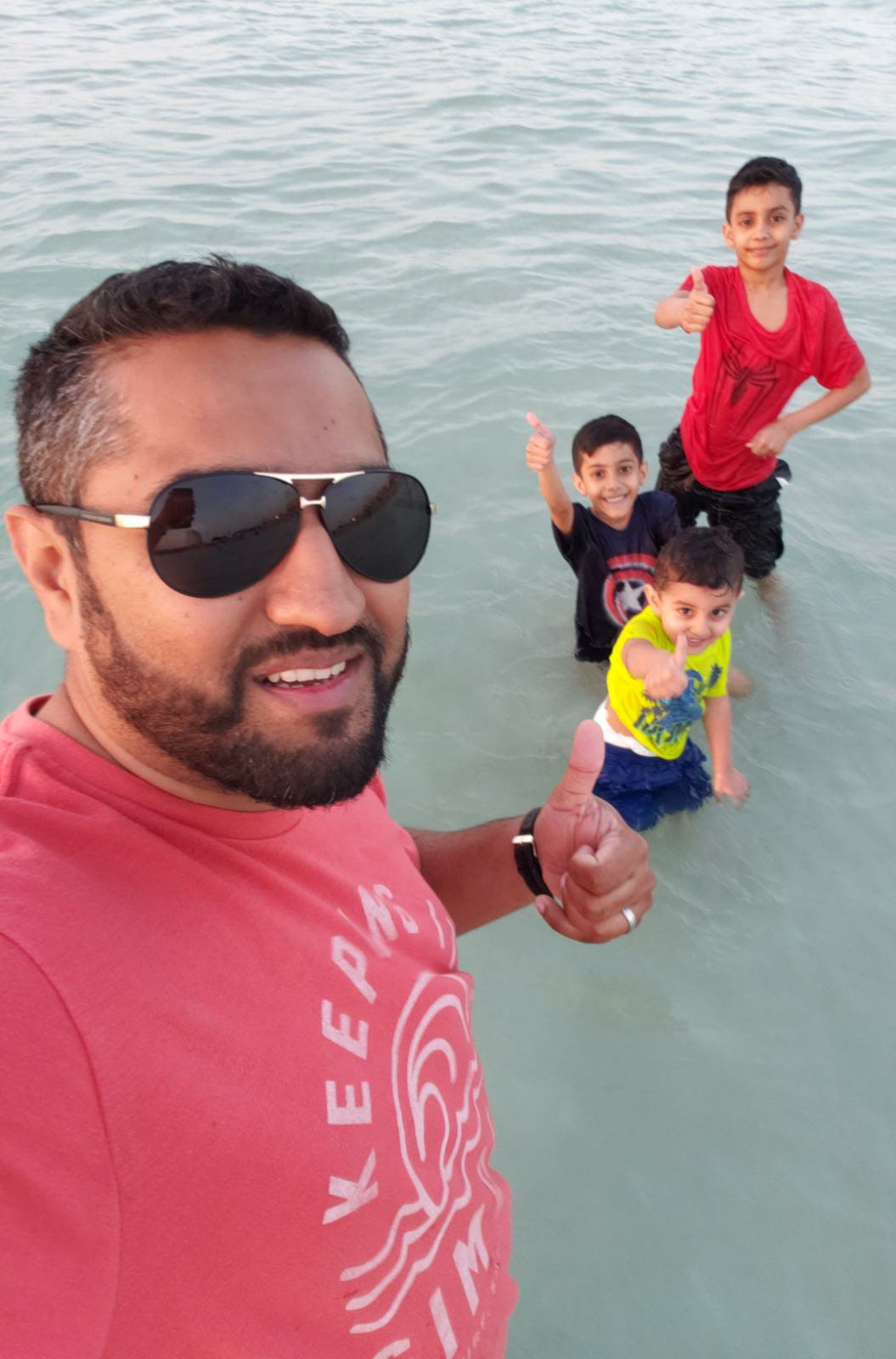 1. Welcome to the Hot Seat Zeeshan Shaikh. Tell us a little about yourself off the field. What do you do for a living? What are your hobbies? Etc.
Hey, it's been a while! I'm Zeeshan, I'm 35 years old and I've been a part of the SASL for a LONG time. I've got 3 boys now: Abdullah 9, Zayd 8 (tomorrow!), and Ahmed 4. They keep me pretty busy! I work for Paychex as an Account Manager. My hobbies are playing Softball, Cricket, Basketball, Golf, Tennis etc. I like to grill and chill with my boys.
2. You spend a lot of time in the past couple years playing cricket. Tell us about your fascination with that sport and who your role models were growing up? What about role models in other sports?
Yeah, I got into playing cricket a few years ago. An old SASL head Azfar Malik would always tell me about his cricket matches etc. and I always wanted to try it. Softball was starting to get a bit redundant so I wanted to try something new. I got into my cricket mainly because of my father. We grew up watching every Pakistan cricket match together and playing in the driveway with my two older bros. As some of you know my father passed away a few years ago and it just felt cool to play the game I used to enjoy with pops! I didn't play much cricket growing up, so it was more of a challenge to be a good cricket player. I enjoyed learning the fundamentals/techniques of cricket.
Role models growing up in Cricket would definitely be my dad. He was a very good cricket player in his days and even played at a very high level. (Almost got selected to the national side!)
In sports I always liked the tenacious players like Rodman, Oakley, Mason etc. The guys who weren't the most talented but busted their ass every single day to get better. And they played with fire and passion!!!
3. You were recently named into the SASL All Time Second Team. No 'Baller' made it to the First Team but 4 made it to second team. Do you feel that was a slight for you and your Baller teammates?
I'm not as involved in the inner circle as much with the SASL. Some of it by choice, some of it by circumstance. So i can't say why they would leave out some of the most successful players (EVER) out of that team. I don't want to take anything away from the guys selected and most of them are very deserving, but my guys were the best at what they did.
Win. Over and over and over and over again.
4. When did you start in SASL and how did you hear about SASL? Give us the backstory after all these years (almost 15 years of SASL)!
Man, I honestly have a garbage memory so I couldn't tell you how old I was. I'd say 17-18? I wasn't more than 19 years old. It all started when I got a random email about some desi folks meeting up  to play softball in Plainview and they were starting to select teams. I'd played some senior division baseball in Queens and remembered loving it. So a good friend Tahir, cousin Hassan Parvez and I decided to go and see what it was all about. We took part in a few scrimmages and then we made teams. The Afghans at the time were generally on Team Shock led by the awesome Najimis. And the bad boy Afghans were on the Outlaws led by Zia, Ahman, Ramin, Shekeeb, etc. The no Afghans aka Pakis, Indians etc. ended up on The Hitmen, led by Sunil Sud, Prince, Harpreet etc. (miss some of those guys btw!)
And I ended up on Dynasty with Amit Bhasin, Kyd, Sonu, my friend Tahir and cousin Hassan. Shock was by far the best team and we were probably the worst as far as talent. But we had great chemistry and went on to win the championship as the last seed!
5. Do you believe the Softballers are still the greatest franchise in SASL history? What made them so great? Is anyone close?
Even after all these years, none of these teams can match what we had with the Softballers. We were more than a team, we were/are a brotherhood. We spent so much time together on and off the fields. Those guys are literally like family to me. Regarding, are we the greatest franchise ever? Look, I know I've said in the past things like "this is the SASL South Asian SOFTBALLERS League" etc. but in reality you can't say what is the greatest team. We were the best of our time. And some of the things we have done have not been done since. Softballers may have helped create Caps and Ratings. We were the reason many teams folded and/or banded together to make some of the original "Super Teams".
We were young, loud, obnoxious and in your face. (ok maybe that was mostly me). We took a lot of pride in ruining  y'alls summers.
6. By my count you have won 7 championships. Tell us your recollection of those 7 seasons. Give us some details on why each one was special.
Dynasty '05 defeated HitMen: The one that started it. I think I realized very early that the stats are not where it's at. It's that final win, that final out. That's what it's all about.
Ballers '06 defeated Shock: I chose to come over to the Ballers, took some convincing, believe it or not for me to get on the squad. Usman was Shortstop then. I think we made the right decisions! It felt GREAT beating Shock. As much as I love those guys now, all the Najimis, etc. I hated them so much (on the field) when I was younger. Hakim used to talk SO much smack. Sol wasn't as nice back then either lol. They were almost as loud as us. Almost.It was a GREAT rivalry. We now knew, we are for real and beat every single team in this league. I can still remember the last out, the celebration, the Final countdown!! Oh wait that's just the youtube video in the background.  (couldn't find the link the video lolll)
My dad came to this Final and I remember him being SUPER excited and proud when we won. So yeah, this was a special one for me, esp now.
Let's get some more!
Ballers '08 defeated SWAT: Lost to Outlaws I think in 07, I was devastated. Thought we would win every year. We were starving to get that Cup back. Sol and company had talked a lot of trash. Called us kids with no skills, and how they were the legends. And they were going to spank the children etc. lol NEXT!
Ballers '10 defeated X-Men: This was a cool one because a lot of my family, cousins came out to see me play for the first time. It was a night game and I remember playing a great game and making some great plays on D. Ahmad G won Finals MVP, one of my favorite people ever to play next to. The start of a 3 peat!
Ballers '11 defeated Empire: I remember having a solid year, but being a newly married man I had to be somewhere out of state for a family wedding and missed the finals. That's ok, in steps the living legend Haseeb Ahmed. With his Mo Vaughn like stance he leads us and shocks Faizal Tatari and Harp to win the Finals MVP! I watched every second live online. Let's go!
Ballers '12 defeated Wolfpack: The easiest of the bunch. Saad the worst softball player ever, really thought he/they had a chance. lol I don't remember much about this other than Saad sucking and us completing our 3 peat!
Ducks '18 defeated Savages: This one hurt a lot of feelings I think lol. The talent less Ducks just finished off an UNDEFEATED season amongst all of  these behemoths during the regular season. We ran through the playoffs and now we face the big bad Savages. A STACKED team with great chemistry and impeccable fundamentals. Arguably amongst the best to ever play in our league. Once again I had to be in Ga. for a wedding but I knew I wasn't  going to miss this one. The team and I devised a plan where I could fly back IN to NY on the day of the Finals only to fly BACK to Ga. to make my cousin's Valima (wedding) RIGHT after the game. It was a psychotic feat. I got a bit delayed and I think I got there at the end of game 1. We lost game 1. We hadn't lost all year. Savages smell blood. They think we ain't sh**! We had to dig deep and I really had to rely on a ton of experience to stay focused and make sure I gave my team my all. IN every way. I saw a weakness in the Savages that day and decided to poke a bit. I know some, most hate me for that till this day. But it was the finals. Bring your best and play your best. Epic series, we won. Savages pitching had a complete meltdown, but FULL credit to my team. We played clutch, made big plays. No one tried to be a hero, we realized they can't find the strike zone. Wait, be patient and when the time is right BOOM. Definitely one of the greatest wins ever.
I made it BACK to the venue in downtown Atlanta  just as dinner was served. The wife was livid but I'm still married so hey all is well!
7. You partook in the 2017 And 2019 SASL World Cup for Team Pakistan. Talk to us about that experience overall. Also why do you think Team Pakistan never advance to championship rounds in back to back SASL World Cups?
I think  2017 is ALL me. I sucked as a captain. As good of a communicator I think I am, I think I did a bad job leading that team. It's 100% on me. My biggest mistake was I let my ego get in the way on the day. I was way too geeked for that tournament for personal reasons. I chose The Pancreatic Cancer Society as my charity to support research and development for the disease that had just taken my father's life. The first game against West Indies went great and I was hitting great. But during pre game BP I hurt my right wrist. I thought it would be fine, but during the WI game I hurt it again on a swing and that was it.  The most phantom. weird injury I ever had. I tried taping it, popped some pills wrapping it but I could barely hold a bat. The other captains wanted to sit me but I let my ego get in the way. I argued quite a bit and even said stuff like, "even w one hand I know I can hit better than most!". I was wrong, I was selfish and I was only thinking about ME and what I wanted to accomplish. No excuses, it was ALL me. We lost because of that. Oh and also because I invited some dudes on the team that had no business being on it esp because they weren't even IN THE LEAGUE anymore lol. So yeah, if I haven't said it to ya'll in person, I Effed up badly and that whole thing was on ME.
2019 I wasn't the captain which was GREAT lol. Saad did a good job of leading us for them most part. (other than the fact that he sucks in general) We beat Team India and that was a stacked team. That was a great/heated game. I genuinely don't remember how we lost or to who. I just know we had a great time and I enjoyed playing and not having any responsibility. Because, clearly I suck at that stuff.
8. Some have described you as "the guy you loved to have on your team and hated to play against". Why do you think that is? Especially during your early years you went back and forth with a lot of the other players in the league. Do you feel that is in the past for you now?
I take pride in that. Tells me I'm a pretty awesome teammate and a fierce competitor. In my earlier years, I talked A LOT of sh**, not just this social media flex everyone is on nowadays. But yeah "I fielded this ground ball and I will triple clutch before i throw and talk sh** after I throw you out." I loved the back and forth, and most of the guys I think understood it and respected the fire. Some children hold feelings to this day. I've always been extremely approachable and first to acknowledge a mistake and try to make it up to you. If I've hurt anyone's feelings in the past please let me know. I would love to clear the air.
Nowadays, I'm not into it like that anymore. Which is why i can't find the joy in it like I used to. I either go hard 100% all the time or I just go through the motions. I think all of that is in the past, or at least till we get to more meaningful games 🙂
9. What do you feel like are some of the key ingredients that make up a championship roster? It seemed like wherever you played, the team just got better and played above their potential (maybe except Team Pakistan).
Defense.
Chemistry.
Accountability.
Knowing what your role is and doing that all the time. Staying within yourself. Most of the teams I've ever played on, we never felt we were out of ANY game.
10. What teams or players did you absolutely love facing and why? There were certain rivalries that always bought the best out of you? Give us some examples and why.
Hashim for sure. When he first came into the league and a skinny little kid I already knew he was special. But at that time I felt I was the best SS in the league. Well, I always felt that, even when I wasn't haha. But watching him play and grow over the years, I knew that kid is in a League of his own.
I loved playing against him and his teams. Even though he was younger, I always wanted to make sure at least I keep up with him esp, defensively.
I liked playing the Wolfpack because I knew a lot of the guys on the teams. When I was younger I loved playing against Dynasty.
Outlaws for some WEIRD reason always gave the Ballers fits, so that was one we always circled.
11. For the vast majority of your career you played Shortstop. Tell us about your defense and how much pride you take in it. For years you were known to work tirelessly on weekdays and offseason on it. Are there certain plays that stick out in your mind?
Man I can't describe how much I loved playing shortstop. Yeah, I worked VERY hard at it. Hitting always came naturally, but playing shortstop I worked tirelessly at. Ahmad Ghumman, Talha Ghumman and I could be found in a lighted parking lot at 1 in the morning  in Queens years ago throwing full speed one hoppers at each other. Coming up with random competitions to see who is a better fielder.
Early years, I would hold the ball after a grounder and triple clutch only to throw runners out when they were a step away. I loved that.
I loved turning the double play especially with the ball up the middle and stepping on the bag and gunning to first. Loved doing glove hand flips to 2b.
Aaah miss it!
12. Is there such a thing called the "clutch gene"? For years, many in SASL said you were in the top 3-5 players in the league in clutch hits. How do you approach a big at bat in a key situation?
I tried to always say Bismillah everytime as I would get in the box. It basically translates to In the Name of God (Allah). As a muslim, we are thought to say that before you do anything. Eat, Drink etc. So it always grounded me. And generally try not to do too much. Try to analyze not just where the Defense is playing but WHO is out there. Who is the weak link. What are the outfielders weaknesses and how can I attack those.
Trying not to let the situation become bigger than it is. I know I've done this 100's of times before.
13. What are your thoughts on the cap system in the SASL? Does it bring parity to the League? What needs to be tweaked to make it for fairer?
Can't speak intelligently on this anymore. Whatever y'all are doing, you're doing a great job. Since I'm not as involved anymore, I have no right to judge it.
14. This season you are on MonStars. So far you guys are just outside the elite teams. Tell us about your team and how you think they will shake out. How far do they go? Who are your biggest competition?
Aah the Monstars, another bunch of guys with no talent. I think we'll be Juuuuuuust fine. 😉 Our biggest competition will be whoever we play every Sunday.
15. How do you see your SASL future playing out? For a couple of years you were in Atlanta, then came back in 2017. But now you are playing sparingly due to other obligations. Are we ever going to see Zeeshan back in SASL full time?
I think my future will be the same as it is. As long as someone keeps giving a fat old guy like me a roster spot i'll keep playing.
You probably won't see a FULL time Zeeshan in the SASL till my boys are of age to play alongside w me. And when that happens, ya'll can pack your bags and go home.
16. You have been in the SASL for a long time. Give us your SASL Mt. Rushmore and why.
Usman Ghumman: The best captain ever. NOW that I think about all those championships and the egos we had.  The manager of the year award should be called The UAG Award.
Nadeem Khan: Nadeem the Dream. The Champ. Mr Clutch. He gave the Ballers SOME semblance of power and kept defenses honest. Also a legendary teammate and Hall of Fame guy.
Ali G: The fire we needed on the Ballers. Who else can make the Pitchers position look so gangsta?!
Ammad Sheikh: This whole community doesn't exist without his vision and hard work.  Hats off to you man. (And all those behind the scenes)
17. What makes SASL different that any other league you played in or play for? What would be one change you would make if you could in the SASL To take it to even greater heights?
Do you see the content? We are not far behind ESPN! Keep it up!
18. How have you kept busy during the quarantine? What did you miss most not being able to do?
Played a lot of tennis. Miss not going to hookah spots.
19. Three words or less: Describe these players:
Usman Ghumman: The Greatest Captain

Nadeem Khan: Brown Babe Ruth

Atif Khan: Most Supportive Ever

Suleman Tariq: Freak Athlete

Saad Yousuf: The Worst Ever

Solyman Najimi: Walk All Day

Faizan Niazi: The Professional

Moiz Siddiqui: Silent but deadly

Haseeb Ahmed: M V P!

Kunal Sra: Another Strike Out?!

Harpreet Chadha: Desi Ghee

Haaris Din: Random Outfield Screams
20. Rapid Fire Round:
Best SASL memory: Ballers first chip

Worst SASL memory: Losing to Outlaws

in 07 playoffs I think

Most Talented SASL team ever: None that I've been on… clearly

SASL team you had the most fun in: Ballers

Favorite teammate ever: Usman G

Worst SASL jerseys ever: The McDonald ones

Most overrated player in SASL: Saad Yousuf

Most underrated player in SASL: The

guy who hits last

Best ASA bat ever: Non altered ones

Favorite Nassau softball field: Cantiague C

3 words to describe you: Fat Old Guy

Most swagy player: Kunal

Your favorite vacation you been to: Dubai

Next vacation destination: Turkey iA

Favorite TV Show: Breaking Bad

Best beard in SASL:

 

Saad ( You happy?)