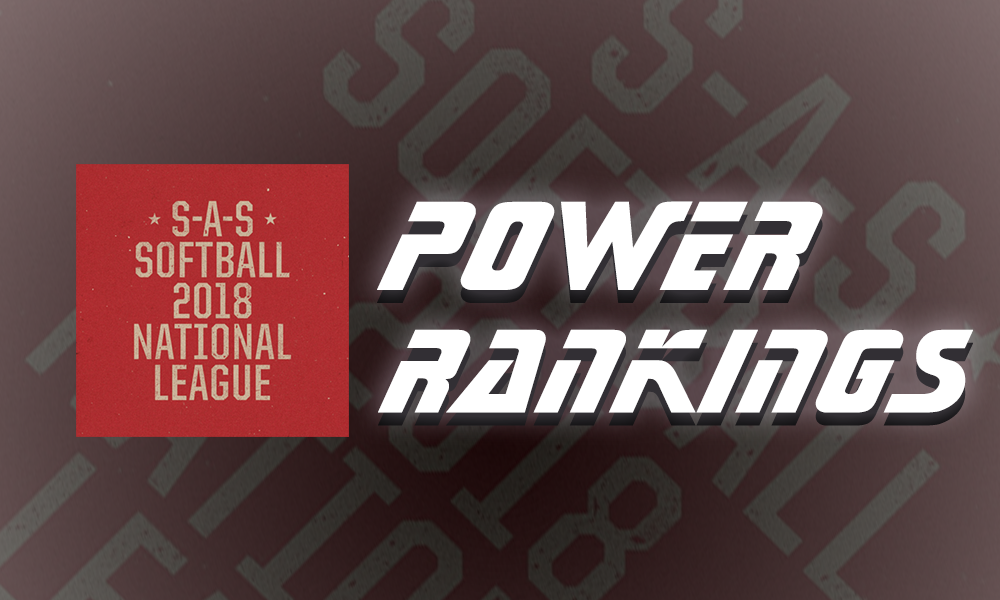 1. Shooter McGavins (12-0)
Past the halfway mark and they remain the only undefeated team. Some of their wins have been close ones but they remain the top spot until someone can beat them. They got a scare from Dad Bods in game 2 before pulling thru with another couple of wins. This week is a stiff test with Bengals coming to town. Nick Tamayo has been the unsung hero with solid offensive stats and great defense at center.
2. Scoobies Force (11-1)
After a week 1 split with Dynasty these guys have been the most dominant team. Swept the defending champs and held them to zero runs in game 1. Might be a more dominant team than Shooter McGavins, we'll have to wait until they matchup to find out. This team is clicking on all cylinders right now. Any chemistry concerns with the merger have been largely unfounded. This week should be drama free against last place Dad Bods.
3. Dynasty (8-4)
Second half of the season must have started since Dynasty is climbing back to the top. 4 straight wins, with a matchup against Strike Force coming up. Their offense has been a machine lately. They have a 6 game winning streak, and are only getting better with the weather warming up. Amit Bhasin is having a renaissance season.
4. Bengals (10-2)
Lost two against Hit Squad, and then 2 very close wins again a 2 win One's team. They seem to be sliding a bit mid season while the teams ahead of them keep getting better. And they haven't even faced the 3 teams above them in the Power Rankings. They still have the second highest run differential and second most runs scored, so advanced stats still likes them.
5. Hit Squad (7-5)
Got held to 0 runs in game 1. 2-4 against the top 3 teams. They need to play better if they hope for another championship run. They were missing a couple of key guys past Sunday, but their lack of depth really showed against Scoobies Force. They seem to be going thru the motions in the regular season, but it is hard to switch on/off buttons in the playoffs.
6. Bats (4-8)
Got 2 much needed wins against Strike Force to stay ahead of the lower pack. 0-8 against the teams ahead of them though. There were a lot of players that had career numbers last year. They have all regressed to more career norms and the standings reflect the regression.
7. The Ones (2-8)
After easily taking care of Dad Bods they put up a strong fight against Bengals. If they look to turn their season around need to beat Bats and get some space between them and 8th seed to avoid SNL. They have the talent to do so, and their best players must step up and take the lead. Half the season is over, and they have yet to fully gel with so many off season moves.
8. Strike Force (1-9)
Lost a close one in game 1 but continue to struggle offensively. Only a few weeks left to try and turn it around. This team has only scored 88 runs the whole season which is second worst in the league. Adnan Hamdani And Azhar Naqvi have been the two steady contributors. They don't have that middle of the order presence so they need everyone to pitch in.
9. NWO (2-10)
10 straight loses. On the bright side, almost took a game from undefeated Shooters last week and played Dynasty pretty close this week. Are brighter days ahead? They have Hit Squad, Dad Bods and Strike Force next. Can they go 5-1 and turn their season around? Moiz and Isiah has bee the backbone of this offense and they will look to continue to rake.
10. Dad Bods (1-11)
They had their chance against the Shooters to prove they won't stay at the bottom but failed to do so. Another 2 mercy losses but game 2 they had a 9-3 lead going into the 5th inning. They are an ok hitting team, but they have already given up an astounding 200+ runs. Don't forget to bring your gloves to the field gentlemen!