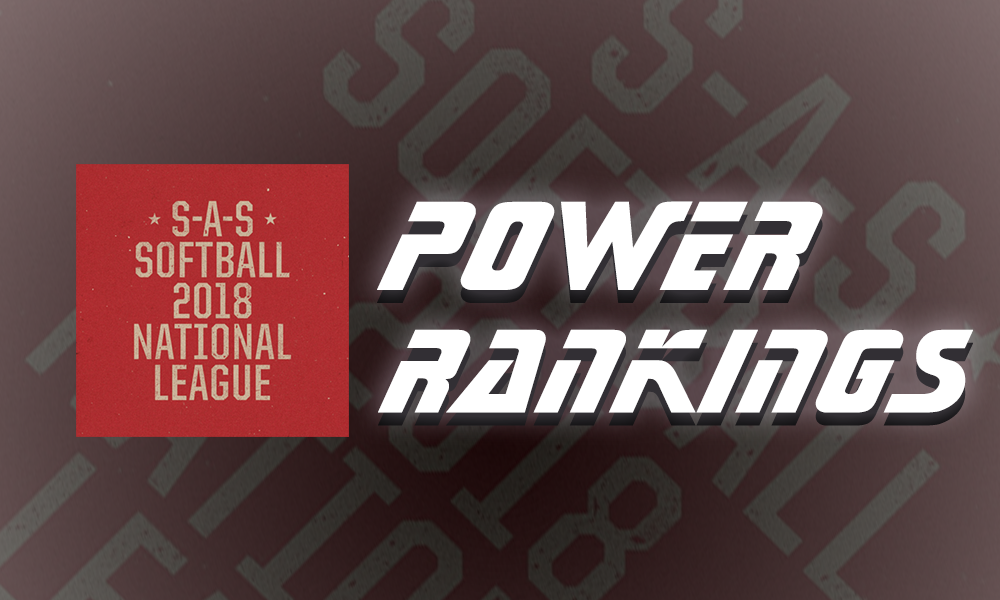 The Cream of the Crop is Rising!
1. Shooter McGavins (8-0)
Sweeping the defending champs and remaining undefeated will most definitely catapult you to top seed. With a few exceptions they have had solid play top to bottom. They continue to surprise the league. They will likely finish off the first half of the season at 10-0 as they go up against NWO.
2. Bengals (8-0)
Undefeated and slowly climbing the power rankings. Could be higher but have only played Bats, NWO, Strike Force and Dad Bods who have a combined record of 6-24. They have done what they could to keep themselves amongst the best but will have to prove they can compete with them to move up any further. They have a very strong line up with only 1 better hitting below .500. If they can keep that up against better defenses they will be a team to beat come playoff time. Up next is Wahid and his solid defense behind him. How Bengals offense fairs here will tell us where they belong.
3. Scoobies Force (7-1)
Outside of week 1 against Dynasty they have yet to be tested. They have won games against teams above .500. Saiful and Kevin have yet to do any damage, if they get back to their hitting ways SF will be competing for the top spot come seasons end. Like the Bengals above will need to prove it against the top 4 first. Up next should be another easy wins against Strike Force.
4. Hit Squad (5-3)
The matchup of the week and they came out flat in game 1. Played better in game 2 but not enough to beat the top seed. Have multiple sponsors on their team page. Can't let them down otherwise you're paying full price next season. Up next is undefeated Bengals. Probably matchup of the week again, can't come out flat against the best offense.
5. Dynasty (4-4)
Got back to winning by absolutely destroying Dad Bods. Giving up 0 runs in 2 games is unheard of. An SASL first? Winning against new comers won't get you moved up in the rankings but must feel good for Dynasty to get back to .500. Next up is the Bats. Should be wins to get them back above .500.
6. Bats (2-6)
After a terrible start they get their first wins. Easily swept NWO. Thus far have had one of the toughest schedules and have not fared well. They will need a better showing from last seasons break out Zimmad if they hope to compete. Will these 2 wins kick start their come back? It will have to continue with Dynasty, winnable games but will be tough.
7. NWO (2-6)
6 losses in a row. This season has taken a turn. They needed to show up big against Bats but got beat fairly easily. They only have 3 guys batting above .500. They need to be better so they don't get pushed out of SNL. Shooter McGavins up next, first half of season won't look too good for Ayaz and co. after that one.
8. Strike Force (1-5)
Hit well enough against Bengals but defense could not hold it. They have some bright spots here and there but need more consistent play throughout if they want a chance for a playoff spot. Up next is likely another 2 losses against Scoobies Force.
9. The One's (0-6)
Last season made it to finals. This season they are the only team with 0 wins. They appear to be struggling after losing a few key players. They have a chance to turn around the season up against Dad Bods
10. Dad Bods (1-7)
They may be one of the more likable teams in the league but putting up a 0 spot in 2 games drops you to the bottom. Singles won't drive home runs, with only 11 extra base hits this season scoring runs may be difficult for this team. The One's are up next, they needs these wins if they want to secure a playoff spot.
We're 4 weeks in and getting a clearer picture of where teams belong. Shooter McGavins and Bengals appear to be the teams to beat with Scoobies Force and Hit Squad right behind them. Dynasty is typically a second-half team so look for them to get into the mix. Bats seem to be hovering in the middle, better than the 4 teams below them but not close to the 5 above. Rounding out the bottom 4 with NWO, Strike Force, The One's and Dad Bods. 1 will be the 7th seed and avoid SNL, 1 will miss the playoffs. Plenty of season left so things can still change, teams will need to prove it on the field.