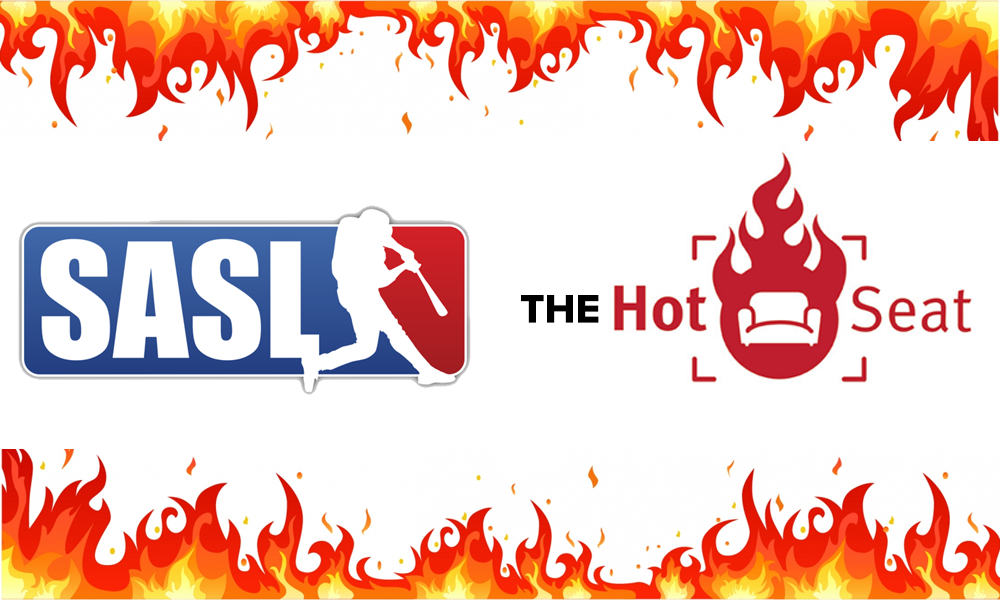 The Hot Seat with Saiful Ashraf
Welcome to the Hot Seat Saiful Ashraf. Please introduce yourself and then list 3 accomplishment of your SASL career.
My name is Saiful Ashraf, people close to me call me Saif,
Breakout rookie season with Pros

Managing Outlaws


3. Representing Team Bangladesh with Anwar and Pervez
You have played in a number of leagues including a few years in SASL. What separates this league from others you play in?
I am in this league for the love of culture. Even though I am a Brooklynite and New Yorker and almost a "Westerner", I was born in Bangladesh. I visited often and developed a love for my country.  I love my South Asian heritage and roots. SO I don't mind being around my fellow brethren, bonding and networking and creating a sense of brotherhood. Sense of community to keep it simple.
You played for Team Bangladesh in the first World Cup of Softball that SASL hosted for Hurricane Relief charity. How was that experience?
I loved it, and I am looking forward to the next event. Great teammates and friends on team Bangladeshi led by my fraternity brother Pervez and the commish Anwar – for the sponsorships. It was beautiful to see the various teams, incorporating Ireland, Israel, Dominican Republic and the United States. Nothing is better than seeing how sports can bring all backgrounds together.
You have played for Pros for 1 year and Outlaws for many years. Which year was your favorite and why?
My favorite was also my worst, the championship run year with Outlaws, I don't even remember the details , I did my thing, and we lost to some old guys, we chocked .
You were the captain of the 2018 version of the Outlaws. That team made it to the SNL one game elimination. Talk to us about your team's 2018 performance.
We didn't live up to our promise as a team. Underachieved sooo much. Inconsistency and lack of focus really were the two main issues. I spent a lot of time worrying rather than playing my best game. A lot of let downs. I saw so much potential if the team stayed healthy, with no attendance issues and egos.
If you could go back and start 2018 Outlaws over again, what changes would you make before the season started?
I couldn't make any changes , there was only one viable roster , Outlaws is invite only and selective. My version , I adopted many new faces to an Old team. Outlaws is a traditionally Afghani team by nature with a few expectations.  It was an honor to have received the team from Sekander and the OK from older and original Outlaws, to even be GM. We were fine as we were , we just didn't execute.
Under your captaincy, two players were removed from the League due to an infraction with the umpire. Looking back now, without naming names, what could you have done differently to de-escalate that situation?
Big call was blown, errors made by us, we collapsed, people lost their logic , nothing I could have done could have prevented it except probably not misplaying 2 deep flys , one which led to the base runner to get to 3rd , where the call was blown.
Do you think SASL made the correct call handing out two lifetime suspensions?
I agree with SASL for their choices, we are adults we need to act like it. Umpires need to do a better job still and stay focused on their jobs without escalating and going right to an ejection, wildcard definitely need two umps.
What makes a veteran different from a weekend warrior?
Veterans only think of sweeps, weekend warriors don't mind split. Veterans make softball look graceful and smooth like baseball, weekend warriors make softball look terrible.
Veterans come to win, weekend warriors come to have fun.
What are your 2019 plans? There are rumors of you playing in both divisions. What is going to happen?
I going to try both divisions, NL to sharpen my craft, AL to apply it. I just know this year my goal is to win and I placed myself with teams that can get there.
How do you prepare and hone your skills in the offseason? Give us some tips for all our fans out there on how they should approach the season which is less than 3 months away.
Cages, cardio, and stretching. I'm older now so I focus on the fundamentals both in offense and defense. I don't play to impress people, I play to win and give it my all. I hit the cages and spray. In softball as in baseball you bat with intention.
If there is one thing you are known for, it is your right arm. Talk to us about that. How can such a skinny guy throw so hard and so far? How can a younger player get to that level?
I still throw the baseball and long toss with old high school friends. I honestly do not strength train, It's about conditioning, flexibility and knowing when to add that extra in your throws. I don't hard every throw now that I am older; I conserve the elasticity of my arm over the course of 2-5 game weekends.
Some rapid fire questions:
Best 3 players in SASL:

5 tool players, Hashim, Harris (skinny guy) ,  Denon
Your favorite teammate:

Pervez/Anwar/Irfan        Hash/Ramy
3 words to describe you:

Competitive, Fundamental, Laid back
Worst SASL Rule:

homerun rule, even though it doesn't apply to me
Overrated team in SASL:

Ducks I guess
Player with the most swag:

I pay no mind to that
Change SASL needs to make:

Increase game time slightly
Favorite SASL moment:

until I win a championship….
Best SASL logo (besides Outlaws):

The one Charley made for Savages
Your occupation:

New York City Department of Education Teacher, 5

th

grade
Your last meal in Death Row would be:

my mom's traditional  Bangladeshi cooking,  curry chicken, rice , daal
First word that comes into mind:
Ahmad Halimi:

highwater sweats
Josh Rivera:

true veteran/ under rated 
Saiful, you are off the Hot Seat. Thank you for joining us. Any parting remarks?
Let the Games Begin!!