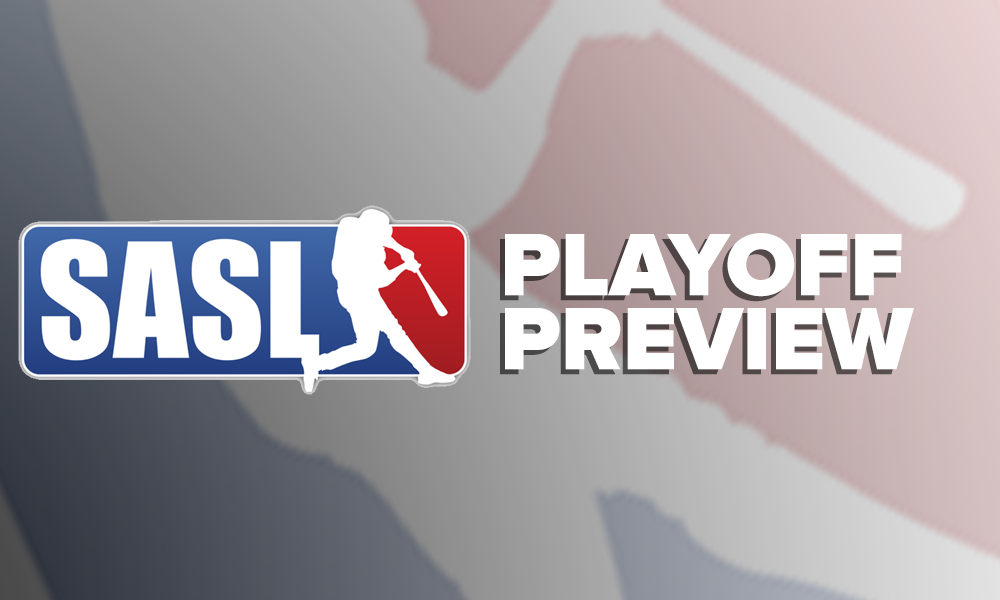 This weekend the 2021 SASL Playoffs kick off with the league's unique and exciting tradition – Saturday Night Lights: a one game playoff that decides the fate of the final 8th and 9th seeds in the regular season standings battling for the final seed in the playoff bracket. The winner will advance to the first round of the playoffs only about 12 hours later on Sunday morning at 8:30AM, and the loser's season will come to an abrupt end.


This year's SNL surprisingly features last year's #1 overall seed Dothrakis competing against No Limit, a team that made several key off season additions to stay quite competitive within a division that for the first time in the league's 16 year history, saw its first four way tie.
We're surprised to see last year's #1 overall seed, which fell short only in the finals against Dynasty, occupy one of the SNL spots. The story for Dothrakis all season has been injury after injury, as well as inconsistent attendance due to weddings and such. Having lost David Rodriguez to injury for the season weakens the outfield and takes a solid bat, as well as solid speed out of the lineup. We wish him well and a full recovery.
No Limit has raised eyebrows all season, the chatter around the league being "How did those guys manage a split against Dothrakis? How did they take one from the Scorers!?" Having added some players with professional minor league experience, as well as the heavy hitting Pete Santos, No Limit is not a team to be taken lightly.
The season series was split 1-1 as mentioned, but the way in which No Limit forced that split was by overcoming a huge deficit in game 2 of the series. Maybe Dothrakis underestimated them? Either way as a team of veterans, they know the season is on the line and the same mistake is not likely to be made again. Going into this analysis, we're looking at Dothrakis as the favorite.
Let's take a deeper look at the matchups:
Pitcher/Catcher:

Dothrakis will be putting Freddy Maldonado on the mound, with catcher veteran Mike Wang.
No Limit will be putting Ricky Gill to pitch and Alvin Ng at catcher.
Its hard to ignore the veteran/championship experience that Freddy brings to pitch, especially in a tense high stakes situation like SNL, and Mike does a good job keeping morale up on the field and in the dugout. Ricky has bouts of inconsistency at pitcher with walks being his worst enemy, but its also good to see how he has developed an impressive occasional spin pitch incorporated into his arsenal that catches batters off guard. Alvin has arguable the best bat among the four players, with Freddy a close second. Its hard to give a clear edge in this matchup but we like the steady hand that Freddy brings to the mound and that's worth its weight in gold in an SNL matchup.
Advantage: Dothrakis
First Base

Dothrakis will be going with veteran Pavy Badwal, stacked up against Randy Manalastas at first base for No Limit.
While Randy can get a hold of the occasional inside pitch and drive it over your outfielder's head, Pavy has the clear advantage here with more experience, patience, and versatility at the plate with command hitting to both fields for power. Some say that his athleticism has seen better days, perhaps sequelae of last year's hamstring injury, but we've seen him make the good scoops from Hashim across the diamond, something that we've seen Randy do far less consistently.
Advantage: Dothrakis
Second Base

Dothrakis will have Pervez Khan going up against Peter Santos aka Panda. The one drawback about Panda is his defensive ability, but no one can mistake his ability to absolutely crush the cover off the ball with his bat. Pervez has historically had a solid bat particularly to opposite field but after being to so many weddings and family things this season, will he be sharp enough in a one game playoff? We like Pervez's defense and athleticism over Panda, but the magnitude of the offensive advantage for Panda, compared to the defensive advantage for Pervez, we're going with Panda.
Advantage: No Limit
Short Stop

Dothrakis: Hashim Naveed
No Limit: Satty Singh
Satty Singh has absolutely shown some flashes of brilliance this season both offensively and defensively. But, we're talking about a matchup vs Hashim Naveed one of SASL's historical greats. Even if he isn't as spry as he used to be a few years ago before ankle injuries took their toll, the difference in caliber here is stark.
There is no doubt the offensive and defensive edge here goes to Dothrakis.
Advantage: Dothrakis
Third Base

Dothrakis will go with Ahad Anwar, facing off against Luis Sanchez for No Limit. Luis brings a solid bat with occasional pop, as well as some defensive versatility and athleticism that gives him the edge over Ahad. Ahad has held his position admirably all season, and we like Luis's bat over his.
Advantage: No Limit
Outfield:

Dothrakis are looking at MVP candidate Andy, and veterans Sunny Naveed, Jonathan Cayetano, and Pablo Sanchez.
No Limit will be putting the hard hitting and strong armed Mike Perry, Amar Aujla, former minor leaguer Gary Villacres who still brings strong fundamentals and great defensive reads on fly balls, and Aash Sharma.
With Andy in a category of his own both offensively and defensively, and a flamethrowing arm leading the pack, Sunny Naveed out there making catches like he did in last year's finals crashing against the fence, sure handed and athletic Jonathan, and versatile Pablo Sanchez, these guys have a decisive advantage defensively. Andy and Sunny can both hit for good power, and Jonathan and Pablo are more on-base type guys that will hurt you with speed.
Amar who has generally had an impressive season covering LCF and Aash generally covers the RF position well, but offensively when you consider the additional skill that Gary and Mike bring to the table, they do pack a formidable punch.
In a one game playoff, we like to see the household names and the MVP caliber players
Advantage: Dothrakis
Bench

To add to depth and emergency situations, Dothrakis have Jig Patel who can add defensive versatility and a patient bat that knows when to take pitches and when to burn the gap between complacent/unfamiliar outfielders. We're not sure what the availability is of Gage Nestor, Aasheesh Shravah, but they add pitching depth and patient bats.
No Limit adds the versatile Parvesh Kandhela and Amandeep Singh who can provide some surprising pop to catch outfielders off guard. Parvesh can man several positions on the field and play at a competitive level, and Amandeep Singh adds some good offensive depth.
Advantage: In a one game playoff we hope to not have to see any emergency substitutions, but if we had to pick one player out of all these guys to jump in and play at a high level, we're going with Parvesh. No Limit has the advantage.
Overall: Following the analysis we're going to reaffirm our stance that Dothrakis remain the favorites in this matchup. As they have been doing so all season, and against strong opponents at that, we are fully prepared to see a No Limit upset as well. Health and attendance is going to be key for both teams, and at Eisenhower Field 2, the infield turf is a lot more forgiving for any teams with weaker infield defenses, while the large grass outfield will give the edge to more athletic outfield. We're looking forward to an exciting battle.