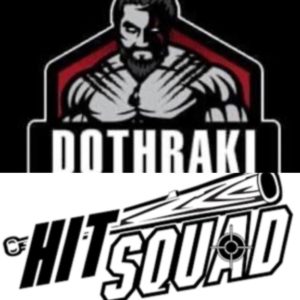 Only 4 teams remaining in play for the SASL 2020 Championship. Dothrakis as the top seed will face off against the 5th seeded Hit Squad in one of the matchups. During the regular season, Dothrakis swept Hit Squad in two close games back in August. But we all know that playoffs are a different beast and anything can happen on any given Sunday.
The matchup between the two powerhouses will take place at Wantagh C at 8:30am on Sunday. This will be a neutral field with deep fences and a turf infield. Both teams play good defense, so this matchup should be a low scoring affair. Will Dothrakis continue their dominant ways or will Hit Squad keep their three peat championship dreams alive?
How They Got Here:
Dothrakis:
Dothrakis had to wait a while to find out their opponent as they were the number one seed coming into playoffs. The night before we had a classic SNL matchup between Troopers/TSFE and Troopers won to move on. It took Dothrakis 3 games to beat Troopers, which was a bit of a surprise. Game 1 ended 12-0 in a thorough dismantling. Game 2, Troopers scored 5 runs in the bottom of the 7th to squeak by with a 8-7 win. Game 3 was easy for Dothrakis as they nervier 15-3 and moved onto the Semis.
During the regular season, Dothrakis finished as a top 3 team in both offense and defense. Their +109 run differential was the second best in the league. Their defense covers a lot of ground and makes almost all the routine plays. The team is very well balanced and Hit Squad will need to play their A+ game to win the matchup.

Hit Squad:
Hit Squad had the toughest first round matchup. They faced The Ones who were the 4th seeded team. Coming into the matchup Hit Squad were the slight underdogs, even as they started the playoffs as the defending back-to-back champions. They took out The Ones in 3 games. The first 2 games in the series were high scoring as the scores were 15-8 HS, and 16-8 The Ones. With a 1 game do or die situation, Hit Squad relied on their veterans and pulled out a 11-4 win.
The road for Hit Squad hasn't been easy all season while they dealt with injuries and playing time issues. They ranked in the middle of the pack in both offense and defense Aj year. With the playoffs here, it seems like they have turned it on into playoff mode and are looking mighty dangerous.
On-Field Matchups:
Pitcher/Catcher
Advantage: Hit Squad.
Wahid Omarzai and Vivek Sukumaran make a great combo. Wahid is a strike throwing machine with variety of pitches. Dothrakis will feature Freddy Maldonado and Gage Nestor. Freddy has done well but both of their bats are below average.

Infield
Advantage: Dothrakis.
Dothrakis have Hashim at 3b. He was a MVP candidate and looks a lot healthier than the beginning of the season. At SS we have Justin Sevilla who started the season hot and has now cooled off. Even then, he is above average. Rounding out the infield are Pervez Khan at 2B and Pavy Badwal at 1B. Both players have played a little under their capability, so if they can provide a spark, that's a big plus.
Hit Squad have a very good defensive infield. They start Ankit Ramchandani at 3B and Billal Lateef at SS. That duo has a lot of range and kill a it of their opponents rallies. At 2b, they start Ishaq, who is extremely underrated. At 1B, Binu has been holding it down all season. Overall, the infield of Hit Squad cannot matchup offensively with Dothrakis.
Outfield
Advantage: Dothrakis.
The centerpiece of the Dothraki outfield is Rookie of the Year Andy Sanchez who also finished second in the MVP vote. Surrounding him are David Rodriguez at LF, Pablo Sanchez at RCF and Sunny Naveed at RF. All three are above average players who are borderline all-stars. Their range, arm and bat are all very good, making up what may be the best overall outfield in the League.
The defense of the Hit Squad outfield was a crucial piece to them advancing against Ones. Ramy Abdelhamid, Ahmad Halimi, Yaqub Najimi and Ramin Rasuli make up the starters left to right. That is an impressive group. You can take extra bases on from the corner outfielders but beware of the arms of Halimi and Yaqub. The offense has been so-so from this group all year.
Keys To Winning:
1. OBP, OBP, OBP: Most of the Hit Squad hitters won't swing until they get the second strike. Freddy will need to get ahead early and not work from behind.
2. Base running Blunders: The Dothrakis have elite arms in the outfield. Will Hit Squad challenge them and risk getting outs on the base paths?
3. Scouting Reports: Ali, Ammad, Solyman are notorious for scouting their opponents and putting on exotic shifts. Will it work against Dothrakis?
4. Control the Emotions: 2 wins and you are in the finals. Who will be able to take the deep breaths and execute when necessary?
Predictions:
Dothrakis, in our opinion, have the clear advantage on paper. But Hit Squad are a veteran team who knows how to play playoff softball. This is very close but we are going with Dothrakis in 3!