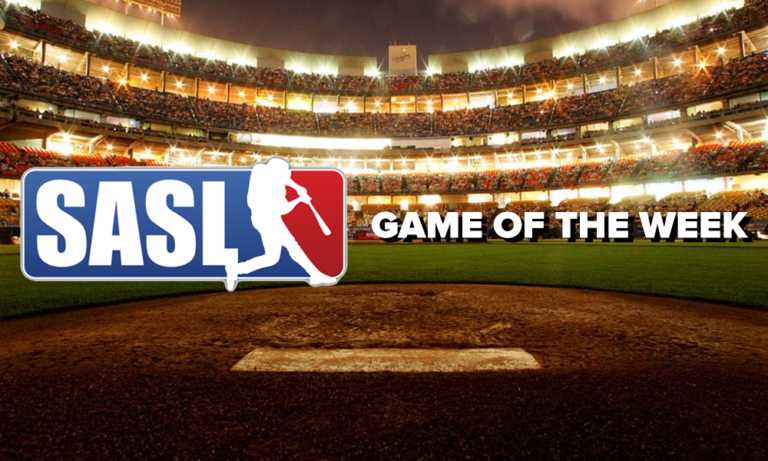 THE ONES (9-5) vs. DYNASTY (10-4)

The Venue: Mitchel 1 @ 8:30am
Was there any doubt that this was going to the the SASL Game Of The Week? Some very juicy storylines! The Ones bring their league leading offense against a great Dynasty defense ranked second in the League. Playing in Mitchel 1 probably plays to Dynasty's advantage with no fence. Both teams are jockeying for position in the standings as Dynasty sits in third place with a 10-4 record and The Ones just behind them with a 9-5 record.
Over the last few weeks, the two teams seem to have headed in the opposite direction. Dynasty are 2-4 in their last 6 games while The Ones are red hot at 5-1 in their last 6 games. This week Dynasty needs to prove to themselves they can beat the upper tier teams to give them a boost of confidence.

How They Got Here

The Ones:
With a 9-5 record, The Ones sit in 4th place in the standings. They have already punched their ticket for the playoffs and are now fighting for the best possible seed which will be huge for matchups in the playoffs. They started their season 0-2 with losses to The North. Since then they have been very unpredictable with losses to TSFE and Backdoor Sliders while pulling out huge wins against Hit Squad, Troopers and Shooter McGavins.
They boast the number 1 ranked offense currently in SASL (although we expect Dynasty defense to lock that down a little bit this week). They have scored 227 runs so far (an average of an absurd 16 runs per game). Their defense is ranked in the middle of the pack this year and that needs to be fixed if they want to fashion themselves as championship contenders.
Dynasty:
10-4 record thru 8 weeks places them third in standings. Their 4 losses have come against Dothrakis and Hit Squad. They have yet to play The Ones and The North, so the 3rd place in standings is in jeopardy if they can't at least split this weekend. Dynasty can take solace in their easy end of year schedule (DadBods and Shooter McGavins), so this weeks matchup is huge to truly test themselves and see how they can bounce back after getting swept by Dothrakis last week. They still boast a formidable offense with MVP caliber players in Omar, Yamin and Mike.
Their +81 run differential for the season thru 8 weeks is the second best in the league after The North. That is a very positive number and an elite difference. Dynasty only gives up 8 runs a game on average, so they keep themselves in every game.
On Field Matchups

Pitching/Catching:
The biggest weakness for The Ones all season has been at the Pitcher position. So far four pitchers have tried their had at it (Saiful, Denen, Rafael and Amby). They seemed to have finally found a reliable pitcher in Rafael Liriano. He will most likely be teaming up with Sijo Jacob. Rafael is the leading MVP contender in the league, which puts him in rare territory.
For Dynasty, Ali Ghumman and Ariel Arvelo should once again be paired up to face The Ones. Ali has been on point all year on the mound and Ariel has been solid if unspectacular at the dish. 
Advantage: The Ones
Infield:
If The Ones have full attendance, we expect them to start Denen Olson at 3b. He is having a great year at the plate and scoops up anything hit to him. Waqas Ali should be at SS and he is a very underrated player who has massive game breaking potential. Naeem Bhalli and Amby Cruceta will probably round out the infield. Naeem has good range at 2b but Amby has limited mobility due to injury at 1b. Both are above average hitters.
Dynasty infield is a huge step down offensively from the Ones. From left to right we have Milan Patel, Amit Bhasin, Adrian Polanco and Gaurav Bhasin. Only Amit can be considered an elite hitter and the other 3 are solid starters for any good team. Adrian is having a pretty bad season defensively but he has the hitting chops to make a difference. Milan and Sonu are both steady veteran presence who's best traits are to turn the lineup over.
Advantage: The Ones

Outfield:
The Ones boast a bottom half of the League defensive outfields. Saiful Ashraf is the best Outfielder they have and he is having an All-Star type season with the bat as well. To go with him The Ones have Mike Bittner, Asad Haque and Zabi Khosdal. Mike is a power lefty hitter in the middle of the order. Zabi is one of the leaders in Runs in the league as the prototypical leadoff hitter who can get on base via the walk. 
From Left to Right we have Omar Hernandez, Mike Liang, Kunal Oak and Yamin Patel. Combined they are lethal offensively with all 4 at one point or another having been in the MVP conversation this year. Defensively, Omar and Mike brings gold glove defense. Kunal is solid at RCF and Yamin is hidden at RF.
Advantage: Dynasty

Keys To Winning:
The Ones:
1. Can Rafael Throw Strikes: The 5 games they lost this season they have averaged 7 walks given up. Rafael must limit the free passes.
2. Beat the Shifts: It's not a secret that Naeem, Saiful, Mike are pull hitters and Denen and Rafael are center/center-right hitters. Can they adjust to the shifts Dynasty puts on them?
3. Limit The Mental Errors: By now we know its a given, The Ones will make some errors. But can they limit the silly mistakes like throwing ball around, etc?
Dynasty:
1. Who Will Be The X-Factor?: The bottom of lineup did nothing against Dothrakis last week.  They need to step up.
2. No Fence Field: Open field is great for players like Omar and Mike who can track down everything and on offense, turn singles into XBH.
3. Have The Mental Edge: This is a big game for both teams. Showing up and not being ready to play from pitch 1 will make for a long day!
Our Prediction:
Just like last week, Dynasty are facing an upper tier team. Dynasty beats up on teams that can't match their talent but struggle when they get punched first. We are going with a SWEEP by The Ones on Sunday!