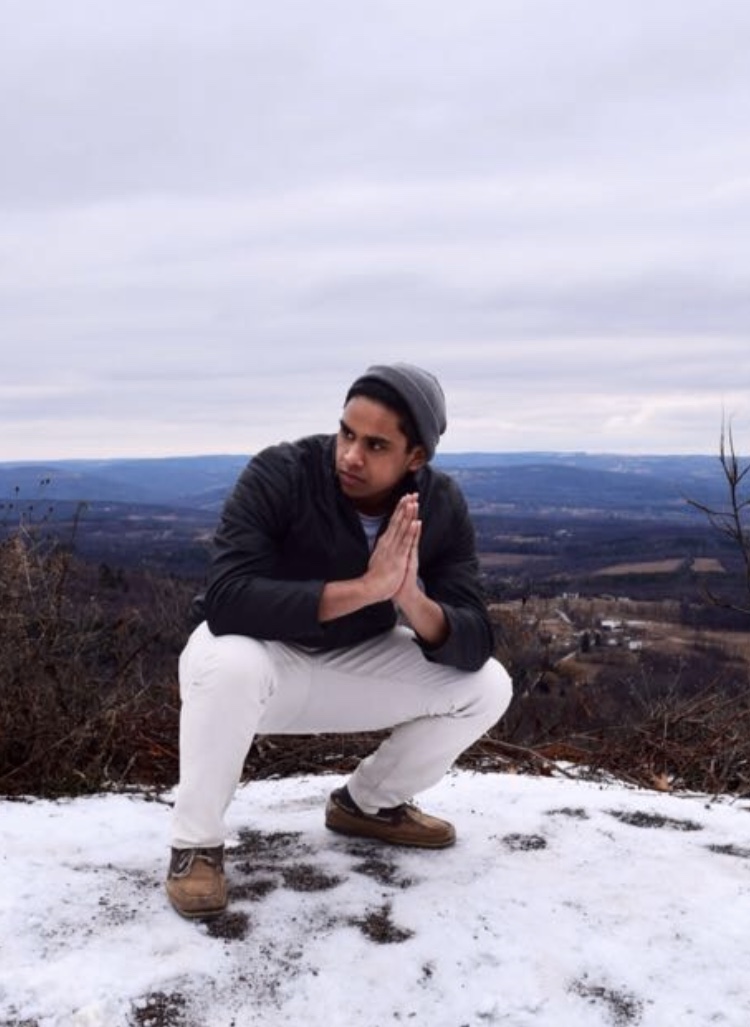 1. Welcome to the Hot Seat Sami Hossain. Tell us a little about yourself off the field. What do you do for a living? What are your hobbies? Etc.
Hey guys! I am a legal drug dealer (pharmacist) and I run a store in Plainview. As i've said before I got the ill price on the blue pills for yall, HMU. Jokes aside, I love to sing and play music. Growing up I always wanted to go into music production but brown pressure made me pursue pharmacy as a career instead. Honestly worked out though. Other than that I love chillin with my friends and playing ultimate frisbee.
2. Who are your role models growing up and now? Why? What makes a good role model?
I never really idolized people. I admire people who have achieved greatness and people who work hard to make a better place, but I am just out here trying to be the best and happiest I can be. Listen to sublime, spend quality time with friends and family and play some softball. Also i think the current dalai lama is gangsta.
3. What do you mean when you say you have "the Sauce"? How can one acquire "the Sauce"?
The definition of "The Sauce" is hard to articulate. My best attempt is that it's a form of sustained sophisticated flair. You're not born in "The Sauce", but you can learn to live in "The Sauce" There is no pride just "The Sauce". None of yall drippin yet but some of yall show potential, no lie.
4. You are also a very big frisbee player and one of the founders of South Asian Ultimate League. When did you start playing Frisbee and is there any Frisbee league going on?
I remember making fun of the track kids at my highschool for playing ultimate at a home depot parking lot. they invited me to play and obliged (to troll them). The thrill I felt playing that day changed my life. Honestly ultimate frisbee is epic. the difference in the physics behind a frisbee vs a ball is something to get used to, but once you do, it's a great competitive sport and good cardio. The SAUL has a lot of potential. ultimate as a sport just doesn't have enough of a following for us to have a league yet. But now I'm ready to pounce when it does. (Also sorry about the massacre in the finals Ali).
5. When did you start in SASL and how did you hear about SASL? The Bengals and Sami are synonymous with each other.
Dude!!! I can't imagine life without SASL. It's been like 7 years i think, since year 1 bengals. The story is quite simple. My cousin Abir filled in for some softball game and he enjoyed it, so he decided to herd my cousins and our family friends together to make a team….. The Bengals!! ayyyyy! None of my other cousins stuck around, but the family I found in Trav bhai, Ronnie Mac, Manju Bhai, Yash Bhai, Matt bhai, Sally bhai, Kunal bhai, Raf bhai, and Hassan Bhai is irreplaceable. I have so much love for the Bengals. I hit for the team and not for the stats.
6. Most don't know this but you have a very big hidden talent. You are an awesome singer and guitar player. When did you learn and have you ever auditioned for anything?
Singing is a lot of fun to me. I'm a super intense shower singer. Dorming at St. Johns uni I used to get girls come up to my floor looking for who was sing bohemian rhapsody in the shower (yes they would be disappointed that I wasn't attractive). I've been playing guitar since i was 12 or so. I honestly have experienced a lot of different instruments and my taste in music spans across decades from the 60's to modern music. I love classic rock, metal, hip hop, reggae, funk. honestly just all music. Interesting fact: I actually competed in a Bangla folk song competition and placed 3rd when I was younger. I used to jam outside my highschool and outside my college dorms as well. It made me a lot of friends that way.
7. In 2020, you had your best hitting season to date while hitting almost .700. What did you change this offseason? Is there another gear you can reach next season? Will the defense ever catch up to your offense?
I put in work. I badger people every week for BP. Hitting a softball strategically isn't that hard. Like I mentioned before, I prioritize the team before my stats, so i dont hit swinging for the fences. popping up for a fly out doesn't make me alpha (no offence to yall who do). I've practiced hitting it to all fields so depending on the pitch I can adapt. I am no superstar for sure, but I will always do my best. I try my best to bring "The Sauce" everyday (good vibes and energy) and try to inspire my team to strive for the BDE (best day ever).
8. Couple of weeks ago you had a season ending injury to your knee. What's the update on that? How are you feeling?
I am hella sad about this. Every week I look forward to playing frisbee and for SASL and Saturday softball. The physical pain doesn't come close to the toll the injury is taking on my mental. I am still waiting to get authorized for an MRI and no matter what the situation, I am determined to come back stronger and dripping in "The Sauce". Please pray for me.
9. What's the story behind Backdoor Sliders? The team came out of nowhere right before the season to gather some free agents and put a team together right? How did you guys come up with the team name and pink shirts?
Was not expecting to play at all this year. When Anni bhai started nudging me towards trying to get a team together I thought maybe I'll hit up the Bengals group chat. Much to my surprise we got together a bunch of our guys and new additions. I am happy we got to play though. Also glad we got the opportunity to meet people like Tariq bhai and Billy. Also that ***** Rishi is my neighbor (he's the homie). Backdoor sliders and pink shirts, pretty obvious who the mastermind behind that was (manjuices). i like the pink shirts tho ngl.
10. The season hasn't gone to plan unfortunately. You guys are sitting at 1-13 so far. Where do you think the teams weaknesses are and how would you address it in the offseason?
Our weakness is in the fact that we are a new team. It took a few years for the bengals to get into the groove. Everyone on the sliders is decently talented and I believe once we build that chemistry, we will do better. Maybe a little late this season but we'll be back. Oh and bad dods where yall at?
11. Your lone win came against a heavyweight in The Ones. Describe that game and feeling you had after.
I couldn't control the hype…. when i heard the news on whatsapp. I wasn't even there that week. T_T
12. Looking at the SASL landscape, who are the best 4 teams this season in your opinion? Who do you expect to win it all and why?
The North, Hit Squad, The DORKys and Dynasty. The North is probably gonna win this year. This year's competition is hella spicy but the North is broken. Excited to watch the playoff games.
13. Playing all these years in SASL, what team/year stands out the most and why? What made that team special?
NL: Force. lord these guys were good. They werent a team of Dans. No crazy superstars. But they played like a well oiled machine. I always thought they were cool.
The most intense game i have ever watched was the HH and savages final. the tension, the drama, that was easily the sauciest game i've ever watched.
14. What makes SASL different that any other league you played in or play for? Do you actively go and meet players from other teams?
The vibes with SASL are awesome. I'm glad I got to meet all of you. I most surely talk too much and actively try to talk to people on other teams. Hopefully i dont bother you guys.
15. The 'cap system' is a very controversial topic every year in SASL. Is the cap system effective in creating parity in a league? What are your thoughts on having a cap forcing some teams to cut players.
I think the concept of the cap system to make teams fairer makes sense. taking responsibility to do it seems the scariest thing ever. Objectively rating players doesn't make much sense and subjectively rating players is going to start a riot because of bias. Personally, the AL competition is going to make it hard for people like me to stay relevant. that's my biggest concern.
16. You have been in the SASL for a long time. Who is in your SASL Mt. Rushmore?
me, saeed, halimi, ahmedy and baba. that'd be a party.
17. What would be one change you would make if you could in the SASL and why?
I would change my jersey number to 69. Frikkin Manju chose the number before I could. But yeah i don't have any complaints about the league.
18. How have you kept busy during the quarantine? What did you miss most not being able to do?
The pharmacy has been open so I'm at work everyday, except Sunday (ofc). Nothing much changed other than less traffic.
19. Three words or less: Describe these players:
Travis Collins: Sorry I'm Late

Manju Shanmugam: SUS

Hasan Najmul: amader captin

Ali Ahmedy: Thinks he's nice

Saad Yousuf: The Mighty Duck

Yash Mahajan: Where's his lazarus pit

Rafat Zaman: bengali brother

Saeed Anwar: the stud

Abir Rahman: doesn't look bengali

Faisal Chowdhury: Return of the Mack

Ayaz Dar: Suffers from BMS
20. Rapid Fire Round:
Best SASL memory: My first HR

Worst SASL memory: The Bengals not returning this year

Best SASL content: Ayaz dapping himself

Funnest team you been on: Bengals

Funniest SASL teammate: Manju

Favorite teammate ever: hmmmm

Worst SASL jerseys ever: NWO chastity belt jersey

Most overrated player: Sami (lower his rating)

Most underrated player: Soly

Best ASA bat ever: hasan bhai's bat

Favorite Nassau softball field: The OG field cantiage D

3 words to describe you: live, laugh, love (like the plaques all white people have in their homes)

Most saucy player: Thats easy…ME

Your favorite vacation you been to: I love Bangladesh

Next vacation destination: I really want to go to Japan in the spring time

Favorite TV Show: breaking bad

Best beard in SASL: beards suck