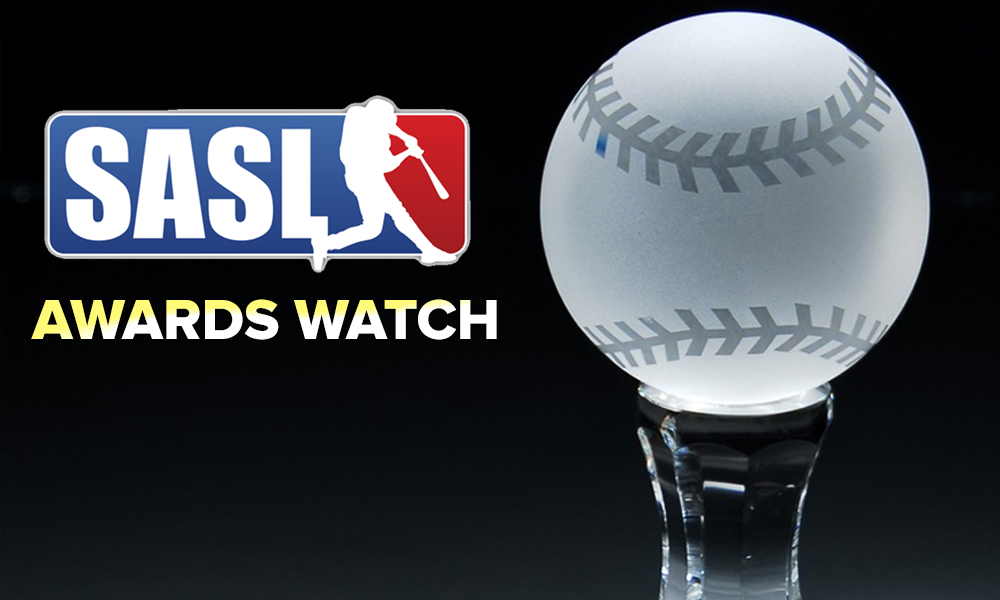 (Every week we will take a look at one award and break down the race on who we think the favorites are. One week we will breakdown MOY, the next week ROY, following week MVP. And then we keep rotating until the voting is done at the end of season)
Last August, the Savages Tom Kahl (unanimous) and Dynasty's Adrian Polanco (50% of the votes) ran away with the 2019 American League and National League Rookie of the Year awards, respectively. Every year we see a ton of new talented players, but a few are truly special on the field players that change the fortunes of their ball clubs.
Tom Kahl was the heavy favorite in the AL from day one last year and did not disappoint with .679avg/1.75ops/6hr/42rbi/36runs. In the NL, Adrian had to beat out a few candidates but secured the award with .569avg/1.54ops/4hr/25rbi/18runs. Who are the contenders this year? Let's take a look at who is standing out thru the first 3 weeks of the season as we are about a quarter of the way done thru the season.
1. ANDY SANCHEZ (Dothrakis)
.763avg/2.125ops/8HR/34r/38rbis

In our first installment of the Awards Watch, we told everyone to keep an eye on Andy as they prohibitive favorite to win this award. In the second installment, Andy was ranked number 3, but over the past month he has been on an absolute tear to move into First. He leads all rookies in EVERY single major category including Average, OPS, Home Runs, Runs, Rbis, Total Bases etc. Add an elite defense and probably the best outfield arm in the League, Andy is now running away with this award with only two weeks to go.
2. VINCENT FLORIDO (MonStars)
.696avg/1.899ops/7HR/30r/36rbis
Vinny continues to have a tremendous rookie season as he is second in almost every major category behind Andy. It's insane that a .696 average with 7 Home runs probably won't win the ROY this year. That's how good of a rookie class we have had this year. An elite middle of the order hitter who can go to all fields with power, he has been MonStars team MVP all year. With just two weeks to go, he will need to have an extraordinary few games to overtake Andy at the top of the standings.
3. NARISH RAMOUTAR (Black Mambas)
.672avg/1.770ops/2HR/29r/29rbis
Narish continues to be an OBP machine for Black Mambas with a very high average. While his power numbers never really materialized after the first two weeks, he has been doing what he does best. A slick glove at Short stop and a propensity to hit the hall where they ain't. Narish won't win the Rookie of the Year this year, but he has solidified himself as a foundation piece for Mambas moving forward and he will give all teams fits to keep him off the bases.
4. JUSTIN SEVILLA (Dothrakis)
.525avg/1.499ops/4HR/31r/28rbis
The slick fielding shortstop for Dothrakis has made a definite impact and the team has to thank him for huge contributions while Hashim has been playing hurt. His initial outburst of power in the first month has not stuck around but he has been consistent in all other aspects of the game throughout the season. Although he is overshadowed by the ROY favorite Andy in his own team, we can certainly appreciate everything he has bought to the table.
5. PABLO SANCHEZ (Dothrakis)
.522avg/1.379ops/2HR/30r/23rbis
The third Dothraki to make the list and the second Sanchez brother, Pablo has lived up to some serious hype. He has found a home at the leadoff spot for Dothrakis, and causing trouble for opposing teams on the base paths with his elite speed. On the field, he has been very effective with an elite arm and good coverage skills.
Next Few In The List:
—VIVEK SUKUMARAN (Hit Squad)
(.575avg/1.516ops/3HR/13r/22rbis)
—GIUSEPPE MONTELBANO (DadBods)
(.568avg/1.375ops/1HR/11r/12rbis)
—JUSTUS ACOSTA (Troopers)
(.500avg/1.324ops/0HR/16r/11rbis)
—AARON FRANKLIN (Black Mambas)
(.500Avg/1.162ops/0HR/16r/23rbis)