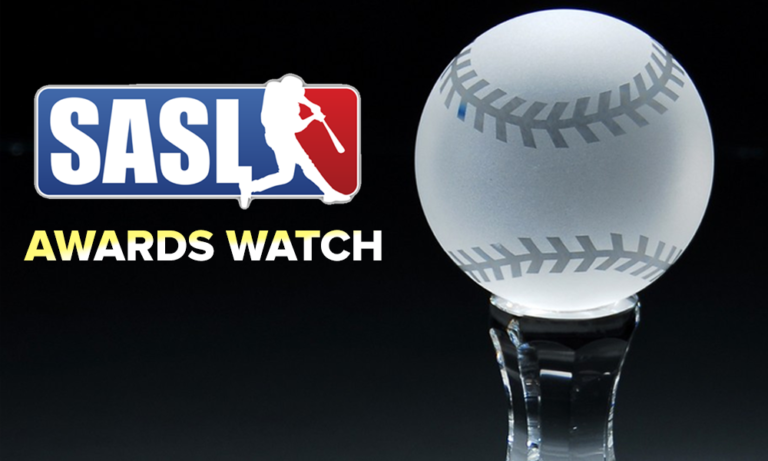 (Every week we will take a look at one award and break down the race on who we think the favorites are. One week we will breakdown MOY, the next week ROY, following week MVP. And then we keep rotating until the voting is done at the end of season)
We still don't have a definitive black and white answer when judging what the qualifications are for an MVP, but an all-around game and being a part of a good team certainly helps. That means that it's not just about choosing "best players" or "ranking advanced metrics" though it's surely a little about those things too. It's about getting into the minds of the electorate, knowing that the voters often take into account how well a player's team did or how many good teammates he had in terms of assigning "value."
Last year we had two divisions. In the American League, Charley Robinson won the MVP for the first place Savages with 60% of the votes. In the National League, Mike Velez of the second place Shooter McGavins, won the MVP in a razor thin race with 35% of the votes.
1. RAFAEL LIRIANO (THE ONES)
.706Avg/2.175Ops/9HR/31r/51rbis
This man is on a mission! His team looks like it finally turned the corner, and Rafael is the man leading the way. Rafael thru 8 weeks leads the league in Home Runs, Rbis and Runs. In addition to that, he is leading the league in Total Bases and 5th in OPS, so you know the hits aren't cheap. More often than not, they are driving in runs and going for extra bases. He seems to have found a home at the pitchers mound in defense. If he continues his hot season, he may win this thing from wire to wire.
2. CHARLEY ROBINSON (THE NORTH)
.786Avg/2.296Ops/6HR/25r/33rbis
The defending MVP Charley Robinson is showing once again why he was an unanimous selection in the all time SASL First Team. Year after year he leads his team in a variety of ways. He gets a big boost for being the Captain of the number 1 team in the Standings. He is also leading the league in Average at an absurd .786, and also leads the league in OBP. He just doesn't get out very often. In addition, he is top 5 in Rbis and Total bases. Add that to his smart base running and above average glove at 3b, and you have another MVP worthy year.
3. OMAR HERNANDEZ (DYNASTY)
.698Avg/2.229Ops/9HR/27r/24rbis
Omar is having a career year in 2020. He is doing all he can to keep Dynasty in the championship conversation. Hitting leadoff for a lethal Dynasty lineup, he is surprisingly leading the league in Home Runs with 9 (tied with Rafael). A little misleading because a lot of them came in Cantiague D. Still, he is top 5 in the league in Runs, Slugging, OPS, and second in Total Bases. His defense is elite and a huge plus for him to boost him in these rankings. If Dynasty keeps their top 3 standings, Omar will be the biggest reason why.
4. YAMIN PATEL (DYNASTY)
.745Avg/2.029Ops/7HR/21r/34rbis
Yamin has been on an absolute tear over the past month since the last rankings came out. He was barely an honorable mention then but now he has moved his way up to the top 5. If he maintains his .745 average, it would be a career high. It is good for 3rd in the league so far. He is also top 5 in Home Runs, Rbis, OBP and Total bases. He does get negative grades for his lack of base-running and his lack of defense. Will voters be able to overlook those deficiencies and vote for his monster offensive totals by seasons end?
5. NICOLAS TIMPONE (THE NORTH)
.649Avg/2.042Ops/6HR/19r/34rbis
In our last update 4 weeks ago, Nick was second in the rankings. Since then he has cooled off in the power department but his defense and base running remain elite. Nick is still second in the league in Rbis, and top 5 in Home runs so he is doing exactly North signed him for in the middle of the lineup. If he can get back to what he was doing in the first 3 weeks of the season, he can move up these rankings very fast in the closing stages of the season.
Next few on the list:

—Denen Olson (The Ones) .683Avg/1.908Ops/5HR/22r/34rbis
—Hashim Naveed (Dothrakis) .740Avg/1.914Ops/5HR/29r/28rbis
—Andy Sanchez (Dothrakis) .733Avg/1.972Ops/4HR/23r/27rbis
—Mike Liang (Dynasty) .708Avg/1.856Ops/3HR/28r/20rbis
—Vincent Florido (MonStars) .651Avg/1.878Ops/6HR/25r/25rbis
—Faizan Niazi (MonStars) .769Avg/2.632Ops/8HR/14r/30rbis
—Dan DiIorio (Black Mambas) .667Avg/2.348Ops/6HR/16r/18rbis