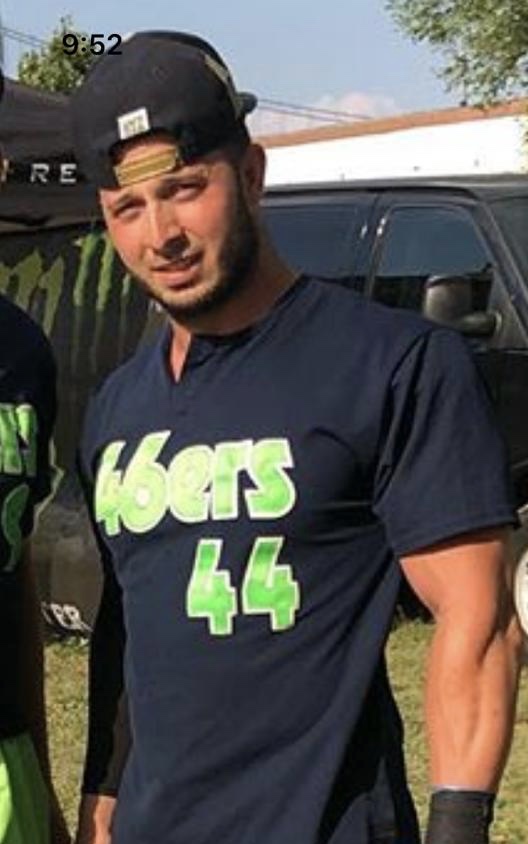 1. Welcome to the Hot Seat Vinny Florido. Tell us a little about yourself off the field. What do you do for a living? What are your hobbies? Etc.
First off I want to say thanks for having me on the weekly Hot Seat this week. Off the field, I work with fellow teammate Ahmer in midtown Manhattan as a tax accountant. Unfortunately, the virus has kept me at home for the most part but I was lucky enough to move in with my girl right before it all started so we keep each other busy.Biggest hobby before the pandemic was definitely the gym.I used to spend a good 2 hours a day hitting the weight room so I can't wait to get back on the grind.I also have a 10 year old brother who is big into baseball and basketball so we spend a lot of time together practicing on his game.
2. You are a big sports guy. Who's your favorite teams? How long have you been playing different sports?
Number one team is the Yankees by a long shot.  Been a Yankee fan my whole life and there is nothing I enjoy more than going to the Bronx in October for some playoff baseball.  Giants and Knicks are my other favorite teams that I love deeply but nothing will ever come close to the Yanks.  I've been playing sports my entire life but organized surprisingly only baseball and basketball.  Played a year of college baseball before I hung up the cleats to focus on my career.  I was pretty good at basketball but stopped playing organized my sophomore year of HS to focus on baseball.  Always down for a pick up game at the park though.
3. Growing up, who were your role models in sports and why? Who do you model your game after in sports?
Jeter was definitely the type of athlete I looked up to in terms of how to be a professional on and off the field.  Loved how hard he played the game and how he was loved by students of baseball no matter what team they liked.  But Arod is who I modeled my game after from the first time he stepped in the league with the Mariners.  His baseball IQ was second to none and his approach to hitting was exactly how I treated my ABs every time I stepped into the box.  Overall though, I have to say MJ. Michael Jordan was the biggest role model growing up.  Who didn't want to be like Mike?
4. You are 3 weeks into your SASL career. Tell us about how you heard about the league and what are your initial thoughts on the league?
Love the league so far.  Well organized, great fields, great competition and great players.  Love the online set up with all of the weekly reports that come out.  I played in a league with Ahmer and he asked me if I would be interested in playing with him over the summer.  Ahmer is my guy so of course I said yes.  I didn't know anyone else on the team or even in the league which was a first for me but I couldn't be happier with my teammates on the MonStars.
5. The phrase "5 tool player"'is often overused in the SASL circle. But early scouting on you say you are precisely that. Rate your 5 tools on a 1-10 scale and why.
Damn.  Post covid or pre lol?… Lets go post covid ratings maybe we can update this when Kunal gets me back in shape:
Speed: 3….can kick it into 4 if I need to
Power: 4.5….mostly a line drive hitter but can catch one here and there
Batting for Average: 4
Fielding: 3.5/4 depending on the position
Arm Strength: 4? Haven't been clocked since the glory days but use to hit 82-85 on the gun from the mound on a good day.6. Would you rather make a game ending diving play with bases loaded or a walk off home run? Do you enjoy the defensive or offensive side of the ball?
I enjoy winning so ending doing either of those to get a W would bring the same energy.  I definitely enjoy offense better as I normally play outfield in most of my other leagues.  But putting me at SS brings me back to the glory days so I've been loving defense just as much this season.
7. Thru 3 weeks, MonStars are 4-2. How do you feel you guys stack up against the competition so far? Who do you think will be the biggest competitions?
We haven't played everyone yet so I don't know how the competition is fully but I do know the group of guys I play with and there is no doubt in my mind we can compete with any team.  The league sort of labeled us as a team past their prime and not hungry and I know for a fact that isn't the case. This group has heart and we want to win.
8. You said you keep up with the stats and content of the league. Which features and content do you enjoy the most and why?
Has to be the previews/predictions.  They make me laugh plus it keeps me engaged in what's going on throughout the league.
9. As a rookie to the League and your team, do you like to sit back and just play your game? Or do you feel like you are one of the leaders and need to be vocal to get the guys going?
These guys don't make me feel like a rookie so it makes my role easy.  Our team makeup allows every player to be vocal when they need to be and we all feed off each other.
10. One of the most controversial topics around SASL is the "Cap System" where basically each player is given a rating and teams have a certain amount of points to make their team. What are your thoughts on this? League parity vs Forcing teams to break up.
I do like it as the competition should be balanced out top to bottom unlike most leagues. But on the other hand I'm all about team chemistry and playing with a group of guys that I like to play with so hopefully we all are the same points next season because I got a good group from top to bottom.
11. At the batters box, teams are already starting to walk you as you lead the team with walks. What is your message to opposing pitchers the rest of the season?
I have no problem walking so keep em coming.  I have Kunal on deck behind me curling bat bags so I know my walks are probably going to turn into a run.
12. For those that want to hit for power, give us some tips. What is your game plan at the batters box? What is your mental approach to each at bat or does it change based on situation?
I'm definitely a situational hitter and mostly a line drive hitter.  With a 3 home run limit you have to be smart when to use those homers.  I'm still rusty in the box not playing for about a year because of covid but usually when I lock in mid season I attack the middle of the field with line drives.  As far as tips if you want to hit for power- end loaded bats will give you some extra weight behind your swing to get some extra distance on contact. In my opinion its all about weight distribution at contact.  When I'm really trying to charge one I try to perfectly time the transfer of all my power from the back leg to the front at the point of contact.
13. How often do you work on your softball game? How many other leagues do you play in? Give us your training regiment.
Currently playing in 3 leagues. Every year I play 3-4 leagues plus tournaments so that in itself is my training. Pre season I like to get my hacks in but really in game play is how I get going every year.  Usually a slow starter- usually by mid season the swing feels perfect and the results come in.
14. MonStars are a veteran team. Most of the guys already have championships won. How are they behind the scenes? We can't imagine a lively team chatroom.
Very live chatroom believe it or not.  Guys are always ragging on each other for a good laugh but very serious when it comes to the league. League talk all throughout the day in the chat and the guys are always on top of the scouting reports.  Before game day I will have a good sense on who to watch out for and what to expect and the fellas are always on point.
15. What makes SASL different than any other league you played in or play for? What would be one change you would make if you could in the SASL?
The organization for sure.  This is probably the most well organized league I've played in so far. From the site to the fields to the communication- A+. I wouldn't change anything really…Maybe if the league had a clincher league that would be pretty cool.  I tend not to play dudley because of the all the scoring, but its nice to hit bombs with a dudley not going to lie.
16. How have you kept busy during the quarantine? What did you miss most not being able to do?
Definitely being able to workout with weights the most.  Haven't been in a gym since April and it shows so I can't wait to get back in the gym whenever that phase might be.  Kept busy with work mostly- day trading during the day and tax work at night so I have been busy, just not with anything interesting.
18. Rapid Fire Round:
Best SASL memory thru 3 weeks: Kunal's K
Favorite teammate ever: Ahmer my boyyyy
Team you loved facing so far: Troopers
Best ASA bat ever: Easton Ghost
Favorite Nassau softball field: Cantiague A
3 words to describe you: Competitive, driven, aggressive
Most swagy player: Kunal – cut off sleeves at all times
Your favorite vacation you been to: Cali with my girl to visit her family in LA
Next vacation destination: My Ibizia trip in august was just canceled but we rescheduled for next year
Favorite TV Show: Ozark
Favorite genre of movies: Comedy
Favorite clothing brand: Jordan/Nike
Best beard on the team: Sal
Habits you hate: Not giving 100% effort
Vinny, thank you very much for joining us. You are officially off the Hot Seat. Good luck rest of the season!