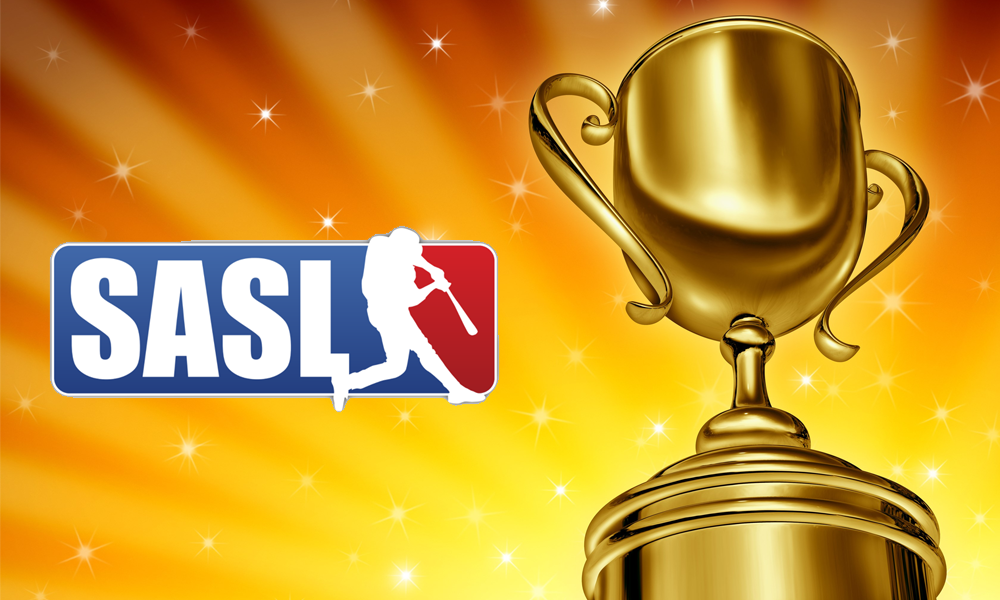 SASL 2019 AWARDS WINNERS
CONGRATULATIONS TO ALL OF OUR AWARD WINNERS FOR THE 2019 SEASON. 
All the winners (and nominees) have had fantastic seasons!
AL MVP WINNER: 
Charley Robinson (Savages)

.730avg/1.98ops/5hr/43rbi/32runs
Charley Robinson is also the captain of Savages and he led the way with his play on the field as well as off the field. Charley came back from a down 2018 season, and stormed back with one of the best campaigns in his career. Charley capped off his 2019 season with a championship and now the AL MVP Award. Oh, let's not forget the Finals MVP as well. Will he have room in the trophy room for all the new hardware? Charley received 60% of the votes from the captains and Committees to take home the award in a fairly convincing race. 
Also receiving votes: Dan DiIorio (HeavyHittaz) 20%, Jason Gregory (516) 15%, and Ahmad Halimi (HeavyHittaz) 5%
AL ROY WINNER:
Tom Kahl (Savages)

.631avg/2.07ops/6hr/38rbi/35runs
Tom Kahl came into the season with a lot of hype and he sure did not disappoint. He played some phenomenal defense and was batting at the top of the order for a feared Savages lineup. TK was a difference maker all year. When he missed games, there was a gaping hole in the outfield that was not easily filled. TK makes the second Savages player to win Rookie of the Year after Dex Ortiz won it last year. TK capped his year off with a Savages championship win and what some call "The Catch" in the Finals. TK received 100% of the votes. 
Also receiving votes: None.
AL MOY WINNER:
Ali Ghumman and John Sans (HeavyHittaz)
Team finished 18-6 (2

nd

in the league). HH lost in the Finals in 3 games
In The closest vote of the American League, HeavyHittaz leadership just barely won the coveted Manager of the Year over Savages. Ali and John had a tough offseason after a disappointing end to the 2017 and 2018 seasons. Some wondered if the team was ready to fold. Instead, they went ahead and signed the biggest free agent out there in Dan DiIorio, the most underrated pickup of the year in Ahmad Halimi, and depth pieces in Asad Hamdani, Binu Nair, etc. The team went neck and neck with Savages all year but ultimately lost in a classic 3 game Finals. Ali and John won 53% of the votes casted.
Also receiving votes: Zulfikar Musliwala and Charley Robinson (Savages) 47% of votes
NL MVP WINNER:
Mike Velez (Shooter McGavins)

.679avg/1.75ops/6hr/42rbi/36runs
Mike Velez took a year off from SASL, and came back with vengeance! Congrats on the NL MVP! He had a terrific season. He finished 2nd in AVG, 3rd in Rbis, 2nd in Runs, and 2nd in total bases. He also is a complete and versatile player with some terrific defense that plays well in any field. Mike led the Shooters to the second best record in the league and went about it in a quite unassuming way. You never heard him yell or scream. A true professional. Mike only received 35% of the votes, as there were many candidates that took votes away from each other. 
Also receiving votes: Amit Bhasin (Dynasty) 25%, Mike Liang (Dynasty) 15%, Ahmad Halimi (Hit Squad) 10%, Frank Perez (Scoobies Force) 10% and Saeed Anwar (Bengals) 5%
NL ROY WINNER:
Adrian Polanco (Dynasty)

.569avg/1.54ops/4hr/25rbi/18runs
It seems like Dynasty comes every year and brings in fresh talent to the league. Well Adrian Polanco is another of their rookies and he played extremely well all thru the year. He led all rookies in most of the offensive categories. Adrian also played well in the playoffs against the Bengals before his season came to a close, but for most of the year, he was one of the lynchpins of a strong Dynasty team. Adrian received half of the votes cast from the captains and Committee members. 
Also receiving votes: Andy Magalona (Dad Bods) 15%, Isiah Richardson (NWO) 15%, Jashan Deol (Shooter McGavins) 10%, Jerry Liang (Dynasty) 10%
NL MOY NOMINEES:
Ronak Jain and Aasheesh Shravah (Shooter McGavins)

Team finished in 2

nd

place in Regular season with 18-6 record in their first year in the summer league. Team lost in Semifinals in 3 games to eventual champions.
Coming into 2019 season, we knew one thing. Win or lose, Shooters were going to have fun. Ronak and Aasheesh built this team with not only talent in mind, but finding players that fit their culture of playing loose. The team built instant chemistry and had a long winning streak before fading in the second half of the season. They still finished 2nd in the standings, and looked primed for a Finals appearance before losing in three very close games in the semifinals to the eventual champions (Hit Squad). This team will be a force for years to come if the winners of the MOY Ronak and Aasheesh can keep the core intact. Shooter McGavins leadership won 55% of the vote in a clear win.
Also receiving votes: Ali Najimi and Ammad Sheikh (Hit Squad) 25%, Prince Panicker and Rakesh Nankumar (Scoobies Force) 20%