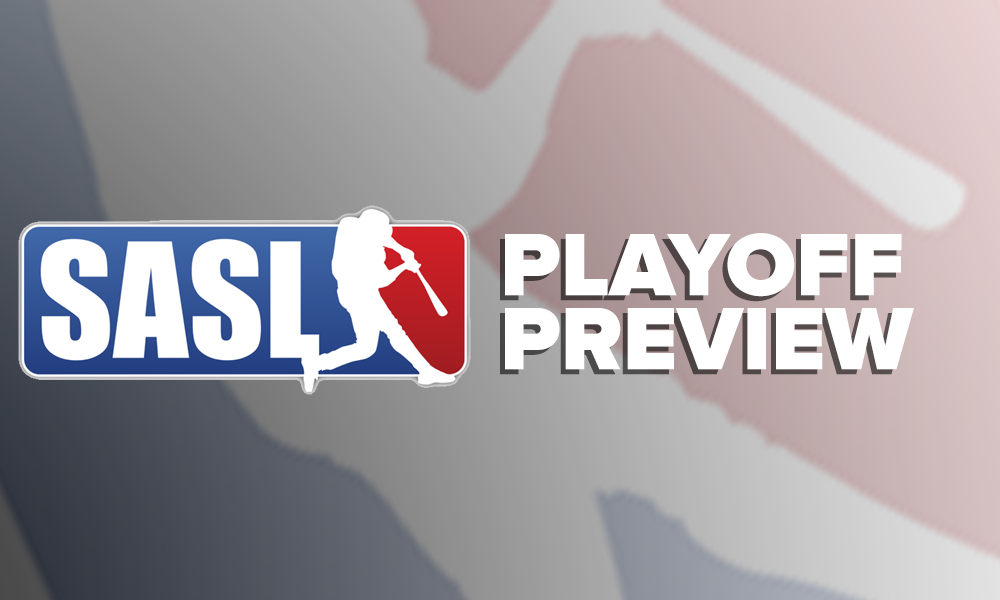 AL SNL PREVIEW AND DUCKS/EMPIRE VS SAVAGES    
Quack, Quack, Quack, Gooooooooooooooooo Ducks. The ducks are back in the playoffs hoping to repeat as SASL champions. They will be playing Empire in the SNL game where the winner will play the Savages in Round 1
The question is with a loaded Savages team, does it really matter who wins the SNL game?
Empire vs the ducks is a matchup of two underachieving teams this year. Both teams had attendance and injury issues. They split the regular season matchup which means anyone can win this game.  They both limped into the playoffs thanks to the Troopers forgetting that the softball games are played on Sundays. Empire vs ducks could be a shoot out especially if both teams have 8 or 9 guys. This game will be 7 innings or 1 hour so it's very possible the game could be cut short.
The winner will play the Golden State Warriors of SASL which is the Savages. It seems like every year they improve with more talent even though there is a cap system. They are hungry to win a title especially since they lost to the ducks in the finals last year..
Let's see how these teams will matchup.
Outfield Matchups
Empire Outfield- Dheeraj Jason, Ramin, Matt, Kunal
Ducks Outfield Saad, Haaris, Steve Sajeel, Moiz
Savages- TK, Irfan, Jojo, VJ
In the match up  Ducks vs Empire, the quacksters have the clear advantage. Not including Dheeraj they have the speed and the championship experience on their side. Dheeraj (.585avg )and Matt (.629avg) have been carrying empire this year. Matt has been Empire's best hitter leading them in rbis(27) and average. Saad who is batting .646 on the season is clearly the best hitter on the ducks. We also can't forget Steve. He may be batting .333 but he has the potential to easily clear the fence multiple times.  It should be a close matchup, but Ducks have the advantage due to experience and most likely more bodies. Haaris has had a great campaign this year while batting .564 and flashing the leather.
Advantage Quacks
When you have TK on your team you have the clear advantage. TK may cover more ground than anyone in the league. We calculated that 72% of his hits are for extra bases. How is this guy only a 7? Irfan, is also a  solid left fielder. He is only batting .446 but he  has played in many big games in his career. The key will be JoJo and VJ. They are batting only .409 and .421 but there is always one unsung hero in the playoffs. Why can't it be them?
Advantage Savages
Infield Matchups
Empire Infield- Chris, Ankit, Manny, Razi
Ducks Infield- Matt, Zeeshan, Bilal, Faizan
Savages, Charley, Hashim, Pavy Zulifkar
Chris Mui is the key to this series. He is batting under 400 which is a career worst for him. It is not too long along where people thought he was a 10 rated player as he hit multiple homeruns against the savages in the playoffs. If Empire wins this game, expect to see some sweat pour down Yasar's face. Manny(.444avg)  has a solid glove and has  had a very good season. Known more for taking pitches and getting walks he is getting his stroke back when it counts. Kudos to Ankit for playing in both leagues. He is hitting .510 but it's great to see a player be committed to both leagues while showing up to every game. That is what SASL is all about.
The quacksters have the much better fielding infield. Matt(.387avg) and Zeeshan are top notch at their positions and don't sleep on Bilal. BIlal is very capable of having huge hits as he had big ones in the finals last year. Zeeshan is only hitting 500 but its playoff time and this baller has the experience. Expect him to scream his signature catch phrase multiple times. WHATS THE SCORE???? ZIP ZIP.  Faizan may not be able to run fast anymore but has a solid average at .588 and plays a very solid first base.
Advantages- Ducks
What is there to say about the Savages. They have three future hall of famers who may be in the top 10 all time in SASL history. Hashim has been consistent every year and is probably  the best shortstop in SASL history. (Sorry Zeeshan) He is batting .667 with 22 extra base hits. Charley who has moved from the outfield to 3rd base is a MVP candidate hitting 746 and 23 extra base hits. All offseason we were told Charley and Hashim were slowing down. Common committee really?. Pavy is having a down year but don't be fooled. Come playoff time we expect him to be trotting around the bases multiple times. He also has very sneaky range playing 2nd base.
Advantage- Savages
Catcher
Empire- Faizal
Savages- Dex
Ducks-  ?
Do I really have to write a description for this. Dex is batting .690 with 36 rbis which is far superior than any other catcher. It's really far superior than anyone else in the league besides his own teammates and Dan. Faizal who is the captain of Empire has actually had a solid year batting 541. He was up in the .600's before last week.
Advantage- Savages.
Pitching
Sid who finally got a championship has had an amazing back to back years hitting. This year he is at .526 and seems to be improving with age. Empire will be throwing out the veteran prince who will be hoping to shut down the ducks.
The savages have the MVP of the finals Yasar. Seriously, who votes for a pitcher to be MVP in the finals?. Yasar has barely qualified but that is all that matters. He is batting a solid .545 and of course is a former Finals MVP.
Winner- Ducks over Empire
This should be a high scoring game but Ducks have the clear advantage. The ducks have the playoff experience and the power to outlast Empire in this game
How can empire win?
It's pretty simple. Empire has to have a clean fielding game and take advantage when they have runners in scoring position. We expect Ankit and Manny to come through in the clutch if Empire is to win. This is a 1 hour game so if Empire jumps on the ducks early it's very possible Empire can win in 5 or 6 innings just because time ran out.
Prediction- Ducks 17- Empire 12
Next Round
Ducks win Game 1   8-5.
Savages win Game 2- 17-8
Savages win Game 3- 14-13. It will be men on 1st and 2nd and someone will hit a walk off single