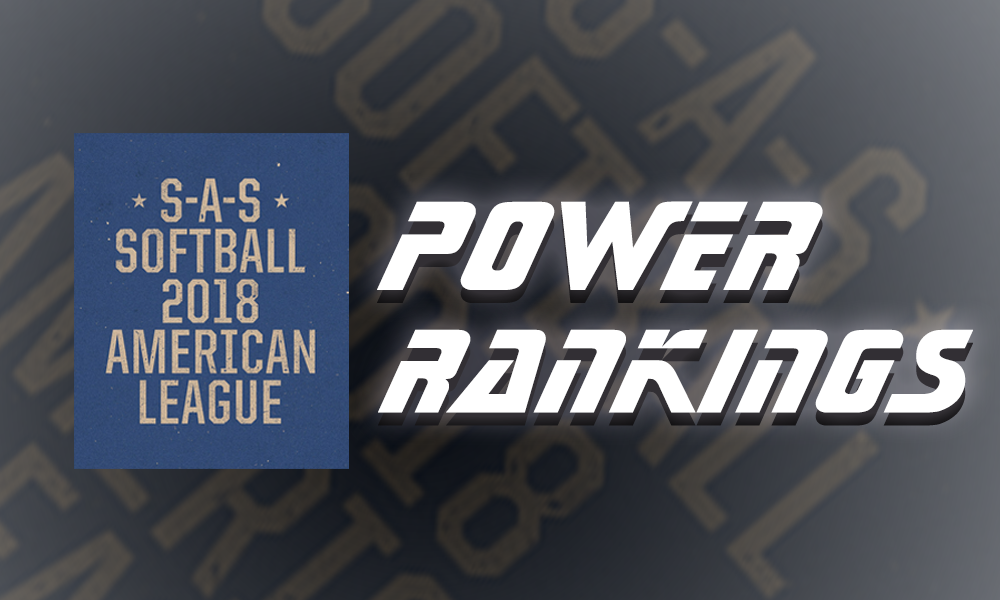 1. Savages – Barely. There's a disturbing trend of "not showing up" brewing with this team. All their losses have been game 1 losses. Furthermore, that jovial vibe that has become synonymous with this franchise is also seemingly fading. Trouble in paradise? Can they still ultimately execute regaining their championship form? If I was a betting man, I'd use someone else's money. The much hyped Savages v HH matchup finished with a split with each team winning one game big. We didn't learn much and neither team seems to have the upper hand. Savages sit in the front seat for that much coveted first seed however.
2. HeavyHittaz – ah, the tease! A sweep would've firmly placed this squad as the elite team in the AL but they followed up a mercy win with a bit of a dud in game 2. Certainly a team to be reckoned with but not yet a team to be feared? They were missing Dan and Craig for their matchup against Savages. Scoring 2 runs with such a great lineup in game 2 was a surprise. They are 2 games behind that coveted first seed that decides timings and fields in playoffs.
3a. Empire – are they really a "meh" team? Not much offense, average defense. Squeaking by a listless Ducks team to gain a split? Looking for some superlatives to speak to their potential but having a hard time finding any. Good news is they still have half the season to turn on the afterburners. Dheeraj seems to have found his stroke. Will they be able to get Nick and Jay enough at bats? They have a big matchup with HH on deck.
3b. 516 – you lost to the Troopers?! All season, more than any other team, they've been touted as sleepers. Well, looks like they fell asleep indeed. Can't expect to be taken seriously if you cannot win the games you are expected to win. They scored a total of 16 runs in two games against Troopers with basically their starting team there. Last year they took the same attitude "we ll get to the playoffs and make noise". How did that work out? The young core of Saiful, Waqas, Kyle, Tyler continue to disappoint at the dish.
4. Ducks – two runs away from a sweep. Would've certainly helped give the impression that the reigning champions are finally turning the corner. These are the types of close games that the 2018 Ducks would literally always win. They would have found a way to Get that clutch hit to get the job done. If there's smoke, maybe there's fire?! Let's see what the second half of the season brings. Next week they face 516 in a early game and if they can sweep there, they can jump all the way up to 3rd in standings if all the breaks go their way.
5. Troopers – kudos for bouncing back after a listless game one and winning a game that most in the league would've chalked up to a sweep for 516. This is another team that isn't bereft of talent but more bereft of desire. They can certainly play, if they really wanted to. Omar finally had a big day and Mike continues to rake. Next they have Savages on deck. If they can take at least 1 there, that will be the shock of the year. Good luck boys!