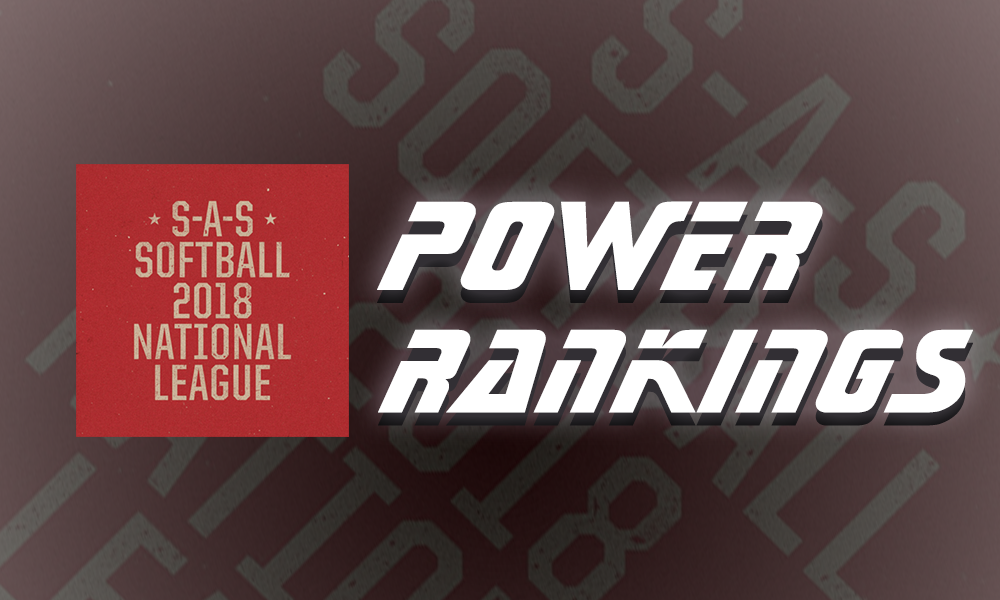 1. Shooter McGavins (15-1)
Regained sole possession of the top seed by taking care of business and sweeping Strike Force. Though it seems like they let up a bit in game 2 and only won by 2 runs. If they want to continue to be on top they can not leave openings for weaker teams.
2. Scoobies Force (14-2)
Had a chance to show the league they were easily the best team but came away with a split against Dynasty. They still hold the league's best defense and continue to get production up and down the lineup. They have the best depth in the league with interchangeable parts where you need them.
3. Dynasty (11-5)
They have come back and are making some noise among the best. Splitting with SF will get you back in the mix for title contender. They are led by Mike, his offensive numbers scream MVP and his defense in the OF is probably best in the league. Add to the mix, Omar, Amit, Ariel and Yamin and you're looking at the most dangerous 1-5 in the NL.
4. Hit Squad (11-5)
Pulled out wins against The One's. Kept themselves within striking distance for top seed. Their success rides on their pitching and defense. They are averaging 10.8 runs per game, which is the lowest amongst teams with a winning record. If they hope to contend for a title they are going to need to do better.
5. Bengals (11-5)
For a moment were looking to be a top contender. Than they got held to just 4 runs and got shut out 1 game. That's just not something a team looking for a title can do. They were missing a few starters so we'll hold off on moving them any lower. They do have a tough matchup against Scoobies Force coming up and may come out of it with a 5 game losing streak.
6. Bats (8-8)
They are on a role with a 6 game winning streak. They held one of the best offenses to just 4 runs in 2 games. They seem to be putting it together late in the season. With the addition of Talha and Nabeels pitching they seem to be moving in the right direction. Another big test this Sunday against Shooter McGavins. A good showing there and they'll be considered back in title contention.
7. Dad Bods (3-13)
Got their first sweep. Took it to NWO and came out on top. Over taking the bottom 3 to take sole possession of 7th. Seems like some of their guys are starting to pick it up. They need to continue to win against the teams below them if they want to avoid a SNL matchup.
8. The One's (2-12)
Put up a good fight against Hit Squad but came up short again. The talent seems to be there so we're not sure why they only have 2 wins. They have a tough schedule with dynasty and Shooters the next 2 weeks. They close out their season against Strike Force. If they can't pull out some wins these next 2 weeks the final week may decide who gets in.
9. Strike Force (1-13)
They have had a few close games but just can't seem to get those wins. Fortunately for them they have the easiest final 3 week with games against NWO, Dad Bods and The One's. If they can sweep one of those weeks they'll find themselves in good position for a playoff spot.
10. NWO (2-14)
After week 1 it's been pretty bad. Riding a 14 game losing streak and the getting mercied by the newcomers. There's not much time left for them to turn it around. They have Strike Force next than Bengals and Scoobies. If they can't come away with a sweep this weekend they will likely be the sole team missing the playoffs.