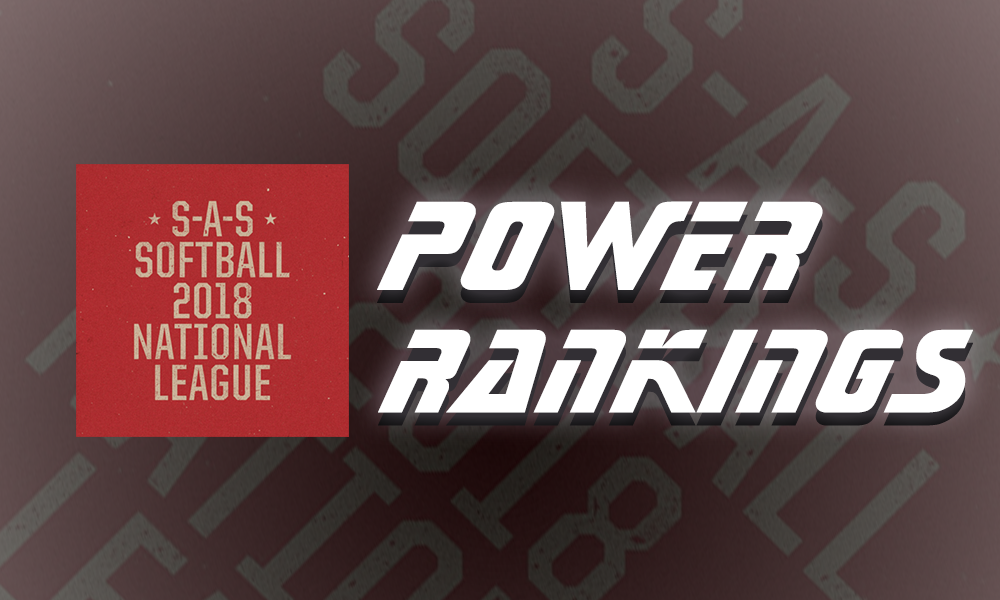 1. Scoobies Force (13-1)
After a week 1 loss they have breezed to a 13 game win streak. Currently holding the best Run differential and defense by far. They are getting production throughout the lineup with multiple guys with 10+ RBIS. Everyone batting above .500 except one. Through the 1st 7 weeks they look to be the team to beat.
2. Shooter McGavins (13-1)
Finally suffered their first loss. Edging the Bengals by 1 run in 2 games. Moved down 1 in PR not because they have struggled but because the team above them is playing lights out. Their top 8-9 appear to be on par with SF, but they don't have the depth SF does. They do appear set for a finals run against SF. If they get in their makeup game against SF we'll see how the compare.
3. Dynasty (10-4)
After a slow 2-4 start they are riding an 8 game win streak. The only question is can they do it against the top teams? 8 out of their 10 wins are against the bottom half of the league. They have a tough matchup this week against Scoobies Force. Win and they prove they are legit. Lose and they'll be middle of the pack.
4. Bengals (11-3)
Held their own against the undefeated Shooters team. They have 10 guys batting above .500 and currently sit 9 runs behind Shooters for best offensive. They can clearly hit with the best, the question is when it matter will their defense hold up.
5. Hit Squad (9-5)
Did what they needed to do and easily swept NWO. They sit at 1-5 against the top 3 teams, barely getting that 1 win. They are 8-0 against teams below them in standing. They'll need a better showing against the best to remain amongst them.
6. Bats (6-8)
Got 2 much needed wins against The One's to stay ahead of the bottom 4. They are 6-0 against the teams below them and 0-8 against the teams ahead of them. They have the toughest schedule to close out the season with games against the Bengals, Shooter McGavins, Scoobies Force and Hit Squad. If they want to be considered a top team again they'll need at least go 4-4. Another 0-8 may put them in SNL games.
7. The Ones (2-10)
They put up a fight against the Bats but just couldn't keep up. Have struggled against better teams all season. They have some solid players in Raymond, Mike and Naeem. Zabi seems to be having a career season. But the rest of the team has struggled. They'll need better production from the bottom half of their lineup if they want to stay competitive.
8. Strike Force (1-11)
Got swept by a good Dynasty team. Thus far have had a tough season. They have continued to struggle both offensively and defensively. Only a few weeks left to secure a playoff spot, they need a good showing against the bottom teams.
9. NWO (2-12)
Got absolutely demolished by Hit Squad this past week. Put up a total of 5 runs in 2 games. They have only a handful of guys hitting above .500. Inconsistent attendance and inconsistent play has cost this team.
10. Dad Bods (1-13)
Put up a bit of a fight against Scoobies Force and seems they didn't get mercied in game 2. They have some solid players in Andy, Luis and Eric. If the rest of the team can continue to get better every week they may stay a competitive going into next season.