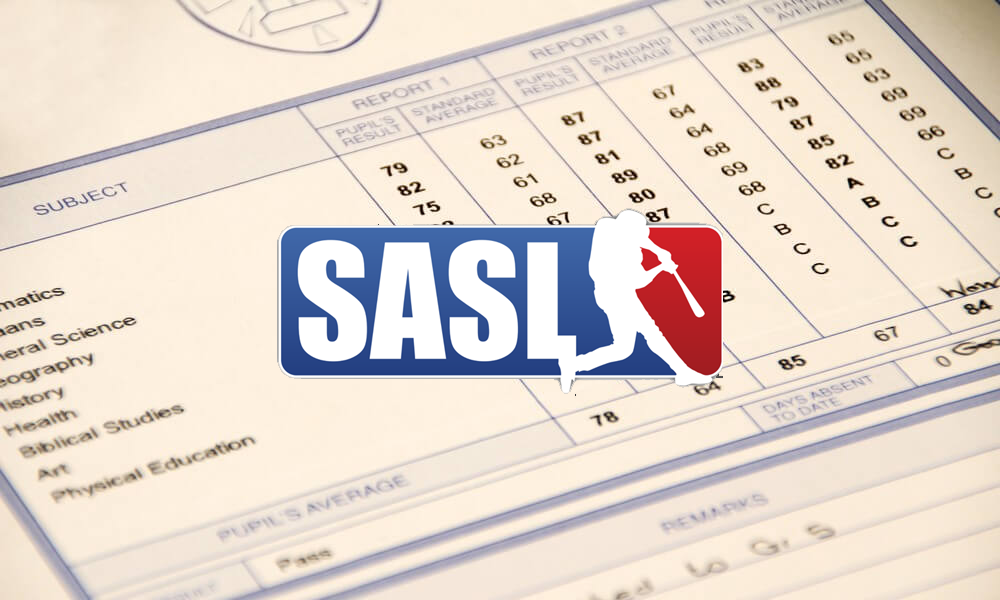 AMERICAN LEAGUE:
516: C+ (RECORD: 5-7)
This team has beaten HeavyHittaz twice and Savages once. So why the low grade? The biggest culprit was the forfeit they had against Empire. That may loom crucial at the end of the season.  If you can't get enough to field a team on a crucial matchup, that is bad look. 516 has the talent to be at the top of the standings, but they are their worst own enemy.
Team MVP: Jason Gregory. Highest BA, most hits, most RBI's and most consistent player.
Second half improvements needed: Tyler needs to hit. Can't bat under .200 and start in the AL. Denen is in the same boat. 2nd in MVP voting in 2018 to a fringe starter in one year. Sanjay needs to show up. Him on the mound is huge. Show up with top 10 rest of the way.
EMPIRE: C- (RECORD: 6-6)
Another team who can't consistently field their top 10 players. Of their 6 wins, 4 have come against Troopers. 2 were forfeits wins from 516. When they played 516 and Savages, they get swept in both series. There are a few players that really stand out so far, but they aren't going anywhere in this division without solid commitments from Nick and Jay Yip. They seem to only want to play against Troopers and get their stats up. Some of the offseason work from Faizal and Prince have worked wonders like signing Matt G, Ramin Rasuli. Some have not worked like signing Fernando, or Khurram.
Team MVP: Dheeraj Ramchandani. Great defense, and really stepped it up another notch this year with the offense.
Second half improvements needed: Find a consistent pitcher. Get the Yips to come play every week. Outfield defense minus Dheeraj is VERY shaky. Can they get a statement victory against a legit opponent soon?
HEAVYHITTAZ: A- (RECORD: 9-3)
This team runs wild over weak opponents. But they have 3 losses in the ledger with 2 coming against 516. They have some big matchups coming up with 4 games left to play against Savages in the second half of the year. Almost every signing they made over the winter has worked wonders. Dan is having a MVP year, Ahmad is turning into a bona fide star, Asad has bought in some new swag. They have the best offense in the league with the most runs scored, and they have the second best Run differential. Both bode well for rest of the season.
Team MVP: Dan DiIrio. He only played 60% of their games. But when he has played, they look terrific. His hitting is unparalleled and he is a solid infielder as well.
Second half improvements needed: Their bats can go silent as they are too reliant on the home run. Infield defense is a work in progress. They will need to tone down some of the in game antics or risk some suspensions. Health will be a big factor. Can they stay healthy in the second half of the year?
MIGHTY DUCKS: D (RECORD: 4-8)
4 wins and 3 of them have come against Troopers. They are averaging slightly over 6 runs per game! This is softball folks! Their defense has taken a step back as well with about 12 runs given up so far this season.  Gone are the memories of the 2018 Championship and we have them barely clinging on to playoff hopes. At this point, we see them going for a SNL matchup and hoping for the best. But if anyone can turn it around, it is Saad and co. They have the talent, but do they have the fire like they had last year? Time is ticking.
Team MVP: Siddique Farooqi. Leads the team in Batting avg. Has turned himself into one of the better pitchers in the league.
Second half improvements needed: Offensively they have been pretty bad. They need Steve to step up and provide some punch in the middle of the order. Nadeem, Faizan, Zeeshan all may be having their worst seasons so far. If they can just get their offense going a bit, they should be fine.
SAVAGES: A (RECORD: 11-1)
The team is sailing along smoothly. All their studs are performing well and the advanced metrics show their dominance quite clearly. They have the best defense in the league with an average of about 6 runs given up per game. They score about 15 runs per game. That equates to the highest run differential in the entire league. This is all with their bottom of the lineup still finding their rhythm. Jojo, Irfan, VJ has yet to really show their full potential. Harris has only played half the games, so we expect the lineup to be even better moving forward. Anwar has filled in admirably for Yasar and leads the league with 8 wins. They are playing like every game matters, and the number 1 seed is all for their taking.
Team MVP: Hashim Naveed. Maybe the most irreplaceable player on any team. He has rediscovered his stroke this year and still playing SS at a high level.
Second half improvements needed: Jojo was their under the radar pikup and he hasn't produced. Harris and Yasar seem like they are part time players, are they invested in the Savages? Pavy is hitting below .500, and seems like he is playing through an injury. Savages will need him at 100% in playoffs.
TROOPERS: D+ (RECORD: 1-11)
Their record is 1-11. They are always struggling to get their top 10 players in there. The talent level says they should be a lot better than the record is. Michael Kauffman is their best player and he seems checked out. If it wasn't for Dynasty, where the heck would this team be? They have played better over the last month, than the first, so that is a positive. They have the least amount of runs scored and the most amount of runs given up per game played. A recipe for disaster. Let's hope they don't repeat last year, where they shut it down with a month in the season to go. They are a good week away from being back in business.
Team MVP: Anthony DePalma. He has shown up to every game since he signed with them. He is a good outfielder and he is very committed.
Second half improvements needed: Where do we begin? How about bring your top 10 guys every week?