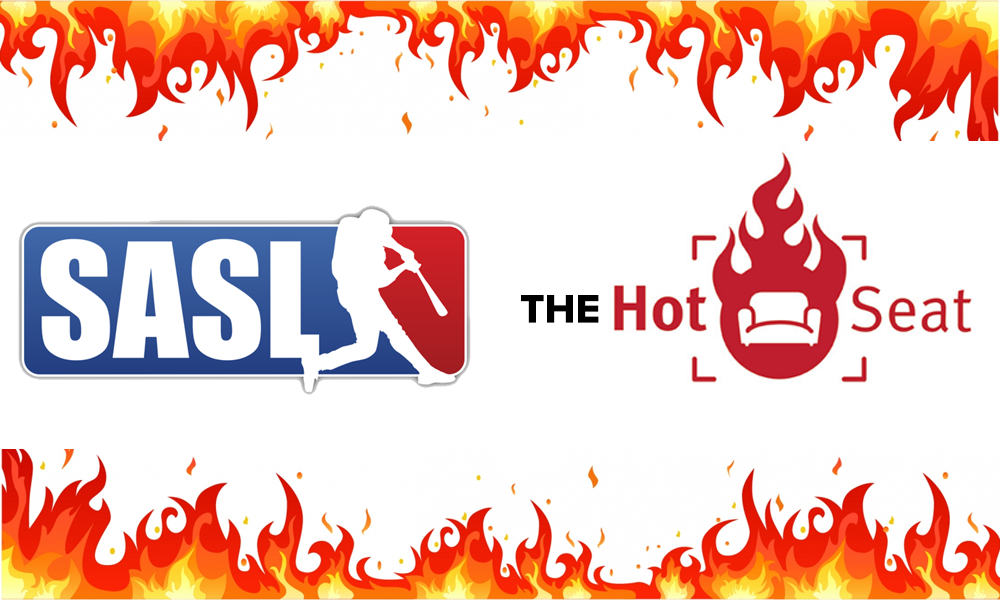 The Hot Seat with Ramy Abdelhamid
1. You won your first major award last year as the SASL American League MVP (finally). What did that mean to you after being in the league for so long?
Damn.. I guess I have finally showed the league what type of player I am. Injuries and being committed full time to the league was probably what held me back all those years. It meant a lot to win this award especially with all the other talents in the league right now. The league has changed tremendously, the competition is fierce and every team has legitimate type A tournament players. For me to beat those guys out makes it even that more special. Definitely need to thank my teammates though, because without them I wouldn't be able to accomplish what I had done or put up the numbers that I had up. The boys keep it fun and gave us a reason to come every Sunday to play some ball. Some in the league think I'm underrated, some overrated, In my opinion, If I'm healthy, having fun and playing the game the right way, I believe that I'm right up there with all the other elites.
2. It would be very remiss if we didn't ask you about your first round loss against Savages last year. You guys were up big in Game 1. How did you guys let them come back big and then lose in game 2? Did you get therapy after the loss as a whole team?
Errors, errors, and more errors. Defense wins championships you can't make errors and give good teams extra outs. If you do that then no lead is safe and you can never win. Look at the ducks last year, superb defense. That's the formula to playoff: defense and clutch hitting. Our defense was very suspect last year and we just made bad errors in big situations. That's ultimately what did us in last year. No therapy needed, we knew what kind of team we were and if we couldn't play clean ball we weren't gonna win.
3. What was your recruiting strategy this off season to go out and get Dan Dilirio, Ahmad Halimi, Binu Nair and Asad Hamdani? All 4 have played really well so far and big part of your early success. What do you feed them?
lolllllll yeah they are animals. Asad eats little babies, he says they're tender, Dan eats porterhouse steaks, Binu loves curry and Ahmad eats arepas he loves the Spanish women. Its Ramadan astughfurAllah. Attendance and defense was our issue last year so we needed to address that immediately. These 4 guys added depth, they're reliable, can play defense and very versatile. The bonus is that they're all team guys and they fit right in. Team chemistry is very important to a winning team and these guys have made our team stronger and closer. I also give them pedialyte, the secret juice to stay younger. And they can hit a little wink wink.
4. What do you feel like the biggest weakness is for HeavyHittaz? What do you feel like you need to improve on as a team?
Right now just playing together, building chemistry and improving our defense. If we improve our defense I don't think nobody can beat us but ourselves. We're learning to play for each other and put the "team first" attitude. Last year was attendance issues, injures and lack of roster depth destroyed us. We were stressing out every week to field a team with 10 players.
5. Is it true that your closet is completely filled with wife-beater tanks?
Damn shots fired lollllllll. 10 years ago yes but I guess when you get older and get married and mature the wife beater tanks start disappearing. I think it all has to do with maturing. I only have a few but I don't wear them for softball anymore. I used to be a short fat chubby geek so I was excited to show off the guns.
6. From what you have seen in the early part of the season, how do you feel like the season is going to play out between the 6 teams? What is your finals prediction? Does this feel like a league on steroids?
Yes SASL AL division is stacked, every team has stud players. Early part of the season, so far the weather sucks but it is what it is. I think it's going to be a dog fight until the end for the top 3 seeds, as long as there aren't any attendance issues. The problem i see with these stacked teams is that some of the players can't commit every week so you need to have a deep roster if you want to compete. You are only as strong as your weakest link. That's another reason we added like 5 or 6 players we didn't want to ever play short again like last year scrambling to field a team.
7. First word that pops into your head when you hear these annoying names:
Ali Ghumman: Competitive
Usman Ghumman: Champion
John Sans: Feisty (A guy you love on your team but hate to go against)
Sikander Dhillon: Clown
Michael Jackson: Greatest
Billal Lateef: Young Stud and a Mets hater
Masoom Siddiqui: Beast
Full sleeve t-shirts vs Wife beaters: Suns Out Guns Out
Harpreet Chadha: Professional HOF
Kunal Sra: Loves the game
8. You have played in and currently play in many leagues. What distinguishes SASL from the rest?
SASL's website, The organization and the community. It's pretty cool how everybody knows each other. Most of the brothers in the league are there for each other in good times and in bad. The stats keeping and league write up is pretty unique, no other league does that. Even this HOT SEAT interview, no other league has this and the advantage of doing something like this is to get a different perspective of the person and to see a side of the player that most people don't get to see.
9. Tell us the below and explain why:
Favorite SASL team you were ever part of:
I played for 4 teams and every team was my favorite in its own right.
Lions my first team I was young and I came out hungry.
Ballers great team and won 2 chips with them. Everybody picked each other up on that team
Empire we were stacked and lost in the semis on an error still can't believe we lost.
HH added some young blood and we got something special happening brewing.
Favorite SASL memory:
Winning the chip with the Ballers. That final was bitter sweet I remembered. I had a really bad final but we still the won, our team was on fire. I tell Zeeshan, that bum, which I rather play bad and win than be great and lose. As long as we won the game.
Best teammate: Alisher Saeed He introduced me to another league which led me to SASL. He's an all-around great guy. I can always depend on him on and off the field, couldn't ask for a better brother. The best quality that Ali possesses is that he always tries to make me a better brother, he puts others before himself.
If you could change one thing about SASL:
I hate the 2 division crap it separates everybody and there are people in the NL that I don't see or catch up with anymore. But I do understand why the 2 divisions and its good for parity. One change I would like to implement is change which teams can go to AL and NL like in soccer. Promote teams and relegate teams. The 2 NL teams in the finals should be forced to enter the AL the following the year and a really bad AL team should be sent to the NL. I also wouldn't allow players to play in both leagues No crossover players.
Least favorite SASL rule:
The stupid ratings and who is considered elite and impact and non-impact, too difficult to keep track and the ratings and cap. And letting players play in both AL and NL. If you're good enough to play in the AL you shouldn't play in the NL.
10. Talk to us about your health regimen from nutrition to hitting the weights. Obviously you are one of the top players in the league and you are a multi-sport athlete, what's your workout schedule? What advice do you give for the fat guys in the league? Do you skip leg days?
Your body is like a car you need to take care of it, nutrition, gym, cardio, stretching, hydration, rest and sleep. Eat healthy at least 5 days a week, workout about 5 days a week, cardio 1 day a week. I try to stay away from carbs and drink lots of pedialyte. I'm a big pedialyte fan keeps you hydrated and decreases your chance of injury. I take a multivitamin every morning and I drink a protein shake for lunch and after every workout within 1 hour. Advice for the Fat guys eliminate carbs 6 days a week pick a cheat day once a week go nuts but no carbs 6 days, no alcohol, no sweets, no sugar you will see results within a month. I do legs once a week and I try never to skip legs. Stretching and using the massage roller very important. As you get older you start to feel things in your body that you never ever felt before.
11. SASL World Cup II is coming up soon. Give us a plug with your experience in the first one and what you expecting in the second one. Would you play for Team China?
I love the world cup it was an amazing experience. I tried to get a Team Egypt together but didn't have enough players to make a roster, so I joined team USA. I was only a part time player in the 1st world cup, but I'm expecting to contribute more in the second one. I was very impressed with Ammad and Anwar pulling it off because I know how much work is needed to host something this big. They did a great job and hopefully it continues. Also, a special thanks to all the sponsors who hosted the event. Would I play for team China that's a weird question …nah I'm good. I would only play for my countries Egypt, Lebanon or USA… no disrespect to China