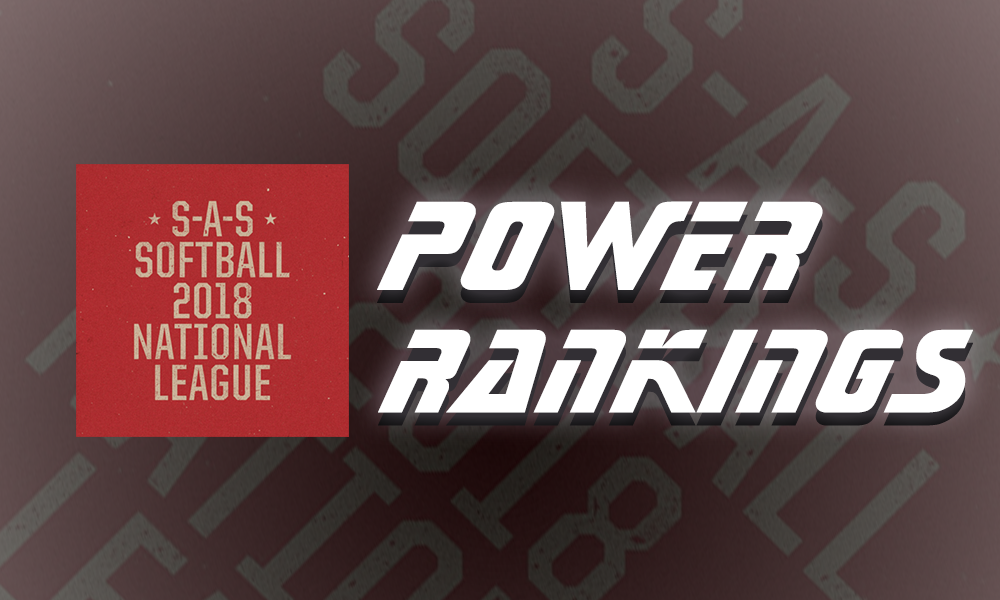 We're only 3 weeks in but the parity from past seasons seems to be lost. Hit Squad, Shooter McGavins, Bengals and Scoobies Force seem to be steamrolling through the lower half of the division. Based on what we have seen those 4 will be fighting for the top spot with Dynasty likely catching up.
The remaining 5 teams have a lot of work ahead of them if they want to remain competitive.
1. Hit Squad (5-1)
Last seasons champs continue to keep winning. Winning via mercy in game 1 against the Bats and then coasting to their second win of the day. They continue to put up solid Pitching and defense. Next up is Dad Bods, likely another 2 wins. This spot is theirs until further notice.
2. Shooter McGavins (6-0)
Swept a very good Dynasty team to continue their undefeated season. They are also one of the only teams with their stats updated on the website, so they have that going for them as well. Next up is an 0-6 Bats team. Look for them to stay in 1st seed after next week. This rookie team is taking the league by storm.  Their early season MVP has been either Irfan or VJ.
3.  Scoobies Force (5-1)
Easily took out a weak NWO team. Nothing else to add this week as they continue to do damage both offensively and defensively. Up next is a tough match up against the undefeated Bengals. They are one of the deepest teams in the league and they will be one of the teams immune to attendance issues.
4. Bengals (6-0) 
Undefeated and still sitting at the 4 spot. They have had an easy schedule thus far playing Bats, NWO and Dad Bods. Doing what they need to do and taking care of the weaker teams. Games against Scoobies Force is next and will determine where they sit amongst the best. Jason Gregory, Saeed Anwar and Manpreet Singh has been great additions for their team
5. Dynasty (2-4)
Two losses to Shooter McGavins. A slow start for a team who's has a top notch roster on paper. Look for them to even their record against The Ones this week. They need to turn their season around if they want to end up near the top of the standings.
6. NWO (2-4)
4 straight losses after a 2-0 start. Let's hope last season does not repeat it self. Didn't put up much of a fight against Scoobies Force. Up next is Strike Force. This week they need a sweep and get back to their winning ways.
7. The One's (0-4)
Tough break not being able to get the games in. Hopefully the league caters to both teams for a makeup date. We still believe in this team and there is no captain that cares more than the tandem of Naeem and Sijo.
8. Strike Force (1-3)
See above. They didn't play last week. Now with Ramadan around the corner, how will they handle it?
9. Dad Bods (1-5)
Two mercy losses to the Bengals. And now have to face last seasons defending champs. A slow start, let's hope they continue to play hard and stay competitive against the lower teams. They have some talent in their team and they come 15 player deep every week. That is an issue as they continue to bat 12-13 players a game.
10. Bats (0-6)
4 out of 6 games lost via mercy and not competitive in the other 2 either. They are having a terrible season. Next they play an undefeated Shooter McGavins team. Another 2 loses and they will put themselves in a huge hole.