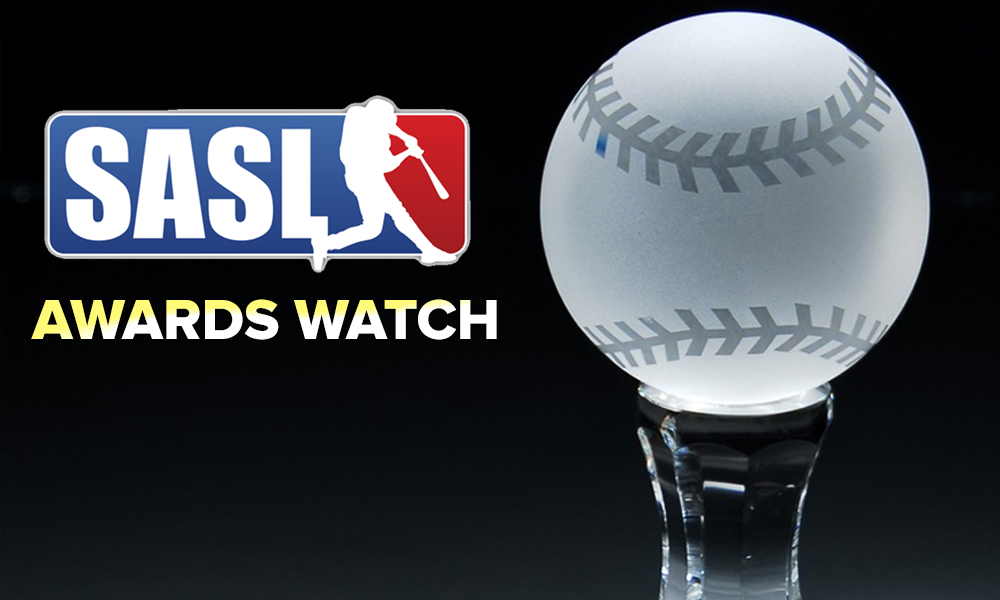 With a little bit more than 1/3 of a season gone, figuring out an MVP is actually harder than you think.  Rainouts, forfeits, under performance; you name it, and it's made it harder to find a clear cut MVP.
Here are the current candidates, though this list will likely change:
AL MVP WATCH
Honorable Mention – Hashim Naveed (Savages) and Ahmad Halimi (HeavyHittaz)
1.  Tom Kahl (Savages) – Coming in as a rookie at a bargain rating, Tom has been every bit as good as advertised.  Lockdown defense in LCF (no fly ball is safe to land in his vicinity).  Leads the team in slugging, and tied for the team lead in extra base hits.  We talked about the Savages lineup being hard to navigate last year; well this year having Tom makes it hard much harder to escape with minimal runs scored.
2.  Charley Robinson (Savages) – 7-1 record in a loaded AL gets you two top candidates.  "Down" season last year?  By his standards, maybe, but has taken it to another level this year.  Moving him back into the infield may have done wonders for him.  Leads the team in average, and tied for the team lead in RBI.  Although he's been one of the premier power hitters in the league, he has mainly hit singles.  Could be a shift in approach at the plate this year, could just be they don't need power from him.  Either way, Charley has played excellent and will continue to be a driving force on the team.
3.  Dan Diloro (HeavyHittaz) – Even by softball standards, his numbers are off the charts.  Over a .900 average.  An OPS over 3.  Just let that sink in.  Already has 9 extra base hits, which some good players don't even get in a season.  The HeavyHittaz were already known for a plus offense.  Adding the likes of Dan makes every hitter in the lineup better.  Dan's glove on this team will be just as important, as he gives gold glove level defense either at 3B or SS.  As long as Dan keeps showing, expect him to stay in the top 3 of the MVP rankings.
NL MVP WATCH:
One-third of the way into the season, we have surprise teams (Shooters and Bengals) but do we have surprise MVP candidates?  Let's take a look.
Honorable Mention – Yamin Patel (Dynasty), Ahmad Halimi (Hit Squad), Jason Gregory (Bengals)
1.  Mike Velez (Shooter McGavins) – Been the best player on the best team.  Also been one of the leagues best players.  Second in the league in RBI and hits, third in the league in total bases, he's been producing with the bat as if he's never taken time off.  Gotten better each week and will likely see his average continue to rise.  His defense vaults him to the top as his play in LCF has been nothing short of spectacular.  Creating runs on one end while taking them away on the other side is a good formula for MVP consideration.
2.  Saeed 

Anwar

 (Bengals)

 – Under the radar signing, Saeed has shown he's more than just the brother of the commish.  He's currently leading the NL in RBI, second in the league in runs scored and total bases, and third in hits.  Adds a speed dimension that the Bengals didn't have before.  The team has knocked on the door of being a title contender in the past, but if Saeed keeps this up, this can be the year they breakthrough.
3.  Burhan Gorgani (Scoobies Force) – In forming this team, a lot of names were talked about; Frank, Saiful, Shaz, Kevin, Mike.  But the team's best hitter so far this season has been Burhan.  Leading the team in doubles and RBI, second on the team in average, OBP, and OPS, Burhan has flashed a high average and power when the team has needed it.  As a league veteran who's won in high leverage playoff games before, pressure situations will not faze him at all.  On a team stacked with hitters, Burhan will continue to get chances to drive in runs no matter where he bats in the order.   The team has been as good as advertised with only 1 loss, and Burhan is a driving force as to why the team is living up to expectations.