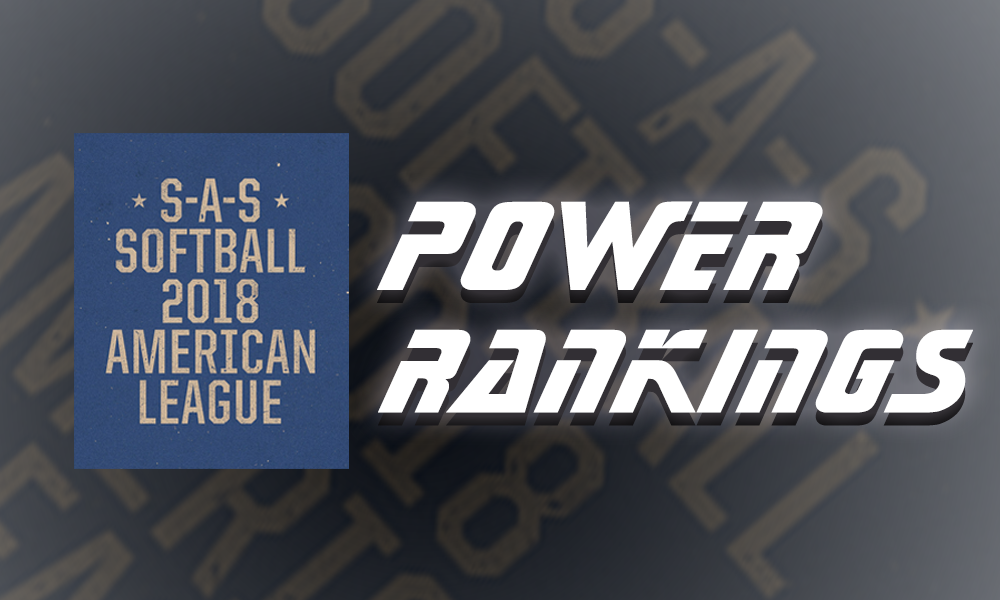 American League Power Rankings
1. Mighty Ducks
The defending champs couldn't go another 13 weeks without losing a game, right? Well, now that that's out of the way, they still remain on top until further notice. They played a vastly improved HeavyHittaz team and split, proving the competition has increased and Ducks won't be able to sleepwalk their way thru the 2019 season.
2. Savages
Picking up where they left off, Savages took it to a competitive 516 team that came ready to play. An exclamation point was made in the second game where both teams were tied going into the fifth inning at which point the Savages put up a 12-spot and the game ended in a mercy win. Their offense put in a lot of work in the offseason and the improvement showed right away.
3. Empire
Retooled and reinvigorated, the Troopers might've been just what they needed to start the season off with some momentum as they try to dethrone those Ducks. A lot of hype is around the return of Jason and Nick, but Pete stole the show with an amazing week 1 performance.
4. HeavyHittaz
New (old?) name, but their core of all-star players remain. Put the rest of the league on notice by holding the defending champs to 20 runs in two games and splitting the series. All this without their key off-season pickup Dan. Can Ali and co., keep the momentum against Troopers this weekend?
5. 516
Being fifth speaks to more the competitive nature of the AL than the lack of talent this team possesses. They've got hitters throughout their lineup, anchored by Denon and Yoba, and they play solid defense. DO NOT RUN ON THEIR ARMS! Getting swept by the Savages shouldn't dampen their outlook for the rest of the season as they were missing Sanjay and Steve. This team can finish at the top, or stay at 5 for a while. It is up to them.
6. Troopers
Forgettable week 1. Opening day and you come to play with 8? They let Empire score 51 runs in two games. That is hard to fathom. They showed pride and took their beating like men, but they need a win and they need it NOW. This weekend they go up against HeavyHittaz and we expect Troopers to come out with a lot more energy than week 1.