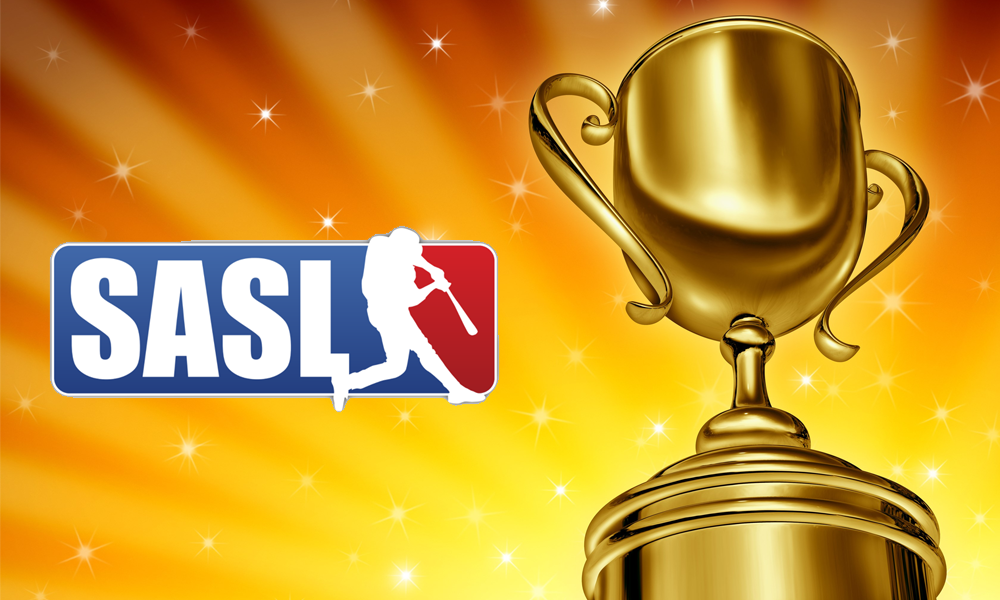 SASL 2018 NATIONAL LEAGUE MVP
Winner: FRANK PEREZ (HIT SQUAD): 40% of votes
Runner-up: Nabeel Haque (Breaking Bats) and Naeem Bhalli (The Ones) each 20% of votes. Also receiving votes were Sajeel Haque (Breaking Bats) and Yamin Patel (Dynasty).
The complicating factor in picking the MVP for the National League is once again that often debated middle word "Valuable". How can a player who led the league in batting average, RBIs, total bases and second in OPS while manning a gold glove SS and showing up to every game finish second in voting?! Or how can a player who led the National League in wins while pitching lights out, and finishing top 5 in home runs, rbis, runs, total bases finished tied for second as well?
Look no further than what Frank Perez has meant to his ball club, Hit Squad. The stats? Yes. It is definitely there. Frank batted .697 while leading the entire league in slugging (1.579) and OPS (2.261). Frank also finished second in the league in home runs (12) behind Amby's 13, second in RBIs (58) which was two behind Naeem, and second in total bases (120) which was 3 behind Naeem.
The difference maker for the voters in this race seemed to be the value he bought overall to Hit Squad. Without Frank in the middle of the lineup, the team looks more like a last place team than one heading to the finals. Not only that, this year Frank made the switch to SS from the OF quite seamlessly. Many OFers would never make that switch whether because of talent, ego, experience, etc. But Frank did an amazing job with the switch and played a key role in the Hit Squads often suffocating defense.
Overall, between the top 5 nominees, it could have gone any way. Awesome season by everyone. But a big congratulations to Frank for winning this prestigious MVP award which was truly very deserving.
SASL 2018 NATIONAL LEAGUE MANAGER OF THE YEAR
Winner: SAJID KAKANA (DYNASTY): 33% of votes
Runner-up: Ghulam Ali (Hit Squad) with 29% of votes. Also receiving votes were Naeem Bhalli (The Ones) and Syed Haque (Breaking Bats).
In the closest race of this season, there were 4 fantastic nominees for this award. SASL would like to give a big shout out and a huge congratulations to Sajid Kakana for winning the 2018 Manager of the Year for the National League.
You know why he won the 2018 award? Because not one week has passed after Dynasty season ended and he has already asked SASL about any free agents, any upcoming changes, etc. There is dedication, then there is DEDICATION. The team made drastic changes over the off season. There were a lot of tensions in the 2017 version of the Dynasty team and Sajid made the necessary changes to ensure the current crop of players put the TEAM above anything else.
Dynasty finished 3rd in the league with a 15-11 record. Over the offseason, Sajid made some key additions in Raymond Lorenzo, Bryan Ramdat and Andrew Jordon. All three worked out great. It took a few weeks for the team to gel starting their season at 1-3, but the team came together and finished on a fine note. Sajid not only did well this season, but helped Dynasty set up for the future as well.
SASL 2018 NATIONAL LEAGUE ROOKIE OF THE YEAR
Winner: OBAID FAROOQUE (HIT SQUAD): 42% of votes
Runner-up: Isidiro Diaz Jr. (The Ones) receiving 32% of votes. Also receiving votes was Andrew Jordon (Dynasty)
The talents of Hit Squad leadership shone thru once again. Where do they continuously find such talent. Congratulations to Obaid for such a fantastic season. While the vote was super close, Obaid came thru as the winner and what a bright future he has in SASL.
Obaid only played half the season. Making appearances in only 12 games, he led the team in batting average and compiled a triple slash of .723/1.255/1.964. He also had 5 home runs, 22 RBIs and 25 runs. Let me once again remind you, he played only half the games. If he played a full season, he would be up there in the MVP discussion. He also complements his amazing offensive ability, with one of the strongest arms in the NL. He held down the fort in LCF for Hit Squad for the second half off the season.
The future is bright for this young man. And we for one, will be keeping a close eye on this Rookie of the Year winner.