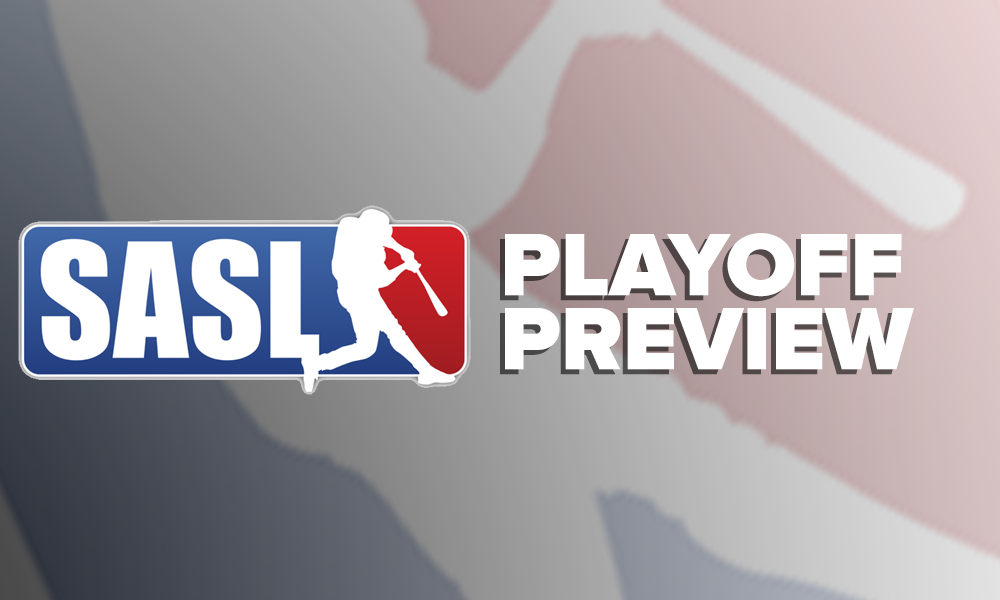 Recap
Game 1: Hit Squad 7 – Dynasty 19
Game 2: Dynasty 3 – Hit Squad 18
Game 3: Dynasty 13 – Hit Squad 12
Game 4: Hit Squad 8 – Dynasty 7
They have an even 2-2 matchup going into their playoff Series. Their run differential over the 4 games is a measly 3 in favor of Hit Squad. Their first series was a nightcap make up which consisted of a lopsided win for each team. Their second series more recently ended with 1 run victories by each team. Hit Squad has scored 15 more runs throughout the season and given up 7 less runs. Looking at the results both teams seem to be evenly matched, the only difference being Dynastys' struggle in the first half of the year.
Catcher:
Joel Enai (HS) vs Sajid Kakana (Dynasty)
Joel is a late comer to HS, joining right before the roster deadline. He provided a much needed body for a Hit Squad team struggling to field a team. He has done an admirable job in the lower half of the lineup. With a .528 OBP and .849 SLG he's a solid 7th/8th hitter. He has just enough pop to open up the outfield.
Sajid is a veteran to SASL who knows the game well. He has been consistent all season. Ended the season hitting 0.549 with and SLG of 0.718. He won't wow you with his power, but can occasionally get a hold on one. A smart hitter who will hit it where you ain't.
Advantage: Dynasty. Sajid has more big game experience despite having similar numbers to Joel.
Pitcher:
Wahid Omarzai (HS) vs Tariq Siddiqui (Dynasty)
Wahid by many has been declared best pitcher in SASL. It's been rumored he has more than 10 pitches he can throw at any given moment. Because of his pitching his hitting has remained very underrated. He's consistently one of the better hitters in the league. This season batting .570 with a SLG north of 1. He has the ability to hit to all fields and with occasional power.
Tariq has also been a very good pitcher. Does enough to keep the ball in play to trust that defense behind him. Not a great hitter but no dud either. Hitting .500 for the season with a SLG 0.682. Don't expect him to hit any homers but he will place the ball where needed.
Advantage: Hit Squad. Wahid is a better pitcher and hitter than Tariq.
1B:
Ammad Sheikh (HS) vs Naresh Rajpal (Dynasty)
Ammad has experience playing multiple positions and has settled into 1B. He has played well at the position. Hitting a bit over .400 with only 4 XBH. He can get the ball over the infield but his lack or power makes it difficult to get more hits.
Naresh is an excellent 1st baseman. He won't make any mistakes and is one of a few that can make exceptional plays at first. He's been hitting very well for the team with ability to hit to both left and right fields. He has warning track power so you have to be careful if you try to squeeze him.
Advantage: Dynasty. Naresh is a better hitter with more power and can play the position with the best.
2B:
Hakim Najimi (HS) vs Navin Srivastava (Dynasty)
Hakim has had a weak season for what he is capable of. He knows how to play the infield with years of SS and 3B experience. SLG is dow this season at .0771 but we know he is capable of clearing the fence at Cantiague D.
Navin is another experienced infielder. Among the top defensive second baseman. Hitting a solid .560 but with only 1 XBH. He's doesn't have Hakims power but know how to get on base.
Advantage: Even. Both play the position well. Hakim has more pop but Navin has more consistency.
3B:
Ali Najimi (HS) vs Raymond Lorenzo (Dynasty)
Ali is having a typical year for himself. Continues to hit and field his position well. No real power is his swing but hits those right fields locations very well.
Raymond is having a sensational season. A very lethal hitter who can hit to all fields with a lot of strength. Has played SS as well as 3B this season and is very capable handling either.
Advantage: Dynasty. Raymond is an All-Star and MVP candidate.
SS:
Frank Perez (HS) vs Amit Bhasin (Dynasty)
Frank is coming off yet another solid season. Hitting just shy off .700 and SLG 1.579. He's second in Home Runs and RBIs and leading the league in slugging/OPS. He's a lethal hitter who can hit over Cantiague D at will. Defensively he is in that 2nd tier right under the elite shortstops.
Amit Bhasin continues to hit and play with the best of them. Hitting just under .700. Speed may have cost him a few triples and homers but on Cantiague D he could come up huge.
Advantage: Hit Squad. Frank is a leading MVP candidate having an amazing season.
LF:
Yaqub Najimi (HS) vs Ariel Arvelo (Dynasty)
Yaqub, the youngest Najimi, is having a breakout year. He's been playing his position very well. You may not see diving catches but he will make the easy to mod difficult one's. At on point he was hitting well above .600 but has settled in at 0.581. Not much power but he has the speed and energy to make up for it.
Ariel can be a very dangerous hitter. Can hit hard line drives but can pop up. Has a 0.526 avg but a slugging above 1. He's also an above average defensive outfielder.
Advantage: Dynasty. Defensively they are both equal but Ariel is a much more dangerous hitter.
LCF:
Obaid Farooque (HS) vs Andrew Jordan (Dynasty)
Can you say Rookie of the Year. Obaid has put on a show since he started coming for HS. Holding the LCF position down with the best of them, and hitting even better. Leading HS in avg at .723 and 5th in the league in OPS. He's is going to be Hit Squads hardest out.
Andrew Jordan is another rookie. Not having quite the season as Obaid has but he is holding his own. Not the greatest outfielder. But does have significant pop. With a short fence he can clear.
Advantage: His Squad. If Obaid has played less than half the season, if he had played a full season he may have been in the conversation for MVP.
RCF:
Solyman Najimi (HS) vs Yamin Patel (Dynasty)
Solyman is who he is. He's a consistent .500+ hitter and plays his position well nothing flashy. You know he's going to be ready for the playoffs.
Yamin is having a breakout season. 11 home runs, 47 RBIs!! He has cemented himself in the middle of Dynastys batting order. Plays his position just as well as Solyman.
Advantage: Dynasty. 11 home runs!!
RF:
Tim Alicea (HS) vs Nitin Srivastava (Dynasty)
Tim has hit well this season, batting .581. Plays his positions well enough.
Nitin has player multiple positions this season as well. Singles hitter with good IQ.
Advantage: Even
Key for Victory
Honestly, does not matter what I say. These two teams have been playing against each other for over 10 years. If anyone knows Hit Squad it's Dynasty and Hit Squad know Dynasty better than anyone else. Both these teams will be using their knowledge for each hitter.
Playing at Cantiague D is a wash as both teams have 2-3 guys that can hit it over with ease. How the supporting players play will determine who will win.
Prediction:
This is a tough one. I expect a 3 game series. All games I expect to be close. But in the end Hit Squad has over the years been the better team and appear to have a better team this season as well.
I predict Hit Squad wins in 3 close matchups.