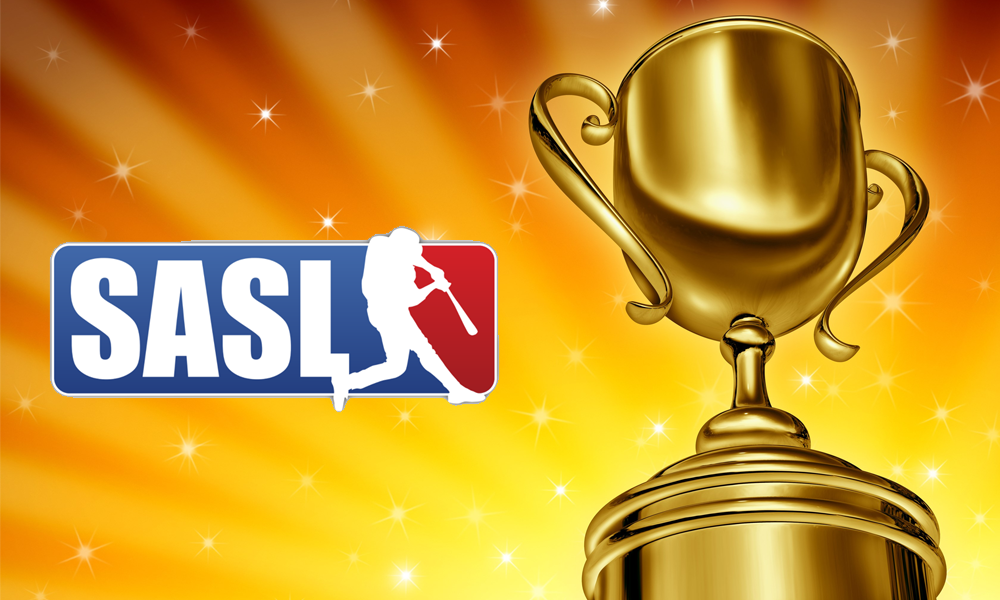 SASL 2018 AMERICAN LEAGUE ROY
Winner: DEX ORTIZ (SAVAGES): 86% of votes
Runner-up: Rafael Liriano (516): 9% of votes. Also receiving votes- Craig Cymerman (Mets)
Dex Ortiz, the odds on heavy favorite, proved the bettors right with a landslide victory over the rest of his peers to take home the AL Rookie of the Year awards for the 2018 season. It wasn't surprising with his astonishing .783 batting average and 2.0 OPS. The .783 is the highest BA of any rookie of the year winner in the history of the SASL. Big congratulations is in order for a phenomenal season, so well done Mr. Ortiz.
In any other year, a 5 tool stud like Rafael takes home this award. But this is just a reminder of Dex's greatness as he scintillatingly picks apart a defense with his precision bat control. Along with Hashim, Dex is the catalyst of the Savages offense and quite frequently starts the engine known as the Savages offense.
SASL 2018 AMERICAN LEAGUE MANAGER OF THE YEAR
Winner: SAAD YOUSUF (MIGHTY DUCKS): 100% of votes
Runner-up: None.
At the helm of the undefeated 24-0 Mighty Ducks, the biggest upset would have been if this pick was not unanimous. Taking a team that finished under .500 last year to go undefeated is a turnaround absolutely no one saw coming. Congratulations Saad Yousuf. What an accomplishment. One for the SASL lore.
Saad oversaw a Mighty Ducks team that barely registered a blip in the radar in 2017. His offseason was going to be busy and he knew it. Always known for his persistence for recruiting, this year he was able to lock in a few key pieces. Getting big time winners in Nadeem, Zeeshan was a huge coup to begin your season. Signing Sajeel, Matt, Shane, bringing back Bobby Bones etc were also strokes of genius.
With talent also comes managing egos. How were they going to run this team cohesively and give out playing time? Well, the proof is in the pudding. He managed to keep Ducks under the radar as the wins kept coming. Every move seemed to work on the field and off. What a great story. Rest of SASL is now just preparing for the potential dynasty Saad has created.
SASL 2018 AMERICAN LEAGUE MVP
Winner: RAMY ABDELHAMID (METS): 69% of votes
Runner-up: Denen Olson (516): 17% of votes. Also receiving votes- Hashim Naveed (Savages) and Matt Zicherman (Mighty Ducks)
Congratulations to Ramy Abdelhamid of the Mets for winning the prestigious American League MVP for the 2018 season. It is a well deserved win for Ramy who was the unquestioned heart and soul of the number 3 seeded Mets.
The term "valuable" has been debated exhaustively in SASL and elsewhere. But when you watch Ramy play this season for the Mets, you truly saw the word Valuable. You are reminded of what it takes to put a team on your shoulders and lead men to the battlefield. You are reminded how greatness can be defined in many ways. It's not all about stats, because then he would've lost. It's not just because of his leadership, of which there was an abundance. It's not all just about the charisma and swag he brought to the field. It was truly a season where he put it all together and put forth a season that will be the apex of his first ballot HOF career.
Going by stats Ramy's triple slash was .678/1.424/2.10. 2.10 OPS put him in an elite category with the best the league had to offer. He also accumulated 7 home runs, 35 RBIs and 33 runs. He batted 3rd for the team and was the middle of every rally. Oh, did we forget his defense? While Mets players were dropping like flies, Ramy held down the outfield like no one else. While the team only finished with a 14-10 record, we would be shocked if Mets finished anywhere near the playoffs without Ramy.
To finish our thoughts, we would also like to point out the great seasons our other nominees had especially our runner up Denen. Denen is maybe the most feared slugger AL had this season. While finishing second back to back year hurts, we expect him to only add that to his motivation in future seasons. But, Ramy embodies what a MVP should be and the voting landslide proved it.