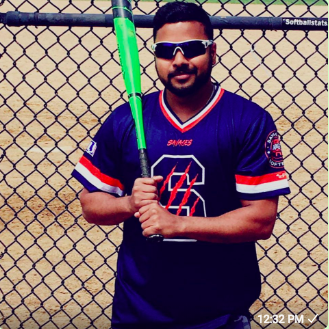 1)You are very well known in the SASL community as the funniest man in SASL. Is there anyone in SASL that threaten your crown? If so, who?

Appreciate that title, but most of the time i'm just really being a jerk and it accidentally comes off as funny, since I say it smilingly. I think the league has plenty of jerks now, most of them are in Savages…which is key to being successful on and off (chatroom) the field. Nice guys finish on the bench…and on each other.

2) How do you think so fast on your feet? Is that something you had to learn growing up as a defense mechanism? Or has it always come natural?

When your feet aren't big enough for normal human activities, you have to overcompensate that with other skills…in my case having a loud, obnoxious and dirty mouth. I see it as as an offensive mechanism, rather than defensive one. Thinking outside the box and being stupid has always been my gift, so it does come naturally, mostly enhanced by alcohol.

3) What is the funniest insult you ever heard about your height? What advice do you have for the single guys out there kicking it to the girls if they lack the height?

My dad has always said 'Aim High'…he might have meant it when using the urinal, but I apply that to every thing else in life, including women. I love playing the underdog role in life and in my games, the only person with the high expectations for me is myself. The key to guys with my stature is having the confidence to say what's in their mind and be ridiculously good looking, if you're ugly…there is always pornhub. I have heard all the short jokes from Junior HS to College, so nothing really surprises me anymore…I actually have better jokes on me than you will!

4) Why don't you have a regular feature in the SASL? If you did, what would it be called and what would the content be like?

I've been asked by few people about this, and I'm open to this idea more now, after seeing the other features that are bland and "fan friendly". I used to like Daddy Dar show like a decade ago, but I have recently learned to like it on mute and with closed caption On. Few titles for my show: "Short and Stop", "The Wet Corner", "Happy Hour".."Beyond the fences" and my segments would be more about Off the field. For example, it will feel as if the interviewee would be on a date with me…I would inquire them about their fav food, movies, travel experiences, underwear size and their favorite type of woman/man,i.e. This way you would get to know the player more than his ratings or scouting reports…it'll be like "Parts Unknown" meets "Casting Couch".

5) Let's talk your SASL career. How did you get started. How do you like SASL compared to other leagues? What are your SASL accomplishments?
I've started playing for SASL as part of the original Spartans, but only part time since I was playing in another league on saturdays. SASL is organized well beyond any leagues that i've ever played for. This interview itself is a testament to that statement. No other league accomodates my fellow brothers during Ramadan to play in the evening and lets a Harami like me play along with them! I don't have many personal SASL accomplishments, but as long as my teammates enjoy playing with me on Sundays, I have already done my job.

You have played for many teams. List all of them

Grays

Bengals

Savages

Bomb Squad

NSFW

Short Answers:

-Best team you been on:
Savages
-Worst team you been on:
Grays
-Best teammate:
Have too many, but for now..Pavy
-Fav SASL moment:
Game 1, every season
-Worst SASL moment:
Last Game, every season
-Worst SASL rule:
Heavy set guys needing pinch runners, gotta force them to run! Put a twinkie on second base…idc, I'm tired of pinch running dammit..sorry.
-Quick SASL change that needs to be made:
Allowing too many people to bitch and moan on the SASL chatrooms about every little thing
-Best SASL Jersey ever:
Def the Savages, designed by Charlie
-Worst SASL Jersey ever:
Spartans season 1…looked like Wendys had s*x with Mcdonalds

Describe the atmosphere in Bengals and Savages.

The core of the Bengals teammates have always had each others back, no matter what. This was a team that never cared about stats or self accomplishments, championship was its only goal. We don't rip each other apart for bad plays and we leave everything at the field. Few dirty jokes here and there helps the team morale

Savages were the most talented team that i've played with…every player strives to better themselves and improve from one at bat to the next. The team veterans, led by Charlie and Pavy set the right tone and examples for the others to follow. This team is more friends, than just teammates…I've known Anwar and Irfan over a decade now! It also helps that everyone on the team are jerks and love drinking! We love roasting each other, so you def need thick skin to be on our team!

Take us thru the offseason on how the Bengals formed and reunited. Why did they break up a couple of years ago? How is it to have the Bengals back in the league?
Bengals started off very slow and were written off. Then almost surged to the number 1 seed. And now on a huge losing steak. What's going on?
Bengals never had any off-season practice or stripclub parties….this could've led us to our terrible start. But once the players got comfortable at their new positions, including myself at 3B, we've minimized our errors and wins started coming along with it. Unfortunately injuries have torn our defense apart, key injury to our SS Matt, Nabil, Yash and myself…also just lost our Yoda, Ronnie Mac to NYPD academy…so we're playing short handed for the past month. At this point, the entire team needs Uber to run to first base.

Which 4 teams making it from the NL division? Which 4 teams making it from the AL? Who are the champions (if you can't pick your teams)?
Still think many teams have chances to sneak into NL playoffs,but Hit Squad looking strong with the addition of the sexy duo, Joel and Ronak. (insert kissy emoji)
AL = I can see Savages, Ducks (Hope they can change their team name next year), Mets (how original) and 516 (should've named it 420) making it into playoffs.

Ducks and Hit Squad for Championships (since i can't pick the obvious team, Savages)

Give us your thoughts on: The cap system. The two division system. What do you like and what do you think needs more attention.
I think the Cap system is wonderful idea, not just for the league but also for an individual player. It allows a player to improve himself and not get comfortable in his spot on the lineup every year! It holds every player accountable for his own rating, and allows the opportunity to play in both divisions. I can say that I definitely benefited from the two division system. I think the league does a great job in attending to every detail and improving each year.

First word in your mind for your teammates:

-Salman: Hadith
-Matt: Mr.Nice guy
-Nabil: Raheels brother
-Raheel: Need Uber
-Hasan: Yoga master
-Travis: Ben Affleck
-Yash: Mr.Worldwide
-Rafat: 420
-Kyle:Jason Bourne
-Sami: Big Dick Sami
-Faisal: Mac Daddy

Manju, you are off the Hot Seat. Any parting remarks?
If I have offended anyone or an entire team, let's grab a drink and roast each other. CANZ bar, any given Sunday baby!