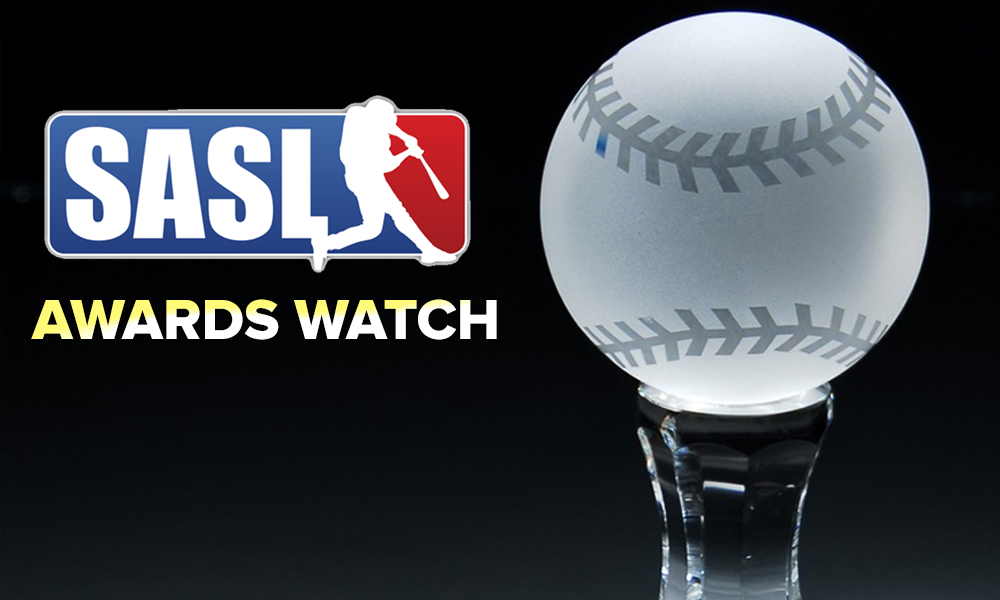 What a season. Where do we begin?
With the season coming to an end, we can determine who were contenders and who were pretenders. What an exciting season we had, ups and downs for most teams other than the top 2. Up for grabs is the MVP, Rookie and GM of the year.
Most Valuable Player
Frank Perez (Hit Squad) – With his team in second place and potentially beaming up to 1st if things go their way. He's been the star for Hit Squad and really dominating. He has 11 HR(2nd)'s, 49 RBI's(2nd) and batting a .710(6th). Frank has been a stud all year long and his team is looking to make a deep run into the playoffs and they need Frank to show up.
Zimmad Imam (Breaking Bats) – So far, the best team in the league, they are clicking on all cylinders before playoffs begin. Zimmad has been tremendous this year, really lighting up NL pitchers. Currently batting .74(4th) and with 44 RBI's(3rd), he's been doing his job all year long. I didn't know what to expect from him this year but he easily surpassed what I thought.
Naeem Bhalli (The Ones) – If only their record was a little better… He's been killing it all year, definitely his break out year. Number 1 in BA at .771, 7 HR's and with 50 RBI's(1st). Naeem has been the team this year while the rest of his team has been struggling. If they intend to play in the playoffs, the rest of his team will need to step it up and help him out.
Yamin Patel (Dynasty) – The team started off very slow for them until the break. Then they did a complete 360 and went back to being Dynasty. Lead by Yamin, he has been killing it as of late. Batting a .630, 9 HR's(4th) and 34 RBI's, just missing top 10. Dynasty is known for struggling in the playoffs but this year might be different, going up against the top teams, they have had success. They need Yamin and everyone to chip in for this to happen.
Rookie of the Year
Isidiro Diaz Jr (The Ones) – Went from 5th to 1st in the rankings. This man has been playing like this all year long. Batting a .578, the highest out of all rookies, 7 HR's just missing top 5 and 35 RBI's, just missing top 5 again. He has really been helping out his team while they have been down. They will need a big performance from the rookie on Sunday to ensure a playoff spot.
Richard Meier (Purple Reign) – The oldest rookie this year but playing like he still got wheels. He has been lockdown on defense this year, holding down 3rd base for PR. Hitting wise, he is batting a .489 with 15 RBI's tied for 3rd on the team. PR are in a tough spot this Sunday and they need everyone to step up for this to happen, especially Richard.
Arlo Rivera (Strike Force) – Arlo has been of the best players for his team this year. Batting .536 for the season with 3 HR's and 12 RBI's. Can be a little shaky on defense at times but usually pretty good for them. The team has been struggling all year long but he looks like a promising piece for the team going forward.
Cesar Sabillion (nWo) – Cesar like Arlo has been one of the better players for his squad this year. Batting .517 for the year with 20 RBI's good for 3rd on the team. He has been a bright spot for the team even with the season they had. Just not enough guys hitting the ball consistently, the team needs to rebound next year and bring Cesar along.
General Manager of the Year
Syed Haque (Breaking Bats) – They have been the most consistent team all year round. Winners of like 8 straight via mercy, they are on fire and ready for the playoffs. Syed did a heck of job recruiting, mostly family though so he knows who the athletics are. BB is the best offense team in the league, suffocating teams. They have no NSA's on the roster either, which makes this all that more impressive. They have a matchup against Dynasty this week and it might be a preview of what's to come playoff time.
Ali Najimi (Hit Squad) – Like the past 10 years, they are consistent, again finishing top 2 for the season. They turned their season over big time, for once we thought they might have declined but they proved everyone wrong. Ali did a great job putting this team together, along with the deadline additions some say junior savages. For the final week they have a tough matchup against Purple Reign, who are fighting for a playoff spot. With a sweep they might end up in 1st.
Sajid Kakana (Dynasty) – Just like Hit Squad, another consistent team, year after year. They made a boom to 3rd beating on all teams to get to where they are after their very slow start. It didn't seem like they were playoff bound earlier but the bats are alive. With the best defense in the league, Dynasty makes it very hard to score against them. They seem to be locked into 3rd place with a matchup against Breaking Bats. Dynasty need to play good against the top team to prepare themselves for their playoff run.