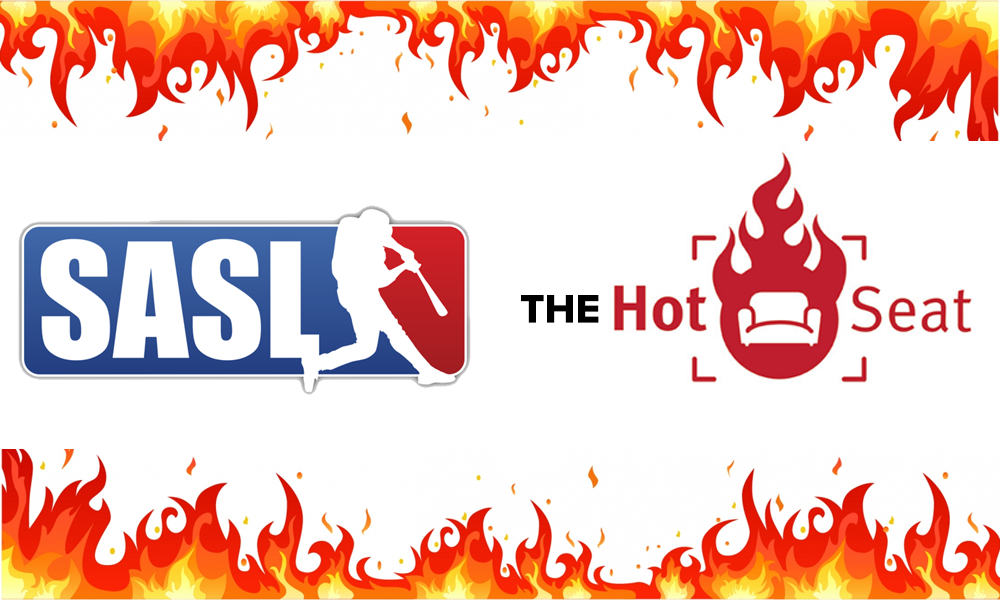 Tell us a little about yourself outside the field.
Not much to say on this topic. Im single and ready to mingle. Lets see… Love hanging with family and friends. I was born in Bangladesh so im from south asia if that means anything.
The 2018 Bengals added some solid additions such as: Nabil, Shairooz, Yash, yet you guys are at the bottom of the NL standings at 3-5, what's up with that?
We have added some really good players from around the league. Im a big believer in team and chemistry and we are just not there yet but very close. Unfortunately we arent known for practice so we are building the chemistry on sundays. I know once we start clicking we can beat any team in the NL and there are a lot of solid teams out there.
Your thoughts on the mask rule for pitchers?
I understand the need for the rule. I pitch often have even pitched in Utrip which is scary. I personally don't agree with forcing players to wear the mask. We are all adults and understand the risks. Maybe its a liability thing that's why it was instituted who knows. I hear rumblings when a pitcher doesn't wear it and i understand its a rule but if the ump isn't enforcing it i don't see the big deal. I just don't understand guys that need to go home and tell mommie the other team isn't wearing the mask like they are cheating or something but that's just me. As a co captain i will make sure my team follows the rule.
Time to heat things up, who is the weakest team in your division? Who is the strongest?
Any team that is 3 and 5 right now and yes that includes the Bengals. But like i said earlier the NL looks very competitive this year not much separates the top from the bottom. As for the Strongest hard to say without having played all especially Purple Reign. Hit Squad as usual will be tough with all the vets. But im really excited to play purple reign, played with some of those guys and great group to play with. They have some young hungry talent that will get better as the season goes on. They also have some top SASL vets. I guess time will tell who the best is.
We saw a glimpse of Abir Rahman (the founding father of the Bengals) in week 2 this year, will he be playing this year? How's the post-Abir Bengals? Do you miss him? What's his future plans?
It was great having him back even if it was one game. As for if he would play this year i dont think he even knows the answer to that but if he does it would make for a dangerous outfield and line up. Do i miss him? I guess lol more so to go out and party. Abir did set up a great team before he left he added some great guys like Sal Manju Kyle that are still with the Bengals. Also he brought on Kunal who is a great player now playing for upper division. We brought the Bengals back this year in hopes Abir will be back full next year and see if we can build on what we hope to be a championship season.
We've seen you play all over the field throughout last season and this season, what the hell is your actual position?
Thats a good question. I like pitching but my preference is either Catcher or DH cuz im old and lazy. We built a great team so far but what Sal didn't know was my goal was so i won't have to play outfield. Bringing on Yash Shiarooz and nabil should kick me out the outfield.
You've been co-captaining the team with Abir for years, now it seems you have a new partner in crime (Salman). Give us an inside look on that and how things are different now
Well when Abir was here he mostly ran the show which was fine by me. I really don't know who i became captain. Im sure Sal and the other captains would agree it's not a fun job. Sal and I have been playing together for couple years now so our communication is great. As for running the team not much has changed. We both like a more laid back atmosphere and let the guys go out and play. Most of the players on our team have been playing for a while so it's easy to captain them. I remember when Abir told me about Sal that he is this great pitcher/hitter and my only thought was shit i thought i was gonna get a chance to pitch. But then i saw Sal play and i was like na Abir right he def better. I see why he recruited Sal so hard we all have a similar mentality in winning and playing the game.
Name your ideal 3,4,5 lineup from the league and why.
If we are talking league I would say Hash Denan and Dan AKA Captain America. As for why i probably dont have to explain myself but i will. Hash is one of the best hitters i have seen. I played in a night league with him and his ability to hit wherever he wants was great but it was one shot that he pulled over the fence that i wont forget. Was one of the longest bombs from bomb squad. Denan is Denan probably the best hitter in the league. The only guy that can possibly beat Denan i would say is Dan. Glad all these guys are in the AL because then yes there should be a mask rule lol.
There's been a lot of chatter lately about the league's website content. If you were in Anwar's shoes, what would you do differently?
To be honest maybe ask guys in the league if they want to get involved. Maybe there are guys out there that enjoy this kind of stuff. Instead of forcing every team to have some kind of content. I think the articles or videos would be better. Whos this guy is a good show to watch because Ayaz actually enjoys it. He loves to hear himself talk which makes sense. But seriously it is good for the simple fact that he likes it. My show was horrible because if felt like i had to do something. So basically maybe take a flyer and see if anybody would be interested in doing their own content.
You've played 1 season with the infamous Saad Yousef, the run seemed short lived, for those that don't know and find him annoying, give us some insight about how it is playing with him. 
Playing with the Ducks was great. Most people don't know this but i did play one season with the wolfpack ok so it was on game but it counts. I think it was my first season with SASL and playing with them then i realized how far we had to go before we can even think about moving up to division one. Now fast forward to few season later and we combined them and Bengals. I learned a lot playing with Saad. He really loves playing the game and i guess those who find him annoying dont understand his sense of humour but i enjoyed. Even before playing with him i thought he was funny. As a teammate was easy playing with him he like bouncing ideas of others which was nice. For me playing on the Duck elevated my game. I had to or else i would be on the bench. Guys like Saad Harris Halimi who have been in the league and have played in a top level really pushed me. And Sid as a captain was great i didnt have to worry about anything. That i miss being a captain is tough so im lucky Sal is taking most of the work. Hope he doesn't read that last part.
Thank you for your time this seat was hot but I love the heat because South Asia is a warm weather climate.